Watts the problem? Pros give their views on proposed power meter ban
We ask the pros about the latest tech controversy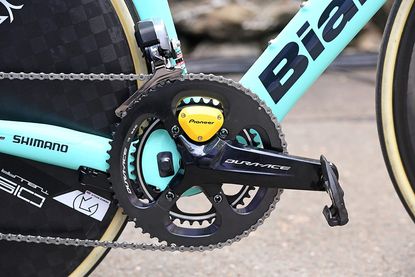 There is nothing new about this year's hot topic in professional cycling – power meters.
Arguments about the predictability of racing and how technology impacts the spectacle have existed for as long as the sport itself.
Tour de France mastermind Henri Desgrange wanted to ban the derailleur - we're still waiting to see if changing gear will ever really catch on.
The latest iterations of this debate often seem to revolve around the same unspoken central point.
While Team Sky are the best in the world at winning the Tour de France, their results in other big races often do not reflect the truism that the sport needs to clip the wings of the British WorldTour outfit.
Yes Sky did win four Grand Tours in a row, but Froome only took the Vuelta a España on his sixth attempt and his Giro d'Italia victory was far from a certainty.
But that has not stopped many at the top of the sport, often those in suits rather than lycra, from pushing for any number of tweaks, additions, updates or even outright bans justified by euphemistic "unpredictability."
The UCI reduced team sizes for 2018 with many believing the move was an attempt to reduce Sky's pulling power in the big races.
Budget caps is another recent long-winded discussion that appears to side-eye Team Sky's domination of the Tour and success in the Vuelta a España and Giro d'Italia.
But advances in general often prove contentious - disc brakes are probably the most striking of recent controversies, with numerous riders voicing concerns over their safety.
The idea of banning power meters has reared its head again after Tour de France director Christian Prudhomme said he wants them removed from the 2019 race, using some bizarre language that wouldn't be amiss in a satire of an authoritarian regime.
Prudhomme said: "We assert our desire to see the end of power meters in races, that annihilate the glorious uncertainty of sport."
Well it's easy to speculate about the possibilities from the comfort of Eurosport, but what do the watt-generators themselves think about power meters?
Cycling Weekly put the question to riders to find out.
Nibali: 'I'm sure it will be more spectacular'
One of the pros who has most felt the pinch of Team Sky at the sharp end is Bahrain-Merida's Vincenzo Nibali.
The Italian, a winner of all three Grand Tours, has battled with Froome and his train of powerhouse Sky jerseys since the team formed in 2010, most recently in the 2018 Tour.
>>> Vincenzo Nibali would consider future with Team Sky
The 33-year-old told Cycling Weekly: "If you don't use the power meters during the race, I'm sure that it will be more spectacular.
"Because if you don't have the opportunity to see your data or power meter I think the riders will use more strategy."
Deignan: 'I've never raced with a power meter'
On the flip side of the sport in the women's peloton, Britain's former world champion and Olympic medallist Lizzie Deignan is a rider with a rare approach to power meters in modern racing – she doesn't use one.
Deignan, who recently returned to training just six weeks after giving birth, said: "I'm kind of unique in the way that I've never raced with a power meter. I never would.
"For the world title I won I didn't use a Garmin for instance, or a heart rate, or anything. I just rode it on feel. For me it wouldn't change anything if they banned them.
"I don't think it would really change how my competitors would race either.
"I can understand the theory that on the long mountain passes, you stay within your limit but we don't really have them in women's cycling.
"Even in men's cycling, my husband [Team Sky's Philip Deignan] is a domestique, if he rides too hard a power for the guy behind him for the first 10km of the climb, there's so many variables that I'm not sure that it matters."
Team Sky's latest addition to the hall of Tour de France victors Geraint Thomas recently offered up a similar view.
Speaking at the Saitama Criterium, Thomas told Cycling Weekly he didn't think taking away power meters would affect the race.
He added that the sport should be allowed to evolve and progress through advances in tech.
Degenkolb: 'It's worth a try'
Trek-Segafredo sprinter John Degenkolb was more receptive to the suggestion of a ban.
The German, who notched and emotional Tour de France victory in Roubaix this year, said: "I think it's definitely worth it to give it a try and race without it.
"I think it can make a difference, especially in time trialling and long climbs where a lot of people always try to keep the same watts and know their power output they can deliver over a certain time.
"Then they just go regular and I think it could make a difference if we start racing with race instinct again and trying to play more of the tactic game."
Degenkolb added: "It wouldn't make a difference for sprinting or for the Classics.
"As soon as you have the power meter on your bike, on a climb or in the time trial, you're always looking at it and try to keep the value.
"If you're used to this over years and years you lose the feeling for the speed and the power you normally had, that we had when we started racing in juniors.
"I think it's definitely worth it to try and go without."
The ever-controversial Lance Armstrong and his now also banned for life sports director Johan Bruyneel have also jumped in on the discussion recently.
Speaking on his podcast, The Move, Armstrong said power meters should not be banned, but data should be made public.
Shaw: 'If pros don't ride them, people aren't going to buy them'
Young British rider James Shaw highlighted another side to this often binary debate – the business.
Shaw said: "A lot people buy power meters, they're expensive items. We need that part of the industry to remain. If the pros don't ride them, people aren't going to buy them.
"I think we need to keep expensive bike parts on the market or ultimately cycling teams are going to go."
The business is an aspect of the sport Shaw is acutely aware of, as he continues his search for a new team after Lotto-Soudal unexpectedly dropped the 22-year-old and left him without a ride for 2019.
Shaw's comments have grounding in history – in 1995 Cinelli introduced the wildly popular Spinaci bar extensions.
The UCI banned the Spinaci in 1995, effectively killing a product that had been selling 20,000 units and month and had even been brought en-mass by unsponsored professional teams.
That ban had a huge impact on Cinelli's business.
>>> Power meters: everything you need to know
Shaw added: "I don't use a power meter in the race. There's one on the race bike, but it gets used afterwards.
"During the race it doesn't make a difference. I've had some of my best results without a power meter.
"I don't think that makes racing boring. Some people are saying we should ban the power meter. I don't think so.
"I think it's exciting when it looks like Froome is going out the back and people are going away from him. Because people don't expect Froome to be dropped and he's going out the back, then he comes back and attacks.
"It takes a bit of strength from a rider to get dropped and come back.
"It's not easy to have that faith in yourself, to believe you can come back to these guys, because nine times out of 10 when you get dropped you're not getting back.
"We've got bigger things to worry about than power meters at the minute. When the sport is a lot safer then maybe we should worry about power meters.
"I think there's a place for power meters. I don't think getting rid of them will have the effect."
Another ban touted by the some as the answer to "boring" racing is the team radio.
The UCI has previously tried to ban radio contact between riders and teams, arguing that it makes racing stale and predictable.
Riders are able to use radios to check on time gaps, making it easier for the peloton to chase down any escapees before the finish.
Pros protested the ban on the grounds that communication offers better safety, and the UCI rowed back on the proposal in 2016.
Koen De Kort: 'Much better than banning radios'
Trek-Segafredo's Koen de Kort weighed up the two proposals.
"I think it would be a much better change than banning radios," the Dutchman told Cycling Weekly.
"I think banning radios doesn't really make sense. For us it's important to know the distance to the breakaway.
"It's really hard if you don't have radios.
"Banning power meters, I don't know if it's going to change all that much.
"Maybe in the mountains there could be a difference now and then, but I think that's maybe for one year and then everyone gets used to it again.
"But I'm not 100 per cent against it either.
"I can see how it could be a change in racing that could be beneficial to the sport."
On how he uses his meter, de Kort said: "When you're racing and you attack you're not going to look down at your power meter and think 'oh I'm going too fast or going to slow'. That's not the case and in sprints obviously not.
"I definitely look back at it afterwards more than during the race and I guess it's more confirmation of what you know already.
"I think it's data that we still need to collect because for training purposes it's really good.
"It's more about analysing races and training, not for the actual moment of racing."
Often cycling's governing forces act against the tide of the peloton, but with a spotlight recently shined on rider representation after the rider's union election, more weight could be given to those at the heart of the sport.
But regardless of whether a racing ban is enforced, the insight riders and teams gleam from power meters - even in training - mean the technology will most likely never disappear from the sport entirely.
Thank you for reading 20 articles this month* Join now for unlimited access
Enjoy your first month for just £1 / $1 / €1
*Read 5 free articles per month without a subscription
Join now for unlimited access
Try first month for just £1 / $1 / €1