Geraint Thomas: 'They can have my power meter, it won't change the race'
Thomas says a proposed ban of power meters at the Tour de France will only continue to hold cycling back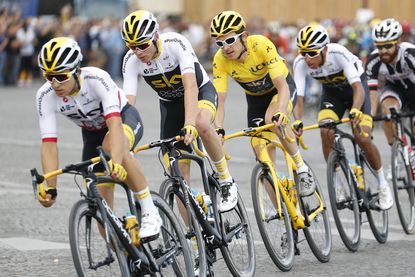 (Image credit: Yuzuru SUNADA)
Geraint Thomas shrugged off Christian Prudhomne's plan to ban power meters from the Tour de France, saying: "It's fine with me. I don't think it will affect the race."
Thomas was speaking at the Saitama Criterium in Japan – an event run jointly by ASO, owners of the Tour de France and the city of Saitama.
Prudhomme's populist promise to ban power meters at the Tour was met with cheers at the 2019 race presentation in Paris last month as the widely used technology comes in for regular attacks.
The claim is that riders now ride to a number showing on their computer display and that kills spontaneity, prevents aggressive racing and makes the race boring.
The topic is typically raised in discussions around the Tour de France as the power meter has become a symbol for the 'robotic' dominance Team Sky has inflicted on the race since 2012.
"We haven't won the last six out of seven Tours de France because we've got power meters." Thomas said in defence of the team he has been a part of since 2010. "Should we all put woollen jerseys on too? Have gear changers on our down tubes?
"I feel that sport needs to keep evolving and pushing forward, a bit like Formula One. The team try to do that all the time. But it seems that the people in charge want to hold it back."
Race radios and salary caps also get suggested while one of the first acts of UCI president David Lappartient was to cut Grand Tour team sizes from nine to eight.
With Sky then winning the Giro d'Italia and placing first and third at the Tour, French rider Romain Bardet has suggested going further still and cutting team sizes to six to 'put the fantasy back in to the race'.
"I think the two stages I won in the Tour were exciting," Thomas said. "Maybe if I hadn't won them everyone would have said they were amazing. But because it was a Sky guy who ended up winning it then suddenly; 'that's a sh*t day. Boring. We all knew that was going to happen.'
"If Dumoulin had won that sprint on Alpe d'Huez then it would have been an amazing day."
Linked to team sizes is the call for a salary or overall team budget cap. The aim is to limit the amount teams spend on riders, allowing teams with smaller budgets to compete for riders' signatures.
"A lot of other teams have a lot of money too," Thomas added. "If someone has 35 million Euros and someone else 32, is there that much difference? Katusha have a big budget and the difference between them and us at the Tour was… quite big."
Thomas also denied the team simply do 'a Real Madrid' and go out and buy all the best players.
"It obviously means you can sign a good rider but look at some one like Wout (Poels). Quick-Step didn't even want him. The team improve people.
"We're a strong team but it's the way we go about it. [The Tour is] the main goal for the whole year; the team is targeted for that. I don't think other teams do it to the extent that we do."
Comment: Could power metres be banned from the Tour? By Simon Richardson
The debate is set to run and run, but I sincerely doubt it's going anywhere. To single out power meters as the reason Sky dominate the Tour de France seems a little Trumpian. Simplistic to the point of being stupid. There's a lot more to winning the Tour than a rider looking down at their wattage. And I think Christian Prudhomme knows that.
It's unclear how ASO could even enforce such a rule without the UCI first writing it in to their technological regulations, at which point they would have to be banned from all racing. Such a move could backfire on the governing body. Banning new technology is nothing new, disc brakes took years to get full clearance, but at least that was on safety grounds. To continue to ban new tech looks regressive, angers the industry and holds back the whole sport, not just pro racing.
More importantly it completely misses the point of how the technology is used. Power meters are for data analysis and future training prescription and the technology is useless if this part isn't done well. Riders, all riders, use them during racing so coaches can download the data, analyse it and plan ahead.
A rider knows how hard an effort they can sustain, a number on a screen doesn't change that.
Just by suggesting a ban makes it look like the most powerful people in the sport don't understand the technology or how it's used. It also reinforces the sentiment that ASO think Sky are suffocating the race and that in turn fuels the anti-Sky rhetoric which won't help the ever-worsening reception the team get from the fans each year.
And what if Sky kept winning post ban, or they didn't but the race was still seen as 'boring'? Ban them from training? Ban heart rate monitors too? It's a slippery slope.
The irony was Thomas was brought (and paid) out to Japan by ASO. And the hero's reception he got there suggested the fans in Japan didn't think his was a boring win. Oh, and he was one of the only riders in Saitama riding without a power meter.
Bring all these proposed bans together and what have you got? Less technology, and smaller teams with smaller budgets meaning fewer registered pro riders getting paid less. And that's meant to make the sport better?
Thank you for reading 10 articles this month* Join now for unlimited access
Enjoy your first month for just £1 / $1 / €1
*Read 5 free articles per month without a subscription
Join now for unlimited access
Try first month for just £1 / $1 / €1
Editor of Cycling Weekly magazine, Simon has been working at the title since 2001. He fell in love with cycling 1989 when watching the Tour de France on Channel 4, started racing in 1995 and in 2000 he spent one season racing in Belgium. During his time at CW (and Cycle Sport magazine) he has written product reviews, fitness features, pro interviews, race coverage and news. He has covered the Tour de France more times than he can remember along with two Olympic Games and many other international and UK domestic races. He became the 130-year-old magazine's 13th editor in 2015.