Why being a professional cyclist is sometimes not as great as it seems
Carter Jones, Cameron Meyer and Campbell Flakemore have all retired before the age of 30 in the last six months, but what is forcing riders away from the sport?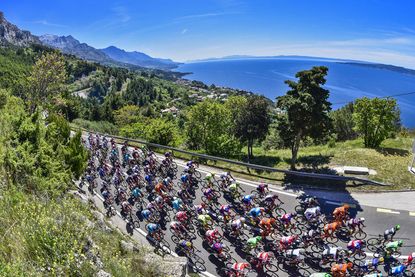 (Image credit: Watson)
Carter Jones became the third WorldTour rider to retire before the age of 30 in the past 12 months, showing the idea of being a professional cyclist is sometimes better than the reality.
Many casual cyclists dream about riding a bike for a living, travelling the world and racing in the sport's biggest races, but once you are inside the bubble the novelty seems to wear off for some.
Jones, along with Cameron Meyer (Dimension Data) and Campbell Flakemore (BMC) are the high profile riders to retire before their time in recent months, each with their own reasons to hang up their wheels.
But what prompts riders to turn their back on the sport they once loved?
The sport is based in Europe
Cycling's governing body, the UCI, is trying its utmost to spread the appeal of cycling round the world, with races in Asia, Africa and the Americas, but the reality remains that professional cycling remains heavily based in Europe.
The biggest races - the three Grand Tours and all of the major Classics - are all in Europe meaning that all of the teams, whatever country they are registered in, have European bases.
Flakemore, who was 23 when he retired after one year as a professional with BMC, cited homesickness in his reasoning to walk away from the sport. Moving from Tasmania, Australia, to the south of France to live and work at a young age will take its toll on a rider.
"I did have guys around me like Nathan Earle and Caleb [Ewan], who was living quite close, but there was a lot of times when you were by yourself and, yeah, it just wasn't for me. I asked myself, do I envisage doing this for the next 10 years? The answer was no," Flakemore told CyclingTips in November 2015.
You spend long periods away from home
Moving from another continent to Europe is one thing, but even those based on the Continent in the first place have to spend a lot of time away from home during the season.
Cyclists, especially those from outside of Europe, tend to flock to one of two regions - Girona in Spain and the south of France, especially Nice and Monaco. Here, the riders have the ideal conditions to practise their trade - a variety of parcours, excellent weather and endless riding companions.
But even if you've made your home away from home, you then spend plenty of time away from that new base while attending races, training camps and fulfilling sponsor requirements.
Endless days on the road, living out of hotels (poor quality ones at many races) and being away from your family seem some of the biggest challenges for a rider.
Then, with riders from different continents you have to factor in the long flights required to get home and see your family when you're not racing.
It's dangerous
Crashes are part and parcel of being a cyclist, no matter what level you are at. The difference with professional riders in races, though, is that they are generally travelling at much higher speeds when they go down, which sometimes leads to more severe injuries.
Jones, who left Giant-Alpecin in June to follow another career path, cited two accidents as part of his reasoning to walk away from the sport.
"It is a personal decision related to two accidents, one last year and one recently, and I am now ready to move on to the next step in my life," said Jones.
Safety has always been an issue. The death of Andrey Kivilev in 2003 prompted the UCI to make every rider wear a helmet in races, while the death of Wouter Weylandt at the 2011 Giro d'Italia caused shockwaves through the sport.
But these days there seem to be far more crashes, some of which in recent months have involved race vehicles and have resulted in the death and serious injury of a number of riders.
Antoine Demoitié died after being hit by a motorbike at Ghent-Wevelgem in March, while Stig Broeckx has suffered severe brain damage after a collision with a moto in May.
Also, away from racing, Carter's Giant-Alpecin team was decimated in January when a driver ploughed into a group of riders on a training ride in Calpe, Spain, causing numerous serious injuries.
Doping
This was probably more of a problem ten years ago than it is now, but many riders from cycling's doping heyday talk about the pressure they faced to take drugs in order to reach the level required to be a professional.
If your paycheck depended on you getting results against riders who were taking performance-enhancing drugs, the chances are you would be tempted to take them yourself.
But for every youngster who turned to the dark side there was probably many who gave up on their dream of being a professional because they were unwilling to break the rules.
The famous case is of Scott Mercier, who quit the US Postal team in 1998 because he was unwilling to take the EPO prescribed by the team doctor. He was replaced by one Lance Armstrong, and the rest is history.
"I got home and decided: 'No, thank you'. I love cycling, it's a beautiful sport, but it would have been very difficult for me to look anyone in the eye and say I was clean when I wasn't," he told the Telegraph.
Money
While a Tour de France winner, like Chris Froome, or a world champion, like Peter Sagan, can earn in excess of £3m per season, a young rider new to the peloton will earn significantly less than that.
Compared to the average salary of a job in the UK, the wage of a young cyclist is nothing to be sniffed at - according to Sky Sports the minimum wage is just over £25,000, but would you earn enough to justify the sacrifices you have to make?
Financial figures released by Team Sky of their 2012 season showed that the team only employed seven full-time staff, with all of its riders effectively being hired as outside contractors.
While you would get all of your kit and equipment supplied by team sponsors, it would probably still be tough to live in cash-rich places like Monaco if you were only earning £25,000 a year.
Of course, winning races and championships will see your salary rise accordingly, with agents trying to get the best deals for their stars, but for some people the money isn't the issue.
"[The WorldTour] it's not the glitz and glamour of what it looks like on the TV, which is what everyone sees. It wasn't for me and I'm happy I'm out for now." Flakemore told CyclingTips.
Thank you for reading 20 articles this month* Join now for unlimited access
Enjoy your first month for just £1 / $1 / €1
*Read 5 free articles per month without a subscription
Join now for unlimited access
Try first month for just £1 / $1 / €1