Road World Championships 2020: Elite women's road race start list
List of starters for the elite women's road race at the 2020 UCI Road World Championships in Imola on Saturday September 26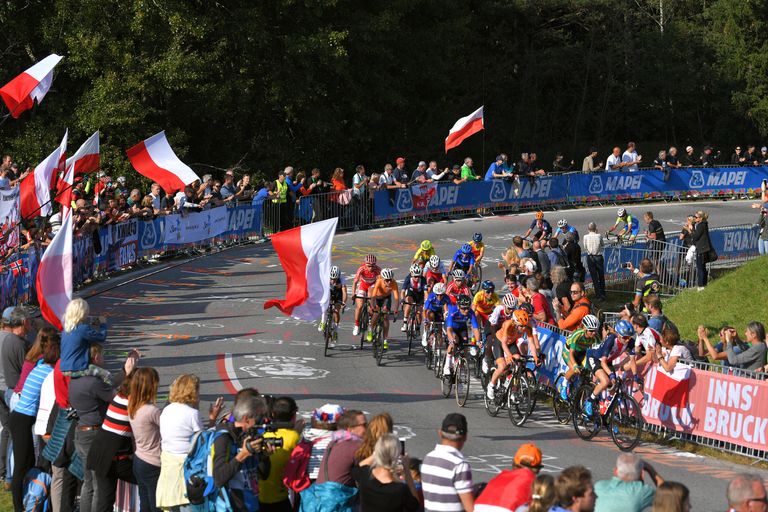 (Image credit: Getty Images)
The elite women's road race at the 2020 UCI World Championships takes place in Imola, Italy on Thursday, September 24.
Riders will fight for the coveted rainbow jersey of world champion over 144 kilometres, taking in 2750 metres of climbing over five laps of the finishing circuit.
Defending women's champion Annemiek van Vleuten (Netherlands) will not be returning to defend her title as planned after she crashed and broke her wrist on stage seven of the Giro Rosa.
The Dutch team often dominates the race with an exceptionally strong squad though, this is likely to be no differenteven without Van Vleuten riding as Marianne Vos, Anna van der Breggen, Chantal van der Broek-Blaak, Demi Vollering and others are all down to ride.
The Italian's will be hoping for a home win and have a good chance in the shape of Elisa Longo-Borghini who will likely be the leader of the team at Imola.
Great Britain will have the potential to have a good ride with Lizzie Deignan, Lizzy Banks along with Hannah and Alice Barnes all ride set to ride.
>>> UCI 2020 Road Race World Championships: Latest news, report and info
Netherlands
1 VAN VLEUTEN Annemiek
2 MACKAIJ Floortje
3 PIETERS Amy
4 VAN DEN BROEK-BLAAK Chantal
5 VAN DER BREGGEN Anna
6 VAN DIJK Ellen
7 VOLLERING Demi
8 VOS Marianne
Italy
9 CAVALLI Marta
10 CECCHINI Elena
11 GUDERZO Tatiana
12 LONGO-BORGHINI Elisa
13 MAGNALDI Erica
14 PALADIN Soraya
15 RAGUSA Katia
Germany
16 BRENNAUER Lisa
17 HAMMES Kathrin
18 KASPER Romy
19 KOCH Franziska
20 KROGER Mieke
21 LIPPERT Liane
22 WORRACK Trixi
Australia
23 BROWN Grace
24 CHAPMAN Brodie
25 GILLOW Shara
26 KENNEDY Lucy
27 NEYLAN Rachel
28 ROY Sarah
29 CROMWELL Tiffany
United States
30 DOEBEL-HICKOK Krista
32 NEBEN Amber
33 RIVERA Coryn
34 STEPHENS Lauren
35 WILES Tayler
36 WINDER Ruth
Denmark
37 ANDERSEN Birgitte
38 DIDERIKSEN Amalie
39 JOGENSEN Emma Cecilie Norsgaard
40 LETH Julie
41 UTTRUP LUDWIG Cecile
42 MATHIESEN Pernille
Great Britain
43 BANKS Elizabeth
44 BARNES Alice
45 BARNES Hannah
46 DEIGNAN Elizabeth
47 HENDERSON Anna
48 SCHACKLEY Anna
Poland
49 JASINSKA Malgorzata
50 KUMIEGA Karolina
51 LACH Marta
52 NIEWIADOMA Katarzyna
53 PLICHTA Anna
54 WILKOS Katarzyna
Spain
55 ALONSO Sandra
56 GARCIA Margarita
57 GONZALEZ Alicia
58 MARTIN Sara
59 RODRIGUEZ Gloria
60 SANTESTEBAN Ane
Belgium
61 DEMEY Valerie
62 DOCX Mieke
63 MEERTENS Lone
64 DUYCK Ann-Sophie
65 VAN EYNDE Fien
66 VANDENBULKE Jesse
France
67 CORDON-RAGOT Audrey
68 GUILMAN Victorie
69 LABOUS Juliette
70 LEVENEZ Sandra
71 MUZIC Evita
New Zealand
72 FISHER-BLACK Niamh
73 HARVEY Mikayla
74 WILLIAMS Georgia
Cuba
75 SIERRA CANADILLA Arlenis
Slovenia
76 BRAVEC Urška
77 BUJAK Eugenia
78 KERN Spela
79 PINTAR Urška
80 ŽIGART Urška
Canada
81 BLAIS Marie-Soleil
82 CANUEL Karol-Ann
83 JACKSON Alison
84 KIRCHMANN Leah
85 POIDEVIN Sara
86 VALLIÈRES-MILL Magdeleine
Ukraine
87BIRIUKOVA Yuliia
88 KONONENKO Valeriya
89 VYSOTSKA Ievgeniia
South Africa
90 JONKER Kerry
91 MOOLMAN-PASIO Ashleigh
Russia
92 GAREEVA Aigul
93 KLIMOVA Diana
94 NOVOLODSKAYA Maria
Norway
95 AALERUD Katrine
96 ANDERSEN Susanne
97 BORGLI Stine
98 GJOS Martine
99 LORVIK Ingrid
100 OTTESTAD Mie Bjorndal
Sweden
101 BORGSTROM Julia
102 NILSSON Hanna
103 OLAUSSON Wilma
Luxembourg
104 BERTON Nina
105 FABER Claire
106 MAJERUS Christine
Belarus
107 AMIALIUSIK Alena
108 KOLESAVA Anastasiya
Lithuania
109 BALEISYTE Olivija
110 GEDRAITYTE Akvile
111 LELEIVYTE Rasa
Austria
112 KIESENHOFER Anna
113 RIJKES Sarah
114 TAZREITER Angelika
Switzerland
115 CHABBEY Elise
116 MAURER Melanie
117 REUSSER Marlen
118 RUEGG Noemi
Hungary
119 VAS Kata Blanka
Slovakia
120 MEDVEDOVA Tereza
Czech Republic
121 MACHACOVA Jarmila
122 NEUMANOVA Tereza
123 NOSKOVA Nikola
Iceland
124 BJORNSDOTTIR Agusta Edda
125 GUNNARSDOTTIR Briet Kristy
126 SIGURDDARDOTTIR Hafdis
Estonia
127 LANG Mae
Colombia
128 ATEHORTUA Daniela
129 PATIÑO Paula Andrea
130 UPEGUI Carolina
Trinidad & Tobago
131 CAMPBELL Teniel
Israel
133 SHAPIRA Omer
Mexico
134 GAXIOLA Maria Antonieta
135 GUTIERREZ Ariadna
136 RAMIREZ Andrea
137 SANTOYO Brenda Andrea
Uzbekistan
138 ZABELINSKAYA Olga
Japan
139 YONAMINE Eri
Chile
140 SOTO Catalina Anais
Latvia
141 LAIZANE Lija
Argentina
142 YAPURA Fernanda
Ethiopia
143 GEBRU Eyeru Tesfoam
Morocco
144 EL HAYANI Fatima Zahra
145 ES-SADDY Siham