Young French rider Clément Delcros shot in the shoulder while training
The Frenchman escaped serious injury after a passing car shot at him while on a training ride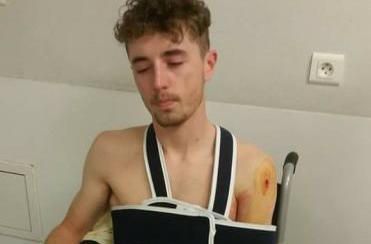 Frenchman Clément Delcros, 18, is "sad and shocked" after a passing driver shot him while training on Tuesday in Toulouse.
The amateur cyclist for Team AVC Aix-en-Provence escaped serious injuries. He filed a complaint with the police, but the shooter remains unidentified.
"I'm fine. I can move my arm," he told Direct Velo. "I was sad at the moment and a little shocked. When I realised, I said to myself, 'These are real idiots.'
"In fact, I was shocked and disappointed. I thought about the bike season. I'm starting to get some results even if it's not yet on the road. I hope to resume quickly!"
He was around one kilometre from home and travelling 50 kilometres an hour on a slight downhill. He saw the car come from the opposite direction, heard a loud sound and felt pain in his left shoulder.
"I first thought that a car occupant had thrown a rock or something to mess with me. I really did not realise what happened right away," Delcros continued.
"I was bleeding heavily. I stopped immediately. People asked me if I needed help. I was near a hospital [Rangueil] so I went there, by bike. With the X-ray, they saw that I had taken a bullet, fortunately of a small calibre."
After a transfer to the hospital in Purpan, doctors saw the bullet was deep inside and since it was touching anything major, decided to not remove it.
"It could have been worse, but that's a rare event. I do not understand why this happened. Nobody is out for me. Why was I shot? It's really odd," added Delcros.
"The police complaint? I suspect it won't help much. There is little hope of finding the wrongdoers. I do not even know the model of their car."
Delcros will return training as soon as possible, even on the same roads. "I'm already looking ahead. Something like this cannot happen to me twice."
It follows similar incidents in the US, in New Orleans and Alabama, and one in Bristol over the last year.
On those occasions, the cyclist escaped major injuries.
Thank you for reading 5 articles this month* Join now for unlimited access
Enjoy your first month for just £1 / $1 / €1
*Read 5 free articles per month without a subscription
Join now for unlimited access
Try first month for just £1 / $1 / €1