RadioShack refuses to suspend Popovych despite drug claims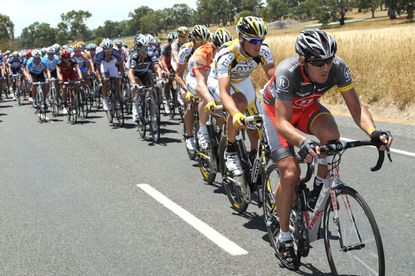 Lance Armstrong's team RadioShack refuses to suspend or talk about the drugs allegedly found at Yaroslav Popovych's home.
Police searched the Ukrainian's home in Italy on November 11. Italian prosecutor Benedetto Roberti ordered the raid to help his counterpart in the USA, Jeff Novitzky. Novitzky is investigating claims that Lance Armstrong doped during his career, including when he won seven edition of the Tour de France.
Popovych was subpoenaed when he was in Austin, Texas, for Armstrong's Livestrong Challenge ride. He stayed in the US and testified on November 3 for 90 minutes.
Italian newspaper La Gazzetta dello Sport reported after the raids that Italian police seized mobile telephones and a computer. US magazine Sports Illustrated, however, reported last week that police found performance-enhancing drugs. Popovych denied the allegations.
Popovych is Armstrong's current RadioShack team-mate and helped him win 2005 Tour de France. In 2005, Popovych won the Tour's young riders classification.
Team BMC Racing suspended its riders Alessandro Ballan and Mauro Santambrogio last year when they were linked to a doping investigation. Once the confusion was cleared, BMC allowed them to race. Ballan, however, missed a chance to compete in his spring targets, the Tour of Flanders and Paris-Roubaix.
RadioShack is making no such move. General Manager Bill Stapleton said the allegations are not true and Team Manager Johann Bruyneel refused to talk about Popovych.
Sports Illustrated said that the Italians found drugs Popovych's house...
Bill Stapleton: "He denied that this morning."
Should your team suspend him?
BS: "But, it's not true."
How do we know?
BS: "He's already denied it this morning [January 20]."
BMC suspended Ballan last year, for example...
BS: "But it's not true, so we won't suspend him."
Is the team or Livestrong foundation taking a beating from the bad press?
BS: "I think the foundation is doing absolutely fabulous."
Will Armstrong be eventually charged?
BS: "I will not comment on that."
There is confusion going on with what Sports Illustrated printed...
Johan Bruyneel: "I don't have no comments to make. I will talk about the race, but about nothing else."
Can you clarify...
JB: No. I have no comment."
Supposedly, there were drugs found at Popovych's house...
JB: "I have no comment to make. I think the comments have been made. No comment."
Would you suspend a rider if drugs were found in his house? Or, is it premature?
JB: "OK, for the last time..."
Related links
Armstrong grumpy Down Under due to new doping allegations
Armstrong's team-mate Popovych testifies he did not witness doping
Armstrong's team-mate Popovych summonsed in doping investigation
Thank you for reading 20 articles this month* Join now for unlimited access
Enjoy your first month for just £1 / $1 / €1
*Read 5 free articles per month without a subscription
Join now for unlimited access
Try first month for just £1 / $1 / €1