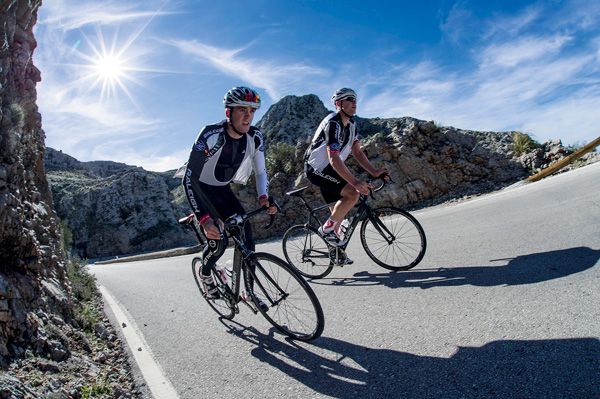 The Nottingham-based outfit has recruited strongly over the winter to add to what was already a capable crit team, spearheaded by Doncaster's Graham Briggs, who went through a period last summer of winning virtually anything and everything he started.



We've already seen evidence of that strength; new signing Tom Scully finished second in the Eddie Soens from behind a strong Raleigh lead-out.
That said, call them a one-trick pony at your peril. Alex Blain, who won both the Dengie Tour and a horrific edition of the CiCLE Classic last season, comes from Endura and links up with former Cofidis buddy Eric Berthou.
Lachlan Norris and Tom Scully can both boast stints as stagiaires for WorldTour teams, having ridden for HTC-Highroad and Garmin-Cervélo respectively, and Essex boy Russell Hampton proved his pedigree with third at the Nationals last season. Add former Academy riders Mark Christian and Tom Moses, and Cherie Pridham and Eddie White have got a handy team across the board.
With many new riders coming from overseas, the biggest challenge could be teaching the new arrivals to race on potholed, bumpy British roads. Do that and in a few more months they'll be a force to be reckoned with.
Foreign legion
With Raleigh now home to six total newcomers to the British scene, we asked Russell Hampton to guide us through the fresh faces.
Eric Berthou (Fra): "Eric can sprint and climb equally well. He looks like [musician] Ed Sheeran, and he even plays the guitar."
Sam Witmitz (Aus): "Sam is a big rider, a pretty good sprinter and a Classics type rider. He can really put some power down."
Tom Scully (Nzl): "Tom has a quick finish and is good at the short, sharp stuff. You can tell he's a Kiwi because he stands out amongst a load of Aussies, otherwise I wouldn't know the difference."
Mark O'Brien (Aus): "Mark can't sprint but he can go all day. He probably puts out more power going steady than some guys do sprinting."
Lachlan Norris (Aus): "He is a very good climber and in Majorca he was beating all of us up Sa Calobra."
Rob Britton (Can): "He's had a bit of a shock to the system. In Eddie Soens he came up to me and said, 'This is terrifying.' I just said, 'Welcome to Europe.'"
| | | |
| --- | --- | --- |
| Eric Berthou (Fra)) | 33 | Bretagne-Schuller |
| Alex Blain (Fra) | 32 | Endura Racing |
| Graham Briggs | 29 | Raleigh-GAC |
| Rob Britton (Can) | 28 | Team H&R Block |
| Mark Christian | 22 | An Post-Sean Kelly |
| Russell Hampton | 24 | Raleigh-GAC |
| Matthew Holmes | 19 | Raleigh-GAC |
| Richard Lang (Aus) | 24 | Rapha-Condor-Sharp |
| Tom Moses | 20 | 100% ME (GB Academy)/td> |
| Lachlan Norris (Aus) | 20 | Drapac Cycling |
| Mark O'Brien (Aus) | 25 | Team Budget Forklifts |
| Evan Oliphant | 31 | Raleigh-GAC |
| Tom Scully (Nzl) | 23 | Chipotle-First Solar Development |
| Sam Witmitz (Aus) | 28 | Team Budget Forklifts |
>>> Back to 2013 British Team Guide home page >>>