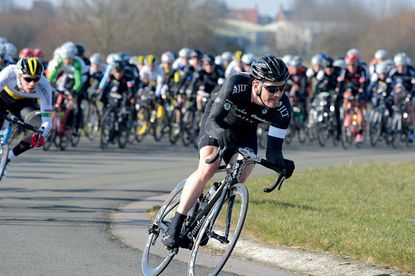 If 2012 was a year of transition for John Herety's team, this season is already looking like anything but. Ed Clancy, James McCallum, Richard Handley, Luke Grivell-Mellor and new signing Elliott Porter have all triumphed in early-season British races, which bodes well for the bigger events.
The team are continuing with the development strategy that they started last year, with the goal of helping the more talented prospects move to a top-level international squad.
By virtue of the winter's comings and goings, this is the team's youngest ever line-up, with only two riders - McCallum and Kristian House - aged over 30. Three of the five new recruits for this year are still 18.
Not that this should matter. One of them, Ed Laverack, has already impressed Herety enough to be selected for the arduous Tour of Normandy, which started on Monday. Another, Hugh Carthy, followed in the footsteps of Alex Dowsett by winning last year's Junior Tour of Wales, a prestigious race for emerging talent. His nearest challenger in the five-stage event was Will Stephenson, who completes the team's teen trio.
Herety identified that although his younger riders in 2012 had the talent, their application was not always as good as it could have been.
A two-month training and racing camp in Australia at the start of the year sought to rectify this, and since returning to Britain in mid-February, it appears to have worked. Clancy's victory at the Eddie Soens came after a particularly impressive team display. Expect the winning to continue throughout 2013.
Average team age
2011 - 28 years, eight months
2012 - 24 years, four months
2013 - 23 years, two months
Rapha mix tape
With travelling a cornerstone of the British racing season, the eclectic mix of music tastes within the team make for a nicely-balanced audio companion to help pass the time.
Aaron Buggle - Muse
Hugh Carthy - Led Zeppelin, Nirvana, Nineties hip hop
Mike Cuming - Jake Bugg
Richard Handley - LCD Soundsystem
John Herety - Caitlin Rose
Kristian House - Bruce Springsteen, U2
Luke Grivell-Mellor - "Almost all genres"
Swipe to scroll horizontally
| | | |
| --- | --- | --- |
| Aaron Buggle (Irl) | 22 | Dan Morrissey Speed Spokes |
| Hugh Carthy | 18 | Champion System-Maxgear |
| Ed Clancy | 28 | Rapha Condor Sharp |
| Mike Cuming | 22 | Rapha Condor Sharp |
| Felix English | 20 | Rapha Condor Sharp |
| Luke Grivell-Mellor | 20 | Rapha Condor Sharp |
| Richard Handley | 22 | Rapha Condor Sharp |
| Kristian House | 33 | Rapha-Condor-Sharp |
| Ed Laverack | 18 | Team Tredz |
| James McCallum | 33 | Rapha Condor Sharp |
| Elliott Porter | 21 | Team Corridori |
| Will Stephenson | 18 | Primera-Sports.com |
>>> Back to 2013 British Team Guide home page >>>
Thank you for reading 20 articles this month* Join now for unlimited access
Enjoy your first month for just £1 / $1 / €1
*Read 5 free articles per month without a subscription
Join now for unlimited access
Try first month for just £1 / $1 / €1