Reduce road speed to increase cycle safety, finds government report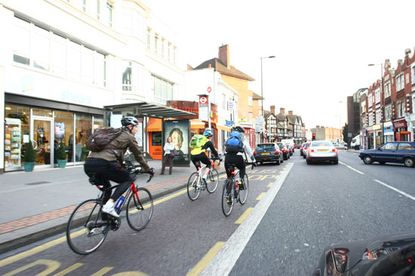 A Department for Transport report published on Monday concludes that reducing motorised traffic speed is the single most effective way of increasing the safety of cyclists on British roads.
The 'Infrastructure and Cyclist Safety' report was produced by Transport Research Laboratory (TRL) for DfT, and included an analysis of previously published data relating to cycle safety on road networks in Britain and on the continent. In particular, the review looked at the effectiveness of cycle paths, traffic calming and integration/segregation methods.
The report coincides with increasing unrest among urban cyclists who feel that they are being put at unneccessary risk from other road users. There have been several high-profile cyclist deaths at known junction black spots in recent months, highlighting the need for action.
"Of all interventions to increase cycle safety, the greatest benefits come from reducing motor vehicle speeds. Interventions that achieve this are also likely to result in casualty reductions for all classes of road user," the report found. However, it was noted that high vehicle speed wasn't always a contributing factor as slow-moving lorries also posed a problem.
The report also records that most injuries to cyclists occurred at road junctions - and that junctions where cycle paths meet the highway presented a very high risk to cyclists.
Two effective methods of increasing cycle safety at busy junctions were outlined: the continuation of cycle lane markings across a junction and the use of signals that allow cyclists through junctions before motorised traffic.
Controversially, the review found that "there is little evidence in the UK that marked cycle lanes provide a safety benefit, although they may achieve other objectives". It was recorded that cycle lanes often ended abruptly, were poorly maintained, frequently included drains, were used by other traffic including parked cars, and sometimes required the cyclist to stop frequently where they were intersected by side roads.
The most significant risk factors to cyclists involved in single-vehicle incidents were slippery road surfaces due to wet weather and defective road surfaces. In multi-vehicle incidents, speed limit and encounters with other road users at junctions posed the greatest risk.
The report noted that there were several infrastructure elements that are present in continental road networks - such as the Netherlands - that could be implented in the UK to increase cycle safety, particularly in towns and cities. These, the report outlined, could only be achieved with sustained investment over decades; a willingness to prioritise cycle traffi; and a multi-faceted approach seeking to increase cycle safety and cycle use together.
The report will be used as part of a wider 'Road User Safety and Cycling' research programme undertaken by TRL on behalf of DfT.
Related links
Ghost bike for Deep Lee
External links
Thank you for reading 20 articles this month* Join now for unlimited access
Enjoy your first month for just £1 / $1 / €1
*Read 5 free articles per month without a subscription
Join now for unlimited access
Try first month for just £1 / $1 / €1