Researchers are studying 'The Spirit of Gravel' — no, really
Olympian and Sports Psychology student Haley Smith hopes to learn what draws people to gravel, the key pillars of the discipline and its impact on people's health and well-being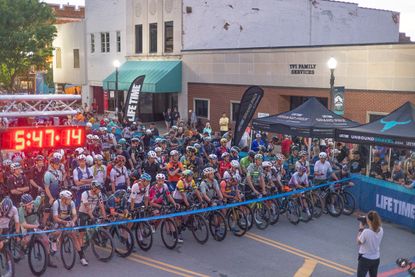 (Image credit: Snowy Mountain Photography)
After nearly two decades, America's fling with gravel racing has blossomed into a full-fledged, international love affair that's even reached the pinnacle of professional bike racing: the recognition of the UCI and its awarding of a rainbow jersey.
What had started as unofficial off-road adventures among small groups of friends is now a way for former road or mountain biking pros to extend their careers. And with this influx of 'roadies,' funding and professionalization, many believe the so-called 'Spirit of Gravel' has come under threat. But what is this 'Spirit of Gravel'? What even is gravel?
Neither ghost nor deity, the Spirit is a vibe, a sense of place and community. It's a friendly racing environment that scoffs at the seriousness, tactics, regulations and support of road racing. It's an atmosphere in which everyone is friends up until the very last meters to finish line — and again immediately after. It's about camaraderie and event completion…or is it?
That's just this author's interpretation but the term "The Spirit of Gravel" gets tossed around so much and with such various meanings that rather than unifying us, it's become a bit of a divider.
Luckily, a group of scholars from Canada is trying to make sense of it all with the intent of giving the community a common language and race organizers and cycling federations some understanding of the sport's newest discipline and what participants want it to look like.
The pilot study is led by none other than mountain bike Olympian and 2022 Life Time Grand Prix series winner Haley Smith (Maxxis Factory Racing). Out of the saddle, the 29-year-old is working on a Master's Degree in Sports Psychology at Queen's University. Rather than her thesis, the Spirit of Gravel study is a passion project born out of her own recent emergence into the sport and "feeling like an observer of the gravel scene."
Helping Smith in her research are respected sports psychologist Jean Côté, PhD, and her brother Tavis Smith, a sports sociologist.
"Statistically, gravel is growing really fast. And anecdotally, it's a discipline that's attracting a lot of people who would otherwise, a, not be active at all, or b, not necessarily have a sport that they identified with or liked," Smith tells Cycling Weekly.
It's this influx of people to the sport of cycling that intrigues Smith.
"It's an interesting phenomenon. If we can understand why that's happening, what draws people to this sport, then we can potentially identify elements that could be present in other sports to encourage similar phenomena," she says.
The goal is not to define but to understand and to describe, Smith clarifies.
"The idea is to hopefully be able to point to key pillars that define the gravel experience for people, with the hope we can create a common language to talk to each other about it so that it's not this subject that creates a lot of hot debate. And, also to identify key elements that we can recommend to new promoters and national federations as this discipline is brought under the umbrella of the UCI," Smith says.
"Through this study, I hope to gain insights that will help create a more welcoming and inclusive community for all gravel bikers."
The pilot study focuses on gravel not just as a sport but also as an activity and a subculture. Smith and her partners aim to understand gravel in the context of sport as well as the psychological factors that drive individuals to pursue gravel biking and how it impacts their mental health and well-being.
"I believe that the 'Spirit of Gravel' is a unique experience that has a significant impact on individuals' mental and emotional well-being. I want to understand what drives people to pursue gravel biking, the challenges they face, and how it affects their mental health," Smith says, hoping that their research may contribute to the growing body of literature on the positive impact of sports on mental health.
The study's data-gathering phase has concluded and researchers are now in the analytical and writing stages. Part of the data gathering involved a series of in-depth interviews with gravel bikers and event promoters from various backgrounds, skill and experience levels. From cycling pros and veterans to newcomers, Smith says the study sample was intentionally designed around a variety of perspectives.
These interviews were semi-structured and involved a technique called Photovoice, in which participants are asked to bring photos that have emotional meaning to them and talk through them.
Seeing as gravel cycling has yet to be formally studied, there were a fair amount of broad questions like "What is [gravel]?" "Are there boundaries on it?" "Can you define it?" "Do we want to define it?"
The study is currently underway and will be submitted for peer review once completed. As such, Smith couldn't reveal any of the team's findings just yet.
Being fairly new to skinny tire racing herself, I asked Smith what gravel means to her. She was quick to point out that while she might be new to gravel racing, the roads around her childhood home were gravel and she's always ridden on gravel.
"Gravel is just a way of life. It is the way that I present myself to the world and the way that I experience the world — it's all tied up," she says. "When it comes down to it, to me, gravel is a vehicle for self-exploration. But it means a different thing every day of the week to me."
For now, gravel is also part of Smith's livelihood. Originally a professional mountain biker, Smith entered the Life Time Grand Prix ahead of its inaugural 2022 season in search of new and novel experiences. The Life Time Grand Prix is a seven-event mountain bike and gravel race series that's contested over the course of six months by a cast of 70 world-class and handpicked athletes.
After consistent Top-10 performances all season, including two podium finishes and one stellar victory at Crushar in the Tushar, Smith ended up walking away with the overall series title, a large wooden trophy and a $25,000 check. She's back for the 2023 season, and after two events, she's currently sitting in third place in the series behind Sofia Gomez-Villafañe and Sarah Sturm.
The Spirit of Gravel study could make its journal appearance by end of the year. Cycling Weekly will be sure to follow up when it does.
Thank you for reading 20 articles this month* Join now for unlimited access
Enjoy your first month for just £1 / $1 / €1
*Read 5 free articles per month without a subscription
Join now for unlimited access
Try first month for just £1 / $1 / €1