A Call of a Life Time: YouTube docuseries chronicling the Life Time Grand Prix premiers tonight
The six-part series promises a 'binge-worthy' behind-the-scenes look into the off-road cycling world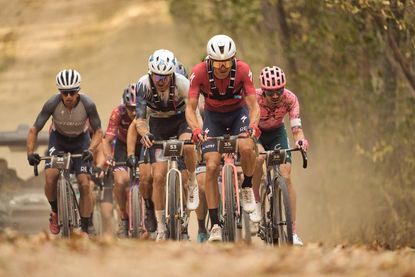 (Image credit: Life Time)
Bike racing drama, fails and victories, tears and joy, turmoil and passion.
January 27 will mark the premier of a new, six-part docuseries titled Call of a Life Time, which chronicles the inaugural Life Time Grand Prix adventure race series and the experiences of the 60 handpicked athletes who tackled the seven-month challenge.
Each episode recaps one of the races and promises to showcase the emotion and physical test the athletes underwent as they vied for the top step of the podium and a $250,000 prize purse.
The inaugural Life Time Grand Prix adventure race series was launched in early 2022 with a whole new take on a bike racing.
Over the course of seven months, a cast of 60 handpicked elite athletes traveled the country to compete at some of the best off-road events in the United States in pursuit of the biggest prize purse in off-road cycling history.
The season's cast included WorldTour roadies, gravel privateers, mountain bike Olympians, track world champions, a pro triathlete and even, a former elite rower.
The series' goal is to increase cycling fandom in the U.S. by showcasing world-class athletes as they competed at most challenging and unique cycling events the country has to offer.
With extreme distances, challenging terrain, high altitudes, and a variety of racing disciplines to master, those wishing to succeed have to be very well-rounded cyclists. At the end of the 2022 season, it was three-time national mountain bike champion turned endurance cyclist, Keegan Swenson who won the men's category and Canadian Olympian, Haley Smith who bested the women's field.
The Call of a Life Time YouTube series promises a "binge-worthy" behind-the-scenes look into the off-road cycling world, and an introduction to the "elite-yet-underestimated cyclists."
The cameras were never far away during the seven-month season in 2022, capturing the athletes as they conquered nature, pain, fear, injuries and obstacles on their way to the finish line at infamous events like the 200-mile Unbound gravel race and 100-mile high altitude Leadville XC mountain bike event.
Trailer:
All six episodes will be available for free on the Life Time Grand Prix YouTube channel starting January 27 at 6 p.m. CST.
The 2023 Life Time Grand Prix

The Life Time Grand Prix presented by Mazda will return in 2023 at the Sea Otter Classic in April with an extra, seventh race, 10 additional riders and another $250,000 prize purse.
Returning contestants include Unbound winner Sofia Gomez Villafañe, recent WordTour abandonee Emily Newsom, Ruth Winder, Sarah Strum, former WorldTour roadies Peter Stetina, Alexey Vermeulen, Alex Howes, Kiel Reijnen and Lachlan Morton.
New challengers include cyclocross pros Eric Brunner, Caroline Mani and Raylyn Nuss, former rower Brennan Wertz, South African mountain biker Matt Beers, as well as former Unbound and Tour of the Gila winner Lauren De Crescenzo.
The series kicks of at the Sea Otter Classic's Fuego XL race on April 22nd and run through October with seven events in total, including the prestigious 200-mile Unbound gravel race and the infamous, high altitude, Leadville 100-mile XC mountain bike challenge.
Thank you for reading 10 articles this month* Join now for unlimited access
Enjoy your first month for just £1 / $1 / €1
*Read 5 free articles per month without a subscription
Join now for unlimited access
Try first month for just £1 / $1 / €1
Cycling Weekly's North American Editor, Anne-Marije Rook is old school. She holds a degree in journalism and started out as a newspaper reporter — in print! She can even be seen bringing a pen and notepad to the press conference.
Originally from The Netherlands, she grew up a bike commuter and didn't find bike racing until her early twenties when living in Seattle, Washington. Strengthened by the many miles spent darting around Seattle's hilly streets on a steel single speed, Rook's progression in the sport was a quick one. As she competed at the elite level, her journalism career followed, and soon she became a full-time cycling journalist. She's now been a cycling journalist for 11 years.