Richie Porte ready for Ardennes Classics debut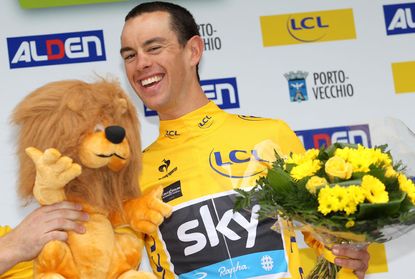 Off-contract Australian Richie Porte is hoping to continue his golden stage race run at the Tour of Romandie but will first make an Ardennes Classics debut with Sky this week.
Porte will start Wedensday's Fleche Wallone before lining-up alongside teammate and Tour de France runner-up Chris Froome at Liege-Bastogne-Liege on Sunday.
The 28 year old was in Italy last week for a small "mental break" and took the opportunity to have a look at the hilly 279.6km course that will comprise this year's UCI Road World Championships in Florence. Porte is already familiar with the time trial circuit having formerly lived in the region.
"I don't think there's many Australians that are much better suited to that course than what I am," Porte told Cycling Weekly. "I'd probably say I'd focus more on the road race. If you've got the form then you should be able to do a good, flat time trial.
"At the moment my programme is the Tour de France, do that and have a little bit of a mini-break and then start the preparation for worlds, and also the Italian Classics at the end of the year, which I'd like to do as well."
Porte has been afforded his own opportunities this season and capitalised. The media has again touted him as a Grand Tour contender, which is harmonious with Sky's ethos and his own ambitions. However, Porte's performances have surely garnered the attention of rival outfits ahead of transfer season.
With the exception of February's Tour of Oman, the Tasmanian has not finished outside the top five of any stage race he has started. Porte won Paris-Nice, was second only to teammate Froome at Criterium International, and was poised to claim the Tour of the Basque Country earlier this month, but lost out in the closing time trial to finish second overall.
"I didn't expect to go there and win two stages and the overall," Porte said of Paris-Nice. "But I think I've proven myself last year that I can be up there in the big mountains. The years before I was time trialing well so connecting the dots, and a little bit of luck, it's been an incredible start to the season."
Porte hopes to continue his winning run at the Tour of Romandie where his closest rival could again be Froome.
"Romandie has been a target for me this year," Porte said."I got my first win there as a professional.
"I like that race and Froomey also is going to be there so we're going to have a strong team. I'd like to be up there and be close to the win. It's a hard enough time trial that the best man is going to win the race."
The tour will open with a mountain prologue and close with an individual time trial in Geneva that the duo can both excel in.
"Around Paris-Nice time we were close on the climbs and he's been at Tenerife, I've been down here racing a bit more. I touched him up at Criterium but at the end of the day it is Chris Froome and he's a level above me," Porte said. "I expect that last time trial he'll probably pull a bit of time out of me, but I can live with that!"
Porte, like last season, is set to play an integral role at the Tour de France happily supporting his teammate Froome. But his role as a support rider in Grand Tours may be coming to an end.
"I think eventually one of us, or probably me, is going to have to branch out somewhere and we might be rivals down the path, but for certainly the foreseeable future we're going to be helping each other," Porte said of Froome.
The pair have followed a similar race programme this season whilst teammate and Tour de France champion Bradley Wiggins, who is said to be flying in training, is focused on a schedule tailored to the Giro d'Italia.
Porte appears a right-hand man for Froome, whom he trains with regularly in Monaco and also rooms with at races, ahead of the Tour. But it's a title he defers to defending champion Wiggins, who is likely to be at the Grand Depart. Sky is spoilt for choice when it comes to Tour selection with names including, but not limited to, Sergio Henao, Vasil Kiryienka, Kanstantsin Siutsou and Rigoberto Uran.
"It's funny people last year saying that [Wiggins is] not strong in the climbs, but if I remember rightly there was in some of the harder stages only Brad and Froomey left," Porte said.
"Brad's plan obviously is the Giro but he's going to be in the Tour at the moment as well so I think that's a pretty handy right-hand man to have is Brad Wiggins."
Like the Tour, Sky has options throughout the remaining Ardennes Classics as well as the Giro del Trentino, which Wiggins is set to start, and Romandie.
Read Cycling Weekly magazine on the day of release wherever you are in the world with our iPad edition - International digital edition, UK digital edition. And if you like us, rate us!


Thank you for reading 20 articles this month* Join now for unlimited access
Enjoy your first month for just £1 / $1 / €1
*Read 5 free articles per month without a subscription
Join now for unlimited access
Try first month for just £1 / $1 / €1