Rise in pedestrians hit by cyclists not a cause to 'leap to conclusions'
The figures should be considered alongside a total increase in pedestrian deaths and a change in reporting systems, say Cycling UK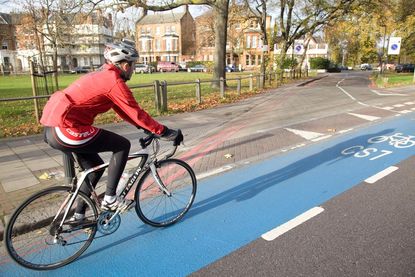 (Image credit: Chris Catchpole)
It would be wrong to 'leap to conclusions' about statistics showing a rise in the number of pedestrians hit by cyclists, according to Cycling UK.
Figures released by the Department for Transport (DfT) show that the number of pedestrians hit by cyclists has increased from 466 in 2013 to 531 last year - a 13 per cent increase.
The number of pedestrians involved in cycle collisions last year represents 162 people per billion miles walked.
Those seriously hurt has jumped from 93 to 122, whilst those killed has dropped from six to three.
The lowest number of pedestrians hit by cyclists in the last five years was 444, in 2015.
The figures have been published in an article on The Times website and the topic of cyclists injuring, or killing, pedestrians has received greater attention since Kim Briggs was knocked over and killed by fixie rider Charlie Alliston in 2016. The 20-year-old was successfully prosecuted, and received an 18-month prison sentence.
Roger Geffen, policy director at Cycling UK - the national charity for cyclists - commented: "There are surprisingly large fluctuations in the number of reported pedestrian injuries each year involving pedal cycles. A couple of years ago, the figure dropped markedly. Now it has sprung back up again."
"Given that total pedestrian injuries also went up this year, I wouldn't want to leap to conclusions about why this is happening, based on a single year's figures – after all, they might well go straight back down again next year," he added.
The number of pedestrians killed by motor vehicles is consistently higher than those suffering injuries from collisions with cyclists. In 2015, 406 pedestrians were killed by motor vehicles and this rose to 467 in 2017. In total, 23,805 pedestrians were hit by motor vehicles last year.
The DfT has hypothesised that the figures could be influenced by the addition of a standardised reporting tool - called 'CRASH' (Collision Recording and SHaring), which is designed to provide a common way for police forces to collate and submit data.
The system as rolled out in 2012, and first adopted by Surrey Police. Larger scale use began in 2015 and by the end of 2016 it was being used by nearly half of all English police forces. The Metropolitan Police adopted a similar IBRS (injury-based reporting system) in 2016 - called COPA (Case Overview and Preparation Application).
A report by the DfT acknowledged: "The introduction of IBRS appears to have led to a change in the reported severity of road casualties," adding that "it appears that some casualties that would have been categorised as 'slight'... are recorded as 'serious' in IBRS."
The government has published plans to introduce a "death by dangerous cycling" offence, in order to "crack down" on dangerous cycling.
Geffen commented: "Any review of cycling offences must be considered in context. Cycling UK is calling for a full review of road traffic offences, so all road users are appropriately held to account if they harm another."
Thank you for reading 5 articles this month* Join now for unlimited access
Enjoy your first month for just £1 / $1 / €1
*Read 5 free articles per month without a subscription
Join now for unlimited access
Try first month for just £1 / $1 / €1