Road World Championships 2011: Cycling Weekly's coverage index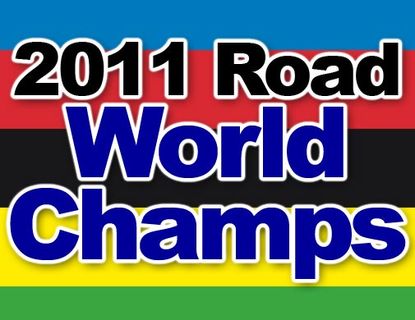 The 2011 UCI Road World Championships take place in Copenhagen, Denmark, over September 19-25, 2011.
The championships are split into two disciplines: road race and time trial. For each of these there are five categories: men, women, under-23 men, junior men and junior women, giving ten events in all.
The winner of each of the ten categories earns the right to wear the coveted world champion's rainbow jersey whenever they race in that discipline for a year. Gold, silver and bronze medals are awarded to the top three finishers in each category.
Cycling Weekly will be covering the 2011 Road World Championships in full on www.cyclingweekly.com and in the magazine with race reports, photos and analysis
Road World Championships 2011: Winners
Road Worlds 2011 medal table
Road World Championships 2011: Schedule
Monday September 19
10:00-11:45 Time trial Junior Women, 13.9km
13:00-17:30 Time trial Under 23 Men, 35.2km (2 x 17.6km)
Tuesday September 20
09:30-13:15 Time trial Junior Men, 27.8km (2 x 13.9km)
14:00-17:10 Time trial Elite Women, 27.8km (2 x 13.9km)
Wednesday September 21
12:30-17:05 Time trial Elite Men, 46.4 km (2 x 23.2km)
Friday September 23
09:30-11:55 Road race Junior Women, 70km (5 x 14km)
13:00-17:15 Road race Under 23 Men, 168km (12 x 14km)
Saturday September 24
09:00-12:30 Road race Junior Men, 126km (9 x 14km)
13:30-17:15 Road race Elite Women, 140km (10 x 14km)
Sunday September 25
10:00-17:05 Road race Elite Men, 266km (17 x 14km + 28km)
Road World Championships 2011: Course video
From Copenhagen2011
2010 World Champions
Men's road race: Thor Hushovd (Norway)
Women's road race: Giorgia Bronzini (Italy)
Under-23 men's time trial: Taylor Phinney (USA)
Women's time trial: Emma Pooley (Great Britain)
Men's time trial: Fabian Cancellara (Switzerland)
Under-23 men's road race: Michael Matthews (Australia)
Road World Championships 2011: Latest news
Team GB dominated World Champs, says Brailsford
Brits lead World Champs medal count
Garner only second Brit to win junior road race after Cooke
Wiggins' world-class performance
Martin describes rainbow jersey as 'wonderful'
Julia Shaw breaks in to World's top 20 in Copenhagen
LIVE: Men's time trial as it happened
Arndt finally wins Worlds time trial gold
LIVE: Women's time trial as it happened
Wiggins and Millar tipped for success in time trial
Christian closes successfull day at Worlds for GB
Barker's unexpected silver medal ride
Wiggins previews Worlds course with medal in mind
British juniors gain pro experience at World Championships
British world champs team announced
The Worlds' top teams: Nine strongest squads
Italy to rely on Bennati and youthful Worlds squad
Renshaw left out of Australia's Worlds team
Cavendish heads British Cycling's Worlds long list
Britain up to seventh in UCI World Rankings
Cavendish previews Copenhagen Worlds course
Project Rainbow Jersey: Britain's bid for Worlds title
Road World Championships 2011: Reports
Cavendish wins World road race
Bronzini defends title in elite women's road race
Fenn wins bronze for Britain in under-23 Worlds road race
Garner wins junior women's road race for Britain
Wiggins scores silver as Martin wins Worlds time trial
Pooley claims bronze in women's time trial
Dibben gets top ten in junior men's time trial
Under-23 men TT: Durbridge wins title for Australia
Junior women TT: Barker takes silver for GB as Allen wins
Road World Championships 2011: Photos
Elite men road race
Elite women road race
Elite men time trial
Elite women time trial
Junior men time trial
Under-23 men time trial
Junior women time trial
Road World Championships 2011: TV guide


British Eurosport coverage schedule

Related links




World Championships 2010: Cycling Weekly's coverage index

External links




Thank you for reading 5 articles this month* Join now for unlimited access
Enjoy your first month for just £1 / $1 / €1
*Read 5 free articles per month without a subscription
Join now for unlimited access
Try first month for just £1 / $1 / €1