Rowe builds for U23 Euros with double kermesse victory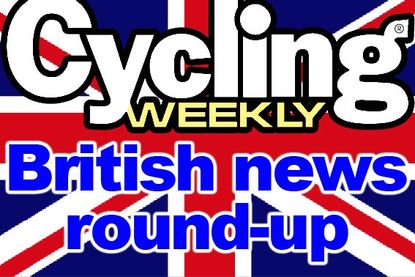 Luke Rowe picked up two victories in Belgium on Sunday and Monday as he looks ahead to the U23 European Championships next week.
Rowe won races at Zottegem and Denderdwineke as he took part in a three-day Euros preparation camp with members of the U23 squad.
"I won them well which was unusual," he told Cycling Weekly. "I decided to race very aggressively. It was a case of whittling down the groups I was with.
"On the Sunday race, I was with one other guy and I attacked with two kilometers to go and won solo. I won solo on the Monday too after attacking from four others with two to go again.
"I think the idea of the trip was for the team to gel," he continued. "We work really well as a unit; we're going to be as good a team as you can be."
Joe Perrett, Erick Rowsell, Tom Moses and Johnny McEvoy were all in attendence as the team raced a one-day race on the Saturday followed by the two kermesses won by Rowe. They will be joined by Scott Thwaites and Andy Fenn in Offida, Italy for the event.
The championships road race parcours was described as "not one for the sprinters" by Rowe, who expects there to be thirty of forty riders at the front of the race come the finish. There are two major climbs on the circuit.
Rowe declared that he believes he is coming into good form just at the right time: "I always start the season well, but I was ill just before the nationals," he said. "Now I'm coming up just right."
He has been the most successful of the country's U23 talent so far this year, with top results that include fifth overall at the Tour of Normandy and wins in a UCI U23 Nations Cup race and at the Thuringen Rundfahrt.
The U23 European Championships take place from July 14-17. Rowe will ride both the road race and the time trial.
DfT announces Local Sustainable Transport beneficiaries
Cycling in England was given a boost this week when the Department
for Transport announced which local projects would benefit from the
£155m Local Sustainable Transport Fund.
Transport for Greater
Manchester was among the big winners, having been awarded £4.9m to set
up a Commuter Cycle Project in the city.
A new centre which offers
650 secure storage spaces for bikes will be built in central Manchester.
Lockers, toilets, showers and changing room facilities will also be
installed for riders in the new facility.
More to come: more cycle lanes could be built in England's towns and cities
Oxfordshire County Council
is to trial its own cycle hire scheme after being award £3.5m by the
DfT, and if successful, a city-wide launch is likely.
Other successful bids include South Yorkshire, where plans to introduce a "Wheels to Work" initiative are gathering pace.
Bibby opens with third in Portugal
Motorpoint rider Ian Bibby continued his rich vein of form by taking third place in the opening stage of the Trofeu Joaquim Agostinho in Portugal on Thursday.
Tavira-Prio rider Ricardo Mestre soloed to the victory on the 161km stage from Ramalhal to Sobral de Monte, attacking from a large escape group that also contained the Brit.
Spaniard Alejandro Marque (Onda-Boavista) broke away just before the finish linge, and Bibby had to settle for third despite his best efforts to reel Marque in.
The second of four stages takes the riders from Manique do Intendente to Carvoeira.
Related links
British news round, July 1: Wilkinson reflects on wonderful 24 record
British news round-up, June 24: Best of British sign up for Leazes Crit
British news round-up, June 17: Endura talent Thwaites reflects on first Tour Series
British news round-up, June 10: Riders head to London for the IG Markets NocturneBritish news round-up, June 3: Endura and Motorpoint vow to hit back at Tour Series
British news round-up, May 27: More details of London test event emerge
British news round-up, May 20: Rowe goes close in Holland
British news round-up, May 6: Brammeier: "The novelty will never wear off"
Thank you for reading 20 articles this month* Join now for unlimited access
Enjoy your first month for just £1 / $1 / €1
*Read 5 free articles per month without a subscription
Join now for unlimited access
Try first month for just £1 / $1 / €1