Rutland-Melton CiCLE Classic set to return after two-year absence
It will take place on the same day as Liège-Bastogne-Liège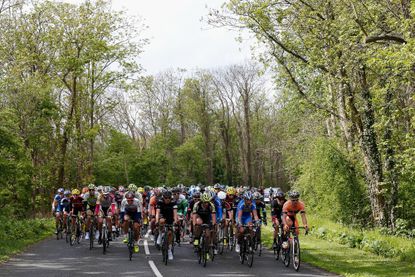 (Image credit: Getty)
The Rutland-Melton CiCLE Classic is set to return in 2022 after a two-year absence.
Billed by the organisers as the "UK's own 'real' Spring Classic', the one-day race will return on Sunday April 24 next year.
"After two years absence, we're back!" race organisers tweeted. "Sunday 24th April 2022. Once again the UK's only one-day international elite men's race in 2022 - and the UK's own 'real' Spring Classic place-to-place race."
Race organisers have already been asking non-UCI British domestic teams to submit their expression of interest in competing for consideration as preparations ramp up.
>>> 'There was a lot of animal bacteria in my blood': Matteo Jorgenson reveals that animal faeces made him ill after Paris-Roubaix
In 2019, the last time the race was run, Rally Cycling's Colin Joyce just pipped Brit Gabriel Cullaigh to the victory, Cullaigh looking to have sewn up the win up until the final few metres. Joyce, therefore, denied Cullaigh a defence of his title after the Movistar man took the 2018 title.
The Rutland-Melton CiCLE Classic is based upon the legendary Paris-Roubaix and Tour of Flanders, two of the biggest one-day races on the cycling calendar. The race starts in the town of Oakham in Rutland before heading to Melton Mowbray in East Leicestershire. Off-road sections characterise the race, as well as punchy, narrow climbs.
Brit Scott Gamble was the first winner of the race in 2005 and since then seven other homegrown riders have crossed the line first.
Ireland's Conor Dunne is one of the more high-profile riders to have clinched victory, his win coming in 2016, the former WorldTour pro now a presenter on GCN.
The 2022 edition of the race will take place on the same day as Liège-Bastogne-Liège, one of the biggest one-day races on the WorldTour calendar.
"Date for the diary!" wrote one fan on Twitter. "It clashes with Liege-Bastogne-Liege but seeing as Leicestershire is (just about) nearer than Belgium, I reckon I'll be there."
Thank you for reading 5 articles this month* Join now for unlimited access
Enjoy your first month for just £1 / $1 / €1
*Read 5 free articles per month without a subscription
Join now for unlimited access
Try first month for just £1 / $1 / €1