Six ways to keep off the Christmas pud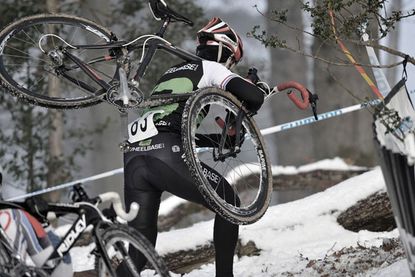 For cycle clubs around the country, the festive season is as good a time as any to get out on the bike. Some even see it as an opportunity for something a little different...
Ilkley CC's Christmas Eve MTB Ride
While the nine-mile course is not technically challenging, the boggy ground could prove many riders' downfall. To work off some extra calories before the indulgences of Christmas Day, there is a section of the course where the riders will have to carry their bikes.
Lindsey CC's Boxing Day speed judging
At Lindsey CC they do time trials a bit differently. Instead of setting the fastest time, the winner of this Boxing Day tradition is the rider who can pace themselves most steadily over two circuits. The closest to their first lap time is the champion.
Norwood Paragon's festive downhill race
Typically held the Sunday before Christmas, riders strap their bike's cranks to the chainstays and are let go down a hill. The winner is whoever gets furthest up the other side of the valley. Bricks in your panniers are permitted but aero equipment was banned after CW's tech editor turned up with every gizmo he could muster.
Kettering CC's Boxing Day time trial
The 9.4-mile loop around the 'Old Circuit' is one of the more traditional Christmas club events. A simple race against the clock is all it takes to burn off the Christmas pudding, or so the organisers say.
Coventry RC's Boxing Day cyclo-cross
Riders from all over the Midlands will descend upon Kenilworth for the 60th edition of this post-Christmas lark about in the mud. While most of us are still counting presents, these guys are shunning the leftover turkey and mince pies to ride in front of family and friends.
Velo Club Londres's New Year's Day Madison-cross
As they recover from the excesses of ringing in the New Year the night before, pairs of cyclo-cross riders will descend on Herne Hill to fling each other round an off-road course. In reality, not much flinging occurs; when the first rider finishes their lap, they tag their partner to send them on their way.
This article was first published in the December 19 issue of Cycling Weekly. Read Cycling Weekly magazine on the day of release where ever you are in the world International digital edition, UK digital edition. And if you like us, rate us!
Thank you for reading 20 articles this month* Join now for unlimited access
Enjoy your first month for just £1 / $1 / €1
*Read 5 free articles per month without a subscription
Join now for unlimited access
Try first month for just £1 / $1 / €1