Sky Ride 2011 events unveiled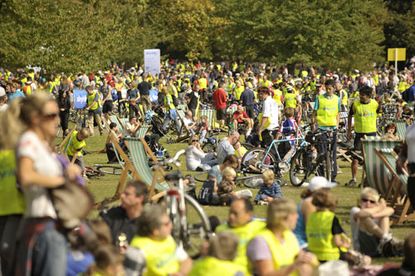 British Cycling and Sky have unveiled an expanded calendar of Sky Ride events for 2011, kicking off with Sky Ride Bath on June 5.
The free-to-enter mass participation rides take place across the UK on traffic-free roads. Families are encouraged to take part, and more than 200,000 people turned up to Sky Rides in 2010.
"Sky Ride 2011 is going to be even better than before and together with British Cycling we're well on our way to getting one million people back on their bikes cycling more regularly," Jeremy Darroch, Sky's chief executive said.
Sky Rides 2011: Calendar
Bath (5 June)
Ipswich (12 June)
Birmingham (3 July)
Middlesbrough (10 July)
Bradford (31 July)
Hillingdon (31 July)
Manchester (7 August)
Southampton (14 August)
Blackpool (14 August)
Hull (21 August)
Barking and Dagenham (21 August)
Leicester (28 August)
Mayor of London's Sky Ride (4 September)
Glasgow (11 September)
More dates and venues to be announced
External link
Thank you for reading 5 articles this month* Join now for unlimited access
Enjoy your first month for just £1 / $1 / €1
*Read 5 free articles per month without a subscription
Join now for unlimited access
Try first month for just £1 / $1 / €1