Strava recognises French velociraptor as largest GPS drawing ever made by bike
Velociraptor measuring 1,024.72 kilometres took more than 43 hours to complete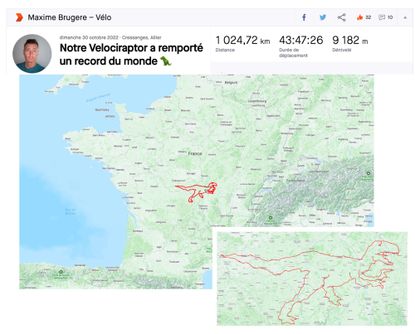 (Image credit: Maxime Brugère)
Strava has officially recognised a huge velociraptor in the middle of France as the largest ever GPS drawing made by bicycle.
Between 30 October and 5 November last year, four friends took on the challenge of drawing the dinosaur by riding 1,025 kilometres. It took six days for Maxime Brugère, Florent Arnaud, Franck Delome and Nicolas Meunier to complete the colossal task.
After 43 hours, 47 minutes and 26 seconds, the four friends from Montluçon had completed their huge drawing, bringing their idea to life over the roads of the departments of Cher and Allier.

Guiness has also confirmed that the design is officially now a world record.
According to Brugère, the Strava activity had been completed to draw attention to a worldwide crisis which impacts us all.
"Dinosaurs are proof that such strong species can quickly become extinct and that is what we are currently going through with the sixth mass extinction," he said. "We are the main culprits of this environmental crisis, but also its main victims. As such, the future is in our hands and cycling is one of the best ways to contribute to change."
The quartet are no strangers to creating huge, dinosaur related pieces of Strava art across their native country.
In 2020, Brugère, Arnaud, Delorme and Meunier created a vast 200 kilometre Tyrannosaurus Rex in the Loire region of France.
In 20201, they then were able to match their efforts of the previous year, as they then created another dino-themed piece, a 200 kilometre Diplodocus in the Saône-et-Loire area.
Strava art is a creative form which has rapidly gained in popularity across the years.

In December 2020, veteran GPS artist Anthony Hoyle created a "Merry Christmas" message across the city of London.
A year later, the same cyclist known as the "pedalling Picasso" mapped out a virtual portrait of a moustached man by riding 75 miles across the capital, raising money for Movember in the process.

Hoyle earned his nickname in 2016 when he first created the image of a dog on his Strava account by cycling around Cheltenham. He has also cycled routes in the shape of a 66-mile Santa Claus and a 79-mile reindeer in London over the years, but the moustached man is the first one he has completed for charity.
Thank you for reading 10 articles this month* Join now for unlimited access
Enjoy your first month for just £1 / $1 / €1
*Read 5 free articles per month without a subscription
Join now for unlimited access
Try first month for just £1 / $1 / €1
Tom is a News and Features Writer at Cycling Weekly, and previously worked in communications at Oxford Brookes University. Alongside his day job, prior to starting with the team, he wrote a variety of different pieces as a contributor to a cycling website, Casquettes and Bidons, which included interviews with up and coming British riders.