Struggling with an ongoing neck injury, Leah Thomas steps away from racing
The US National TT champion underwent spinal surgery in February but the injury persists, she will leave Trek-Segafredo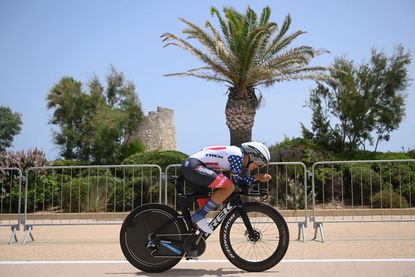 (Image credit: Getty Images)
The Trek-Segafredo team announced today that Leah Thomas will be leaving the team at the end of 2022.
The 33-year-old joined Trek-Segafredo from Movistar at the end of 2021, but got sidelined early with neck pain and a pinched shoulder nerve that left her with limited motion in one of her arms.
She underwent spinal surgery early in the year and had a 'tough spring' trying to recover and return to racing. While her range of motion returned, the pain persisted.
But when she did make a return to racing in June, she did so to great success. In June, she set a new best time on the U.S. national time trial course in Knoxville, Tennessee, claiming the national TT tittle and the coveted Stars-and-Stripes jersey.
She then continued on to support her team in France for the Tour de France Femmes but while she was able to finish the eight-day challenge, her neck continued to bother her.
She returned to her native California to focus on recovery and physical therapy until representing the U.S. in Wollongong at the UCI Road World Championships.
She managed to race the time trial in Australia and finished fifth.
However, it appears the neck injury persists and her team today announced that Thomas will be stepping away from racing to focus on rehabilitation.
A time trial specialist, Thomas turned pro in 2015 with the Twenty16 p/b Sho-air team. She continued on to ride for the UnitedHealthcare, Bigla and Movistar teams before moving to Trek-Segafredo team, attracted by their aggressive racing style.
Thomas' palmares includes several bronze and one gold U.S. national time trial medals, the Pan American time trial title and wins at the Tour of Scotland and the Tour Cycliste Féminin International de l'Ardèche.
We're sad to announce that Leah Thomas will be leaving the Team at the end of the year due to ongoing back pain.In February 2022 Leah underwent spinal surgery and has decided to take some time away from racing to further rehabilitate.Thank you for everything Leah! pic.twitter.com/t7QBMstifWDecember 5, 2022
See more
Thank you for reading 10 articles this month* Join now for unlimited access
Enjoy your first month for just £1 / $1 / €1
*Read 5 free articles per month without a subscription
Join now for unlimited access
Try first month for just £1 / $1 / €1
Cycling Weekly's North American Editor, Anne-Marije Rook is old school. She holds a degree in journalism and started out as a newspaper reporter — in print! She can even be seen bringing a pen and notepad to the press conference.
Originally from The Netherlands, she grew up a bike commuter and didn't find bike racing until her early twenties when living in Seattle, Washington. Strengthened by the many miles spent darting around Seattle's hilly streets on a steel single speed, Rook's progression in the sport was a quick one. As she competed at the elite level, her journalism career followed, and soon she became a full-time cycling journalist. She's now been a cycling journalist for 11 years.