Stuart O'Grady admits to EPO use before 1998 Tour de France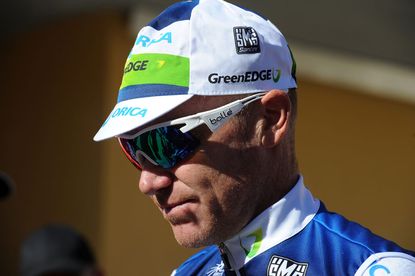 Stuart O'Grady has told Australian newspaper The Advertiser that he took performance-enhancing drugs before the 1998 Tour de France.
Australian stalwart O'Grady made a sudden retirement announcement on Monday having completed the 100th edition of the Tour, which doubled as his 17th appearance.
Today the French Senate Commission released a report that revealed a list of 1998 Tour riders whose urine samples were retroactively tested for banned substances and returned a positive result for EPO. The 39-year-old O'Grady was listed in the report as producing a suspicious sample.
"Leading into the Tour I made a decision," O'Grady told The Advertiser of the 1998 race.
"I sourced it (EPO) myself, there was no one else involved, it didn't involve the team in any way.
"I just had to drive over the border and buy it at any pharmacy.
"The hardest part of all this is I did it for two weeks before the Tour de France.
"I used extremely cautious amounts because I'd heard a lot of horror stories and did the absolute minimum of what I hoped would get me through.
"When the Festina Affair happened, I smashed it, got rid of it and that was the last I ever touched it.
"That's the hardest thing to swallow out of all this - it was such a long time ago and one very bad judgement is going to taint a lot of things and people will have a lot of questions."
O'Grady won stage 14 of the Tour that year and became the second ever Australian to wear the maillot jaune. He said he told his parents on Monday.
"I want to paint a picture why I chose this avenue and make people understand how different things were and how isolated I felt," he said.
"After my first Tour (in 1997) when I was dropped after 5km on a mountain day and you're questioning what the hell I am doing in this sport you're not anywhere near competitive at something you're supposed to be pretty good at.
"It wasn't systematic doping, I wasn't trying to deceive people, I was basically trying to survive in what was a very grey area.
"We're humans who make mistakes. It was a decision I made at the time which I thought would basically get me through the Tour."
The former Paris-Roubaix champion and George Hincapie are tied on number of Tour de France appearances. O'Grady had previously said he wanted to compete with Orica-GreenEdge up to and including next year's race to take the appearance record.
Jan Ullrich, Marco Pantani, Mario Cipollini, Laurent Jalabert, Erik Zabel, Bo Hamburger, Manuel Beltran, Andrea Tafi, Marcos Serrano, Jackie Durand, Jens Heppner, Jeroen Blijlevens, Nicola Minali, Fabio Sacchi, Eddy Mazzoleni, Abraham Olano, Laurent Desbiens and Kevin Livingston all returned positive test results from their 1998 Tour samples.
In addition to O'Grady, Bobby Julich, Ermanno Brignoli, Alain Turicchia, Pascal Chanteur, Frédéric Moncassin, Roland Meier, Giuseppe Calcaterra, Stefano Zanini, Stéphane Barthe and Axel Merckx all returned 'suspicious' test results for EPO.
Related links
Pantani and Ullrich's 1998 Tour samples positive for EPO
Stuart O'Grady retires from professional cycling
Thank you for reading 20 articles this month* Join now for unlimited access
Enjoy your first month for just £1 / $1 / €1
*Read 5 free articles per month without a subscription
Join now for unlimited access
Try first month for just £1 / $1 / €1