Sven Nys and Marianne Vos take cyclo-cross world titles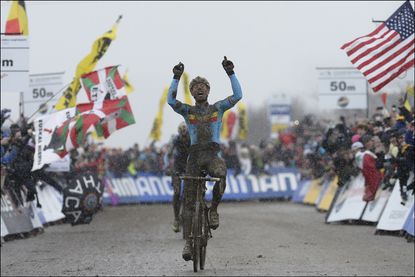 They can take the cyclo-cross world championships out of Europe, but they can't stop the Europeans from sweeping the titles. Sven Nys (Belgium) and Marianne Vos (Netherlands) took a triumphant trip over the Atlantic to Louisville, Kentucky, USA, to take the elite world cyclo-cross titles on Saturday.
The threat of flooding in Louisville, and the subsequent shift of all races to the Saturday, did nothing to spoil the outcome as veteran Nys and pre-race favourite Vos won the respective elite men's and women's title races.
Vos successfully defended her cyclo-cross title, starting 2013 much as she finished 2012 - in complete command. The Dutchwoman added yet another rainbow jersey to her impressive collection - along with last year's road race Olympic title. It's Vos's fifth consecutive 'cross world title, and the sixth of her career.
The 26-year-old finished a full one minute and 34 seconds ahead of home hope and World Cup leader Katherine Compton (USA) with Lucie Chainel-Lefevre (France) in third at 2-10.
The chances of a British podium place faded as Annie Last placed 12th, Helen Wyman in 13th and Gabriella Day in 25th. The latter two had been involved in an early crash that impeded their progress. British national champion Nikki Harris was forced to miss the race through persistent knee injury.
Belgian Sven Nys has rather less of an easy ride in the men's race, as compatriot Klaas Vantornout duked it out for the win in increasingly bitter conditions. Nys escaped from Vantournout in the finale to take the win by just two seconds.
Lars Van Der Haar, the 22-year-old from the Netherlands, put in a strong ride to finish third and firmly put his name on the list of potential future world champions.
Britain's only representative in the elite men's race, Ian Field, finished in 29th place.
Dutchmen Mathieu Van Der Poel took the junior men's title and Mike Teunissen clinched the rainbow jersey in the under-23 men's category to give the Netherlands three out of the four titles. Belgium and the Netherlands occupied all of the top ten places in the under-23 race, showing that the two nations have enough young talent to dominate men's international cyclo-cross for years to come.
Jake Wormersley and Jack Ravenscroft both put in a spirited performance to finish 17th and 18th in the junior men's race. Steven James was the best British finisher in the under-23 race in 30th.
Sven Nys takes the men's elite title
Marianne Vos defends the women's title
Mike Teunissen wins the under-23 men's race
Number one: Mathieu Van Der Poel in the junior men's event
All of the 2013 cyclo-cross World Champions on the podium
Results

UCI Cyclo-cross World Championships 2013: Louisville, Kentucky, USA

Elite men
1. Sven Nys (Belgium)
2. Klaas Vantornout (Belgium)
3. Lars Van Der Haar (Netherlands)
Elite women
1. Marianne Vos (Netherlands)
2. Katherine Compton (USA)
3. Lucie Chainel-Lefevre (France)
Under-23 men
1. Mike Teunissen (Netherlands)
2. Wietse Bosmans (Belgium)
3. Wout Van Aert (Netherlands)
Junior men
1. Mathieu Van Der Poel (Netherlands)
2. Martijn Budding (Netherlands)
3. Adam Toupalik (Czech Republic)
Related links
UCI Cyclo-cross World Champs 2013 photo gallery
Nikki Harris to miss cyclo-cross World Champs through injury
Thank you for reading 10 articles this month* Join now for unlimited access
Enjoy your first month for just £1 / $1 / €1
*Read 5 free articles per month without a subscription
Join now for unlimited access
Try first month for just £1 / $1 / €1