Taylor Phinney ready to step up in Paris-Roubaix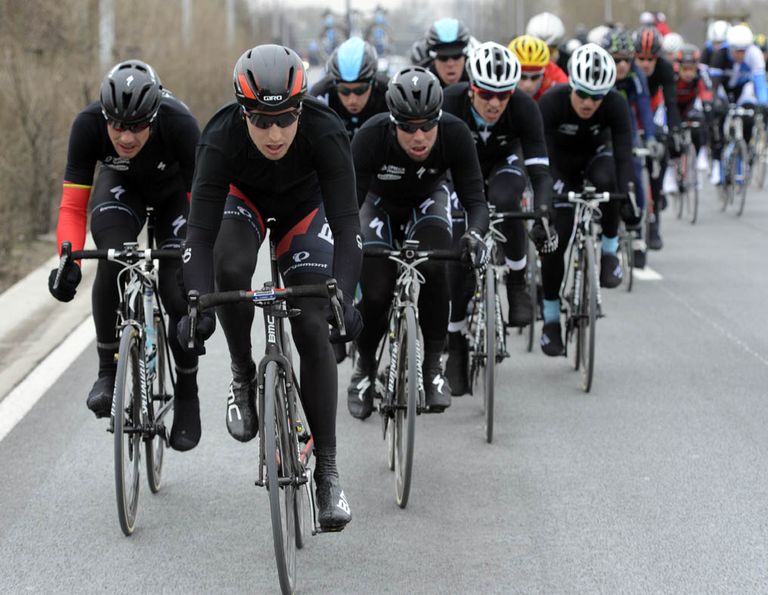 Taylor Phinney (BMC Racing) could be on the verge of making a big leap early into his professional career. By winning Paris-Roubaix on Sunday, the charismatic American would fulfil the expectations of many observers.
"I just love this race, I always get really excited about it," he said yesterday in a BMC Racing recording.
"It is a brutal race, it is a terrible race but it is something so special. You can't really describe it, just feel it."
The 22-year-old from Boulder knows the race well. In support of Alessandro Ballan and Thor Hushovd, he placed 15th in his debut last year. As an amateur, though, he claimed two Under-23 titles on the famous Roubaix Velodrome.
Observers put a lot of weight on his shoulders when he turned professional with BMC in 2011. Clearly, they said, given the two Under-23 wins, not to mention individual pursuit world titles, Phinney can conquer the Hell of the North.
His neo-pro year was relatively quiet, but he was only 20 years old. Last year he blossomed. He beat Geraint Thomas (Sky) to win the Giro d'Italia's opening time trial and spent three days in the famous pink jersey. To close out the year, he time-trialled to fourth in the London Olympics and second, behind Tony Martin, in the World Championships.
The performances excited Phinney fans, who began talking about the 2013 Paris-Roubaix.
Stars aligning
The stars seem to have aligned for Phinney. In casa BMC, he appears most capable. Thor Hushovd, also an Under-23 winner and twice on the pro podium, seems behind. Ballan, third last year, is recovering from a horrific off-season training accident that forces him to watch on TV.
Fabian Cancellara (RadioShack-Leopard), winner of the Tour of Flanders and the out-right favourite at 5:3 odds, looks to be the only one standing in Phinney's way. However, a couple of mid-week crashes may have weakened him.
"We know his values and his talent, he's made steps to become closer to the high level," Cancellara said of Phinney in a press conference yesterday.
"The biggest difference is the distance, at 260 kilometres, where younger riders tend to suffer more. He skipped Flanders, his last race was Ghent-Wevelgem, so being out for so long with no race, especially hard races... He'll have his chance this year, and if not, in the future."
Knee problem?
Phinney sat out Flanders due to a surprise knee problem. BMC Racing announced he would skip the Belgian classic only three days before to rest for Roubaix.
He said his "little knee problem" is better and his knee is now "really good."
"We made a calculation before Flanders. I figured that I could race, but that I would maybe do more damage to myself and put Paris-Roubaix in jeopardy. So I decided to go 100 per cent for Paris-Roubaix," Phinney added.
"I'm happy that I did that. I'm happy to be here healthy. This is my number one race of the year, so I wanted to make sure I came here at 100 per cent."
BMC Racing team
Cancellara noted BMC Racing as one of the strongest teams he will face on Sunday. Phinney will play off strong co-captains Greg Van Avermaet, Daniel Oss and of course, Hushovd.
Phinney said that he would work for Hushovd if needed, but he is clearly dreams of winning his first pro title in what he calls a "brutal and terrible, but special" race.
Related links
Cancellara damaged ahead of Paris-Roubaix after crash-filled week
Paris-Roubaix: Who will win?
Cancellara crashes during Paris-Roubaix training
Paris-Roubaix 2013: The Big Preview