Team Liquigas fights to continue in cycling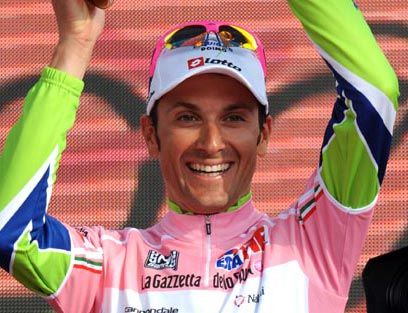 Team Liquigas is fighting to stay in cycling as its title sponsor contract expires at year-end. Just as HTC-Highroad did last year, team management hopes to renew its contract or, failing that, to find a replacement sponsor.
"The 2012 budget is €10.5 million [£8.66m], 60 per cent from Liquigas, or about seven million," the team's general manager, Roberto Amadio told La Gazzetta dello Sport newspaper. "Every year since 2005, it's upped its investment, and there's been financial return."
Italy's top team presented itself yesterday in Milan, sponsored by its country's leading natural gas company and American bicycle manufacturer, Cannondale: team Liquigas-Cannondale.
Liquigas president, Paolo Del Lago has always had a hand in cycling and funded Amadio's team for the last eight years. He helped bring in Ivan Basso after his doping suspension ended in 2008.
The team enjoyed its best year in 2010, thanks to Basso winning the Giro d'Italia for a second time and to Vincenzo Nibali, seven years younger at 27, winning the Vuelta a España. Last year, it won 32 races, nearly half thanks to 21-year-old Peter Sagan.
Amadio said that he is proud to have one of the youngest teams in cycling.
Bob Stapleton had an even more successful team with HTC-Highroad, but failed to convince a new sponsor to take over. Taiwanese mobile telephone manufacturer, HTC sponsored Stapleton's American team for two and a half years.
GreenEdge fills the spot that HTC left in the World Tour. Australia's first division one team makes its official debut on Tuesday in Adelaide, Australia, at the Tour Down Under. Its budget of around £8.25 to £9.90 million [€10-12m] a year comes from Australian businessman, Gerry Ryan. Ryan agreed to fund the team through the end of next year, by which time he hopes the team will have attracted a title sponsor.
"They are not terming it as an investment," GreenEdge's general manager, Shayne Bannan told Cycling Weekly. "They don't expect to make money on this; they just want to help the team become self-sufficient. The return in publicity will equal sustainability, making companies want to sponsor GreenEdge."
Another American team, Garmin started out in a similar way, backed by businessman Doug Ellis when it debuted as Slipstream in 2007. It attracted sponsors Chipotle, Transitions and Cervélo over the past five years. This week, it announced it made an agreement with computer networking company, Barracuda to become a co-sponsor. The team will start the Tour Down Under with name Garmin-Barracuda.
Sky is different from GreenEdge or Garmin, and is more similar to Liquigas. Rupert Murdoch's broadcasting company funds it for an estimated £10 million annually, covering 2010 through 2014.
Amadio believes cycling is good value for sponsors' money. He explained that the team's 2010 season resulted in around £34.6 million [€42m] worth of advertising and that it was around six times more than his sponsor's investment.
"There are alternatives," added Amadio, "but for the same return, you'd have to pay more: 30 per cent more in Moto GP and double to be on a top football club's jersey."
Liquigas had intentions to leave, Amadio said, but thanks to the team's successes, above all in 2010, it is considering renewing. It will need to confirm its commitment before the Tour de France mid-way into the season when it risks its riders and staff looking for new teams.
Related links
Garmin-Cervelo becomes Garmin-Barracuda
Thank you for reading 20 articles this month* Join now for unlimited access
Enjoy your first month for just £1 / $1 / €1
*Read 5 free articles per month without a subscription
Join now for unlimited access
Try first month for just £1 / $1 / €1