Bike thief makes off with 10 police bicycles – even law enforcement isn't safe from bike theft
"This unfortunate event illustrates the brazenness of thieves," Police laments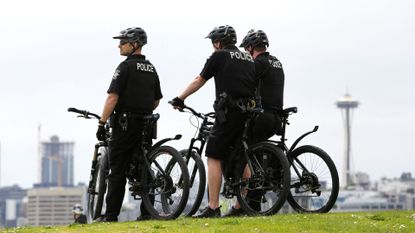 (Image credit: Getty Images)
In a showing of pure audacity, a Texas bike thief successfully stole 10 police patrol bicycles from the San Antonio Park Police earlier this month.
According to KSAT, an ABC news affiliate, the disappearance of the bikes was discovered on the morning of November 6. During a routine inspection of the police bike storage near Brackenridge Park, a San Antonio police officer discovered that a section of the surrounding fencing had been cut, serving as an entry point. Subsequent review of surveillance footage revealed the suspected thief making off with 10 bikes from the storage area.
Among the 10 missing bikes are three Trek Alphas, one Trek Roscoe, a Trek 400 and a KHS of an unlisted model. All bikes are clearly marked with "Police" emblems.
"This unfortunate event illustrates the brazenness of thieves," the San Antonio Park Police said in a statement. "This/these actor(s) cut through a fenced off area, damaging City property during this theft. When found the actor(s) will be arrested and charged with Burglary of a Building with the Intent to Commit Theft, a felony in Texas."
It is unclear at this time how a single thief made off with 10 bikes or whether there were multiple culprits involved. According to the KSAT news report, landscapers were informed to cut down the thick growth of bamboo surrounding the storage facilities, which obstructed the surveillance cameras' view.
The latest FBI Uniform Crime Report of 2019, shows that approximately 175,000 bikes are reported stolen each year in the United States. However, considering the underreporting of most larceny crimes, Project 529, a bike registry and recovery program, estimates that the actual number of stolen bicycles in North America exceeds 2 million annually.
Through data analysis and independent research, Carl Ellis of Thebestbikelock.com approximates that 80% of American cyclists have had one or more bikes stolen. Evidently, even law enforcement agencies are not exempt from this pervasive criminal activity.
To safeguard your bike against theft, here are eight tips on how to lock your bike securely and the best locks for the job. For a little extra peace of mind, here are the best GPS trackers to help you keep an eye on your bike and recover it if lost.
Thank you for reading 20 articles this month* Join now for unlimited access
Enjoy your first month for just £1 / $1 / €1
*Read 5 free articles per month without a subscription
Join now for unlimited access
Try first month for just £1 / $1 / €1