The race to net zero: Exclusive interview with the UCI's president on making pro cycling sustainable
David Lappartient speaks in-depth to Chris Marshall-Bell about his plans to halve emissions and make cycling carbon neutral by 2030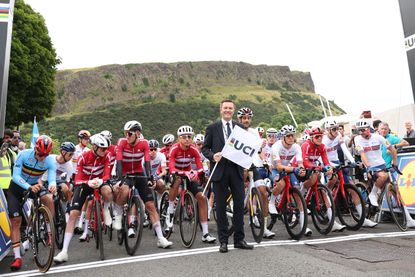 (Image credit: Getty Images)
David Lappartient bangs his fist on the table. The president of the UCI, the sport's governing body, wants to hammer home his message. "We have a green tool: the bicycle," he says. "We have to be green ourselves."
As the world grapples with the climate crisis, cycle racing - like every other component in life - is caught in its crosshairs. Racing in summer is becoming so hot that this August a stage of the Tour de l'Avenir was forced to start in the morning for riders' safety. Other races have been affected by flooding, landslides and high winds that are too frequent to not be a direct consequence of a changing climate.
Yet to the backdrop of this, cycling continues to regularly fly its riders around the world, let teams double their vehicle fleet, and do very little to address a carbon footprint that is seemingly rising year-on-year.
Lappartient knows he has to address the situation. The head of the sport since 2017, last year he released the UCI Agenda 2030 mission statement in which he sets out how all of the sport's stakeholders - teams, races and the UCI themselves - must reduce their carbon emissions by 50% in 2030, and be carbon neutral in the same year [see below].
"There is no other choice but to change," the Frenchman tells Cycling Weekly in an exclusive interview. Which is a good place to interject: on a scale of 1-10, how would he grade cycling's current sustainability? "Four," he shoots straight back. "We are not at the level we should be. We are on the right path, but our starting point was not good and there's a lot of effort to do. Our ambition is really high, to get a score of 10, and we're getting better. We've started sharing goals, a vision, but I think we have to develop more, and it has to be a truly common goal for everybody."
It feels like that is aimed at the sport's superstars - and it is. "We have a young generation very strongly into sustainability and fighting climate change, but I don't believe all our athletes are at that same level. We have such big ambassadors and we need them to take the floor on this, to tell the whole peloton to change. You see riders throwing bidons in a forest and this behaviour affects our collective credibility. We need strong sustainability leaders, everybody on the same journey. We need education, regulation and obligations."
Carbon-cutting calendar
Let's get straight to it, then. What are the rules he wants in place that would see the sport cut its emissions and improve its sustainability? First up: restructuring the calendar into better geographical blocks. "We have to organise the WorldTour calendar in a way that reduces our emissions, and so that we're not moving from one part of the globe to the other every month," he says. "In the Agenda 2030 booklet, it's written that we have to reschedule the WorldTour and other calendars. So [starting from January] it goes from Oceania, Asia, the Middle East, Europe, North America and then Asia. By reshaping the calendar we can help reduce the sport's carbon footprint."
He won't find many people disagreeing with him, but many point out that the European calendar is also not sensibly aligned. "Within Europe, we should have different racing slots in different areas where all the team vehicles can stay for an extended period of time, even if the riders don't. A good example is the Classics in Belgian in the spring, and the Italian Classics in autumn: teams are in the same hotels for three weeks, there are races every few days, and this reduces the carbon footprint."
Lappartient suggests moving Liège-Bastogne-Liège to an autumn slot to coincide with Il Lombardia for racing narrative purposes, a decision which would actually increase teams' carbon footprint. He accepts this, but adds: "We're a little too conservative in our sport. We say that it's been like this for over 100 years, but we can also move the calendar and think outside of the box."
If the sport is serious about halving its emissions and achieving net zero, it needs to address the enormous amount of travelling undertaken in the trio of three-week Grand Tours, particularly the issue of huge rest day transfers that result in riders flying to the next stage's start. "If we want to reduce our carbon footprint, we have no other choice but to change this," he says.
For all Lappartient is a seasoned politician, repeatedly using favourite phrases, placating all sides and undeniably being charming, this is an issue he is clearly vexed by. "In the future we can't have 900km rest days. There's no way they can continue like that. We will be reviewing this." He's got another message for races, too. "For the organisers to reduce their own emissions by 50%, they have no choice but to drive with electric cars and to reduce the distances between stages."
Grand Tours starting more than 1,000km away from their home country's borders are also looking increasingly out of place. "We have to modify some rules in the UCI to not avoid having Grand Départs somewhere else, but to not have them so far away. I remember [in 2016] we had a proposition from the Giro d'Italia to start from Tokyo, Japan. That is not something we could support now."
Regardless of where cycling's three biggest races are held, they are appealing locations for eco-protestors to disrupt racing, as seen at the 2022 Tour de France, where protestors glued themselves to the road. Lappartient says they were "get thrown off the road not by the police or [race organisers] ASO, but by fans".
Lappartient speaks well on the environment, but this is where he disappoints. What he says is patently incorrect: photos and video footage clearly shows local police forces, security personnel and race officials dragging protestors from the road. "These demonstrations are unfortunately from the extreme guys, and what they want is the TV coverage and visibility of our sport," he continues. "We are not in a closed stadium and it's harder to control. We have to work with the police on this."
Turning electric
The sport continues to advance rapidly, with training, preparations and strategies becoming ever more meticulous. That has invariably led to men's WorldTour teams often bringing 10 or more vehicles to stage starts. "We can see that the amount of equipment and cars are increasing, and it's not always in line with what we want," Lappartient rues.
"Now teams have a social media person, chefs, doctors, all kinds of jobs that didn't exist before. It's quite difficult to change this as the teams believe it's part of high-level performance. Do we have to put limits on this? It's something to be discussed with the teams."
There is, of course, a solution without limiting team personnel. "Most of the team emissions come from buses, cars and flights, so how can we reduce this? We can move to electric and hybrid cars and buses," he says.
Lappartient's declarations will likely win support from the masses. An EU survey earlier this year found 88% of EU citizens support reducing emissions to make the continent climate neutral by 2050. That is a big part of Lappartient's audience, so he is certainly saying the right things. But, aside from introducing a carbon tracker for teams and races to monitor their carbon emissions, very few concrete measures have been approved so far. "We have to understand that we are all in the same boat," he says. "We don't want to do things without any consultations or discussions with stakeholders. I don't have a clear answer for everything but I know we have to work together.
"Alongside our experts, the UCI has to explain to teams the different ways to do things, to share good practice, and to show the road ourselves. We have reduced emissions at our headquarters by 38%, changed lights in UCI buildings, and reduced the number of flights. We're not yet at 50% reduction, but we're on the right path. We can't give obligations without abiding by them ourselves."
As the interview wraps up, the man with the biggest in-tray in cycling (he also has another 10 jobs), wants to press home one final point: offsetting schemes will not suffice. "First of all, you have to reduce," he says. "We don't only want to have compensation by planting trees. It's important to state: we don't want greenwashing, we want results."
Reduce or lose your licence
It will be mandatory for WorldTour teams and races to reduce their carbon emissions by 50% in 2030, and to be carbon neutral, UCI president David Lappartient told Cycling Weekly earlier this year. If they are not, they will lose their top-tier licence.
He said: "Today, the licence commission has to verify if they [teams] have a pay guarantee, have enough money to pay [riders and staff], the sporting level of the team is good enough, if their anti-doping measures are strong, and [in 2030] they will have to reduce their emissions by 50% and be carbon neutral. This will be another mandatory point on the specifications to be a WorldTour team in 2030."
To help teams in this quest, in August the UCI introduced a sustainability impact tracker that measures carbon emissions. "If we don't want to be greenwashed by some of them, we have to have a tracker that we and they can trust," he explained.
The news was met coldly by some WorldTour teams. One manager baulked at the plans, telling CW that "he's mad if he thinks we can do that. They expect us to travel around the world, don't provide us with changing rooms, so how are we going to reduce?"
Lappartient said: "Some of them are already on board; for others, if you don't put it in the guidelines and specifications to make it mandatory, it's not sure it's something they'd reach."
Thank you for reading 20 articles this month* Join now for unlimited access
Enjoy your first month for just £1 / $1 / €1
*Read 5 free articles per month without a subscription
Join now for unlimited access
Try first month for just £1 / $1 / €1