There's a secret hypnosis chamber at the Tour de France Femmes for one team's marginal gains
FDJ-Suez have a high-tech recovery protocol which they hope will deliver results on the road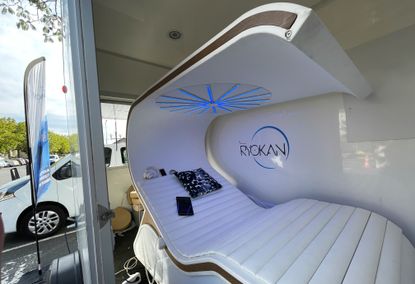 (Image credit: Future/Tom Davidson)
Get The Leadout Newsletter
The latest race content, interviews, features, reviews and expert buying guides, direct to your inbox!
Thank you for signing up to The Pick. You will receive a verification email shortly.
There was a problem. Please refresh the page and try again.
Parked in the forecourt of FDJ-Suez's team hotel at the Tour de France Femmes avec Zwift is an unassuming white cabin. It's there every day, transported from finish to finish, waiting for the riders to return after each stage.
Inside the cabin, there's a bed. Its padded surface flows in the shape of a wave, and sits beneath a sundial of multicoloured LED lights. The riders go in alone, close the door behind them, and stay locked in for up to half an hour.
The cabin, it turns out, has a name - the Rebalance Impulse - and it's a state-of-the-art hypnosis chamber, exclusive to FDJ-Suez at the Tour de France. For the team, it marks the latest insight in cycling's pursuit of marginal gains.
"Every team is doing a lot of work in recovery, so we have to do our best to come up with new ideas," says Flavien Soenen, the French squad's performance director. "I joined the team last year. It's a team that is constantly developing, and we've wanted to push a little bit to find solutions. Every team is evolving, and we don't want to be left behind. So for a stage race like this one, we asked ourselves, 'What is the most important thing?'"
The answer Soenen and his team landed on… "Recovery."
In addition to their post-stage massages and nutrition smoothies, FDJ-Suez riders can now use the hypnosis chamber to help relax their minds. But how does it work?
According to Eric Lozaïc, the director of Cyrorecup, the company that runs the technology, the chamber functions as a "neuro-meditation device".
"We use it to reduce hyperactivity in the brain, brought on by things like stress," he explains. "Sessions last between 15 and 25 minutes, but we try to keep them short. The riders go into the cabin and lie in what we call a 'zero-gravity position' (chest and knees aligned at same height), which allows the body to regulate the heartbeat naturally. They then follow the instructions given to them by an audio programme.
"The biggest benefit is that it improves deep sleep, the part of the sleep cycle where everything happens with regards to tissue recovery and mental relaxation. It also lowers stress levels and helps balance the autonomic nervous system."
One of the riders who has been using the device regularly is Italian rouleur Vittoria Guazzini. "For me, it's very useful," she tells Cycling Weekly. "I always have some problems falling asleep, especially when I'm racing and I'm a bit nervous. It really helps me to relax and listen to my body.
"I just switch off my mind, try to relax as much as possible, and listen to the sound. There is a guy who speaks and tells you to breathe in, breathe out, hold your breath," Guazzini continues. "Sometimes, at the end of the session, I fall asleep."
This isn't the first time FDJ-Suez have used the technology at a race. The hypnosis chamber - which Soenen says is rented for a cost of "several thousand euros" - was first introduced to the team at last year's Tour de France Femmes, and trialled over four stages.
"We saw that our riders were able to keep a high level right up until the end of the race," the performance director says. "They were recovering better at the end of the Tour de France than at the beginning."
This year, the team has supplemented its recovery protocol with a series of other measures. These include pulsating trouser-like devices, laser treatment for muscle injuries, and a wooden barrel ice bath.
Speaking to Cycling Weekly from inside the barrel, Australian rider Grace Brown offers her insight. "It's cold," she says, with purple lips and chattering teeth. "It's 12 degrees, which is colder than it sounds once you have your whole body in here."
Brown, the individual time trial silver medallist at last year's UCI World Championships, is one of the main advocates of the team's ice bath. "Generally, the cold water for the muscles acts a bit like a compression, and increases blood flow and what not, so your muscles are a bit happier," she explains. "I find that it helps me have better legs the next day."
As for the hypnosis chamber, the Australian is skeptical. "I did it once and... meh," she says. "I'm not very good at those types of things. I end up thinking about other stuff and it doesn't actually work very well.
"Each day of the Tour, you sleep a bit worse, but I don't find that it helps so much."
The Rebalance Impulse hypnosis cabin will continue to follow FDJ-Suez for the remainder of this year's race. If the feedback is positive, and race results are good, there's a plan to roll it out at other points in the calendar.
Fans at the finish line won't see it, though. For when the racing has begun, and attention is turned away, the cabin's operators drive it stealthily to the team's next hotel. There, under the cover of darkness, riders can creep out at night and slip into a state of hypnosis, before they go to bed.
Thank you for reading 20 articles this month* Join now for unlimited access
Enjoy your first month for just £1 / $1 / €1
*Read 5 free articles per month without a subscription
Join now for unlimited access
Try first month for just £1 / $1 / €1
Get The Leadout Newsletter
The latest race content, interviews, features, reviews and expert buying guides, direct to your inbox!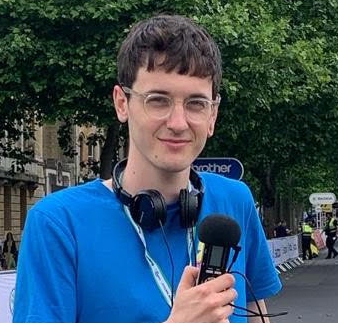 Tom joined Cycling Weekly as a news and features writer in the summer of 2022, having previously contributed as a freelancer. He is the host of The TT Podcast, which covers both the men's and women's pelotons and has featured a number of prominent British riders.
An enthusiastic cyclist himself, Tom likes it most when the road goes uphill and actively seeks out double-figure gradients on his rides.
He's also fluent in French and Spanish and holds a master's degree in International Journalism.