Tour of Beijing 2012: Tougher, no time trial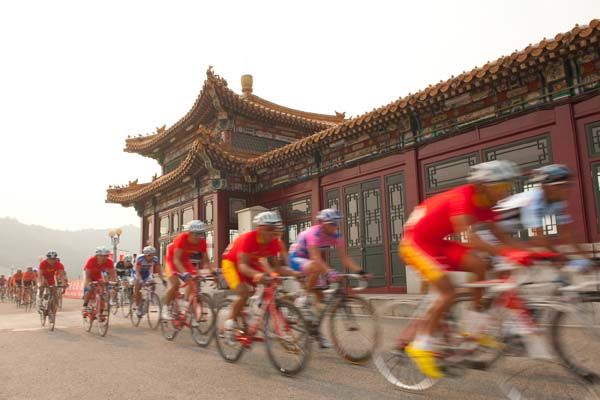 Tour of Beijing organiser GCP announced its 2012 parcours at the Tour de France overnight, one that starts to mimic the difficulties encountered in the historic French event. The China stage race, October 9 to 13, ditches the key time trial stage that helped Tony Martin win last year and leans on the mountains to the north, introducing its first summit finish.
"We found roads with climbs used by the local cyclists. The end result is that the Tour of Beijing is harder," said Alan Rushton, the race's managing director.
Rushton spoke to a handful of journalists and a delegation from Beijing, including Director of Beijing's Bureau of Sport, Cui Guowei after dinner. A video played in the background showing highlights of last year's race.
Germany's Martin, then with team HTC-Highroad, won the opening time trial last year by 17 seconds ahead of David Millar. He defended his advantage through five days, despite climbs up to 800 metres mid-stage, to win by the same amount over Millar.
Organiser Global Cycling Promotion (GCP) addressed this. It axed the time trial and introduced a summit finish to Badaling Great Wall, site of the 2008 Olympic road race. The climb rises to 670 metres with the final kilometre at 6.3 percent.
The tour pays tribute to Tang Xuedong mid-stage, with an intermediate sprint in his hometown. Xuedong is a former Chinese champion and participated in the Baby Giro d'Italia multiple times. Now, he helps the GCP run its event.
The final day is the other stage with the characteristics to split the GC. The stage runs from Chang Ping Stadium to Ping Gu, maker of 60 per cent of the world's violins. However, before the riders can get to the violin capital and finish off the second edition of the race, they have to climb to Si Zuo Lou at 714 metres. It follows a smaller climb and has the ability to form a winning selection, especially with around 10 kilometres of flat to the finish.
Rushton added, "The result of this route change is now the race is no longer a pushover."
GCP director, Alain Rumpf helped launch the 2012 route. He spoke briefly with Cycling Weekly about the Tour of Hangzhou. The stage race, October 17 to 21, will follow the Tour of Beijing and close the WorldTour calendar. Rumpf said that the Hangzhou area is "similar to the area around Lake Como" but the race offers a flatter parcours than Beijing.
With some controversy, both races received WorldTour licences. Teams, however, will take advantage of the end season races. They will likely race the same riders in both tours, but those hungry for WorldTour points may switch riders or field a team suited to both parcours.