Trans women athletes have no unfair advantage under current rules, report finds
'The performance advantages from social factors, training and access to equipment are far greater than testosterone,' paper concludes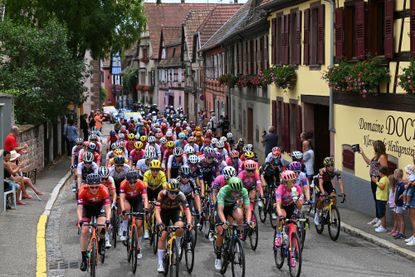 (Image credit: Getty Images)
A report on transgender women athletes in elite sport has found that if UCI rules are adhered to, there is currently no substantial evidence of any biological advantages for trans women competing in elite women's sport.
It found there was little evidence that biomedical factors related to male puberty such as lung size, bone density and hip-to-knee joint angle predict an unfair advantage. But some evidence that social factors like nutrition, training and access to equipment do.
These are just some of the key findings listed in an 86-page report titled Transgender Women Athletes and Elite Sport: A Scientific Review, which was published in late 2022 and commissioned by the Canadian Centre for Ethics in Sport (CCES), an ethical sport advocacy non-profit with a vision of fair, safe, accessible, and inclusive sport for everyone.
The inclusion of trans women in elite women's sport has been a hot button issue of late with high profile instances such as Emily Bridges' attempt to compete in the UK sparking concern and upset on all sides. While the inclusion of trans women has led to protests by those who worry that cis women (the term for women born anatomically female) are at a competitive disadvantage at some U.S. races.
However, the report concluded that "the fears that cis women need be protected from trans women in elite sport are unsubstantiated and misplaced.
"What threatens women's elite sport, for cis and trans women, is not trans women, but is rather misogyny in the form of underfunding, non-parity in participation and leadership, inequitable sport space allocation/access, and a range of sporting opportunities not afforded to women (cis women and trans women) in equitable ways."
The report is an in-depth review of all scientific literature published between 2011 and the end of 2021 in English, regarding transgender women and their participation in elite sport.
Relying only on peer-reviewed articles or syntheses of academic literature in reputable academic journals, the study explores both the biomedical and sociocultural perspectives when it comes to the question of trans inclusion in sports.
The Testosterone Advantage
The biomedical perspective is the primary consideration of sports governing bodies around the globe and commonly the center of the fairness debate. Many trans athlete inclusion policies, the UCI's included, look to testosterone level boundaries and medicalized interventions —such as the suppression of testosterone and supplementation of estrogen— to level the playing field (for more detail see below).
After reviewing the scientific literature of the past decade, however, the report finds that not only are these boundaries arbitrary, the studies are flawed and inconclusive.
The review points to shortcomings such as using non-athletic trans women as subjects; inadequately adjusting data for factors such as height or weight; little understanding of the (disadvantageous) effects of hormone therapy; not differentiating between performance-enhancing doping and naturally occurring serum testosterone; or the little attention given to the fact that distribution of testosterone levels between elite cisgender men and elite cisgender women athletes overlaps.
The analysis did not show support for the argument that testosterone exposure and the biomedical factors related to male puberty such as lung size, bone density and hip-to-knee joint angle lead to athletic advantages.
"There is not one discrete biomarker that allows easy comparison of athletes' bodies to each other in terms of performance," the study concludes.
"[Athletes] are a sum of all their advantages and disadvantages, which results in performance."
While sport-specific studies on performance advantages are lacking, the review did find evidence to indicate that trans women who have undergone testosterone suppression have no clear biological advantages over cis women in elite sport, stating:
"While an advantage in terms of Lean Body Mass (LBM), Cross Section Area (CSA - a measure of muscle mass) and strength may persist statistically after 12 months, there is no evidence that this translates to any performance advantage as compared to elite cis-women athletes of similar size and height." The loss in LBM, CSA and strength continues after the initial 12-month suppression and, as of today, no significance studies indicate at what rate or how long this loss continues.
Additionally, the higher levels of red blood cell count experienced by cis men normalize within four months of starting testosterone suppression. And, what's more, those opting for gonad removal, often experienced testosterone levels far below that of pre-menopausal cis women.
The Social Scientific Disadvantages
In developing sporting policies, the social scientific studies have largely been ignored, the report states, yet it's the social factors that have a far greater impact on athletic performance than testosterone.
"Only certain biomedical factors are policed under a mandate of 'fairness' in elite sport, despite strong evidence that financial material resources (such as access to infrastructure and equipment, nutrition, time to train, higher salaries) are associated with advantage in sport," it reads.
The authors of the review argue that when it comes to questions of 'fairness' in sport, the considerations of discrimination and access are important.
Non-inclusive sporting environments mean that trans women are significantly underrepresented in elite sports. From exclusion policies to changing room access and personal safety, trans-discrimination has a direct impact on a trans woman's access to sport, let alone her performance.
Additionally, there are everyday sociopolitical factors to contend with such as transphobia and marginalization in vital areas such as housing, health care, work and public spaces.
The report found 'strong evidence' that "elite sport policy is made within transmisogynist, misogynoir, racist, geopolitical cultural norms."
Norms, which the report states, are the continuation of a long history of exclusion of women from competitive sport, especially those women whose bodies were deemed to not conform to normative standards of femininity.
What the Cycling Rules Say
The UCI's policy on eligibility and regulations for transgender athletes, state that those who transition from male to female (MTF) are eligible to compete in the female category as long as:
- the athlete has declared their gender identity as female,
- the athlete can demonstrate that their total testosterone level in serum has been below 2.5 nmol/L for a period of at least 24 months,
- and their total testosterone level in serum must remain below 2.5 nmol/L throughout the period of desired eligibility to compete in the female category.
Not all cycling nations have adopted this policy, which has led to conflict and confusion for elite trans athletes. British Cycling even went so far as backtrack on its own inclusion policy to block new trans riders from competing until it has reviewed and decided on a new licensing policy due this spring.
USA Cycling has adopted the UCI standard and as such, trans women are allowed to compete at all levels as long as the above qualifications are met.
Thank you for reading 20 articles this month* Join now for unlimited access
Enjoy your first month for just £1 / $1 / €1
*Read 5 free articles per month without a subscription
Join now for unlimited access
Try first month for just £1 / $1 / €1