Tweets of the week: Tadej Pogačar in Japan, winter training, and Mathieu van der Poel golfs?
Also, an inspired Halloween costume and more, in your regular cycling social media roundup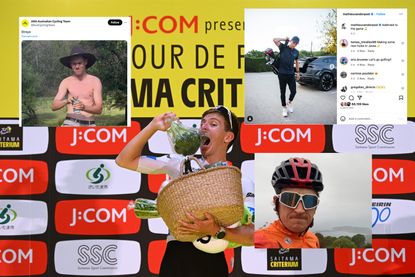 (Image credit: Getty Images)
What saw Tadej Pogačar drawing a bullet train, Mark Cavendish a small green dragon, Sepp Kuss the katakana characters for the colour red and Giulio Ciccone the symbol for mountains? That's right, the Tour de France Saitama Criterium. This was before the actual race, of course, but just as relevant to competitive cycling.
If you're paid to fly to Japan and take part in a criterium for PR purposes, why not make the most of it? That was the approach of Pogačar and his fellow riders last week, as they got stuck into the events on the other side of the world, which really does mark the last drawn-out part of the road season. The plug had been taken out of the bath that is the calendar with Il Lombardia, which was ages ago, but all the water has now finally been drained; that does mean the plug will be put back in soon, though...
For some, the off-season has actually ended already, with Geraint Thomas looking as delighted as ever to be back on his bike - only two more years left, Geraint! - while others, like Michał Kwiatkowski, are doing things a bit differently, by doing relaxing things away from cycling, like running a marathon.
Meanwhile, Brian Holm has decided to start a new training hack - cycling without a saddle - while Luke Plapp has been revealed as the most Australian thing in the world. The award for best cycling-related Halloween costume, by the way, goes to Phoebe Perry, who rode the Rapha Muddy Hell event at Herne Hill Velodrome as a broke Dura-Ace crank, which is very good.
If you ever see anything I've missed that you think is worth including, especially as I try and spend less time on social media, do send it across - adam.becket@futurenet.com.
1. It's just Tadej Pogačar and friends fooling around in Japan. Wholesome.
2. Mark Cavendish genuinely looks really into this, which is delightful. What we really need to know is who actually won the race - Victor Lafay looks pretty speedy in this clip
3. The truth is REVEALED I knew that the tufts weren't fully authentic. Finally, we have proof.
4. What decided which colour beret they got? Maybe the lighter ones are yellow because Chris Froome and Pogačar are Tour de France winners? We might never know. Still, they look cool enough
5. Bikes are too expensive. There, I've said it.
6. Props to Phoebe Perry for this outstanding fancy dress
7. Mathieu van der Poel: not currently cyclo-crossing, but playing golf? GOLF? Also, where is it sunny? Not in northern Europe come on
8. Welcome to the Down Under section. First off, Matthew Richardson has an interesting way of talking on the bike
9. Secondly, maybe we would have said that Richardson was the most Australian thing in cycling currently, but then we saw this picture of Luke Plapp. A true heir to Steve Irwin
10. Meanwhile, Australian abroad Jay Vine went on a sightseeing trip of London, which included a lot of time around Parliament Square. Do you think anyone stopped him and asked him about winning stages at the Vuelta a España?
11. Brian Holm's bike looks... uncomfortable
12. Michał Kwiatkowski: world champion, Monument winner, domestique deluxe, now marathon runner? Simple
13. Can a Formula 1 race be won on a car throw? I'm intrigued
14. Geraint, can you look delighted to be driving a car unsuitable for Cardiff around Cardiff please?
15. Ah man, cycling around 't Kuipke looks fun. It must be pretty steep though... Imagine doing it in front of a full house. Apparently the adverts don't make it any slippier either, phew.
16. Would I be as willing to do silly things on my bike as Ronan Auge? Probably not, but at least he's having fun. Kissing your tyres seems like the opposite of good hygiene, too
17. Finally, while some are facing up to their winter training already...
18. Others are not
Thank you for reading 20 articles this month* Join now for unlimited access
Enjoy your first month for just £1 / $1 / €1
*Read 5 free articles per month without a subscription
Join now for unlimited access
Try first month for just £1 / $1 / €1