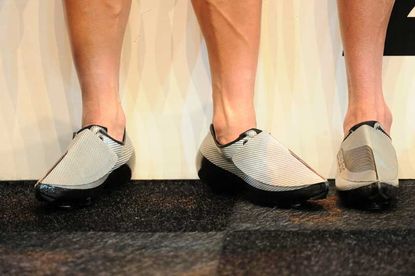 The Union Cycliste Internationale (UCI) has banned Bont's Crono shoe from its events. The Australian manufacturer was informed by a letter emailed to them on April 11 after a complaint was lodged at the world track championships back in March.
The Russian team pursuit squad used the shoes en route to a silver medal in Apeldoorn. A complaint was then made to the commissaire who passed the information on to the UCI's technical coordinator, Julien Carron.
The shoe was banned under rule 1.3.033 (Part 1: General organisation of cycling as a sport) that states 'It is forbidden to wear non-essential items of clothing or items designed to influence the performances of a rider such as reducing air resistance or modifying the body of the rider.'
"The ruling on this is an absolute joke", Bont CEO Steven Nemeth told Cycling Weekly. "The ruling is broken all over the place. If they treated everyone the same way then that would be the way it is, I'd say 'fair enough', and take it on the chin. But if they have one set of rules for one and another set of rules for someone else then they're just commercially handicapping me."
Nemeth argues that virtually every item of equipment is designed to enhance the performance of a rider, and specifically highlighted the use of aero helmets. "Is it necessary to wear an aerodynamic helmet? Are they considered safe? I know what would happen if I landed on my back while wearing one. They're classified as safety equipment, but every manufacturer markets them as aerodynamic."
A quick look at Giro's website confirms this. The blurb alongside their TT helmet, called the Selector, says:
A TAILORED APPROACH TO AERODYNAMICS.
When every second counts, sometimes you have to second-guess convention. The foundation of aerodynamics is pure and unyielding; every gram of drag devours time and calories. And as the speed increases, so does the air's appetite. Instead of simply facing this challenge head-on, the Selector gives you a new edge in the race of truth - the tail.
By combining a smooth front profile with either of two different lower tails, the rider can optimize the helmet for best aerodynamics based on their anatomy, riding position and even course conditions. The result is a helmet that works for you, instead of the wind.
Giro are not alone in pushing the aerodynamic properties of their TT helmet, and forgetting the safety aspects.
Cycling Weekly also contacted Castelli brand Manager Steve Smith to ask if they had submitted their Speed Suit - worn by Johan Van Summeren during his 2011 Paris-Roubaix victory - to the UCI. They hadn't, and didn't think they had to as the ruling on submission of clothing is believed to be applicable only to the design.
But a Speed Suit (like any skinsuit) is designed for its aerodynamics, thus breaking rule 1.3.033.
Around 200 professional riders currently use Bont shoes, although the crono hasn't yet been used on the road. The next generation of the shoe pictured on Bont's website has already been made and is expected to be popular in the triathlon market.
The Crono retails for around $600 AUS ($500 US) and each pair is custom made to fit around a athlete's foot. The Sydney based company is now in it's 36th year, but only entered the cycling market in 2007. Britain's track cyclists, including Sir Chris Hoy and Victoria Pendleton, have been using them for several years. Bradley Wiggins also prefers to use Bonts, despite sponsorship from Adidas.
Read more on this in next week's Cycling Weekly magazine.
The Russian team ride to a silver medal at the 2011 world track championships in their Bont Crono shoes
The offending shoes on the podium. But who complained?
Related links
UCI introduces approved equipment scheme
EXTERNAL LINKS
Thank you for reading 10 articles this month* Join now for unlimited access
Enjoy your first month for just £1 / $1 / €1
*Read 5 free articles per month without a subscription
Join now for unlimited access
Try first month for just £1 / $1 / €1
Editor of Cycling Weekly magazine, Simon has been working at the title since 2001. He fell in love with cycling 1989 when watching the Tour de France on Channel 4, started racing in 1995 and in 2000 he spent one season racing in Belgium. During his time at CW (and Cycle Sport magazine) he has written product reviews, fitness features, pro interviews, race coverage and news. He has covered the Tour de France more times than he can remember along with two Olympic Games and many other international and UK domestic races. He became the 130-year-old magazine's 13th editor in 2015.