UCI hails 20% emissions reduction as it lays out sustainability plan
Report is part of world governing body's commitment to reduce impact of its operations on environment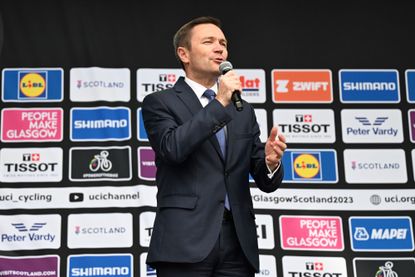 (Image credit: SWpix.com)
The UCI has hailed a 20% reduction in its own carbon emissions as it publishes its first sustainability strategy report.

The report, released yesterday, comes hot on the back of UCI President David Lappartient's exclusive interview with Cycling Weekly in which he discussed ways in which to make professional cycling sustainable.

"There is no other choice but to change," Lappartient said.
The 20% reduction in the UCI's own organisational emissions was achieved in part through improved energy efficiency of the UCI headquarters in Aigle, Switzerland. Its target is a 50% reduction by 2030.
This was one of a handful of achievements in the report - which is available on the UCI website - as much of the document is focused on the organization's sustainability plan for the coming years.
It lays out 29 strategic objectives and 84 action points.
Alongside targets addressing climate change adaptation; waste reduction; diversity, inclusion and equality; and active travel, one of the key objectives is to reduce the climate impact of professional cycling, including the UCI World Championships and UCI World Cup events, work that will necessitate the support and engagement of all organisations within the sport.
Lappartient said: "The UCI Sustainability Report 2021-2023 transparently communicates our progress so far and acknowledges the challenges we still face. It provides clear objectives, timelines and actions to accompany the cycling community in the fight against climate change and towards achieving the United Nations Sustainable Development Goals.
"The transformation that is required to achieve our vision of making cycling one of the most sustainable sports in the world will require everyone to play their part in their specific area."
Earlier this summer, the UCI told WorldTour teams that they must halve carbon emissions by 2027 or risk losing their licence for the sports top level.

It later backtracked and clarified that men's and women's WorldTour teams would be given an extra three years too.

The UCI's sustainability strategy was recently revised to align with the previously announced objectives in the organisation's Agenda 2030.
Thank you for reading 20 articles this month* Join now for unlimited access
Enjoy your first month for just £1 / $1 / €1
*Read 5 free articles per month without a subscription
Join now for unlimited access
Try first month for just £1 / $1 / €1