Valteri Bottas and Tiffany Cromwell won't be troubling the Oscars with their race promo video
F1 star dons a pair of budgie smugglers to sell tickets to Radl Grvl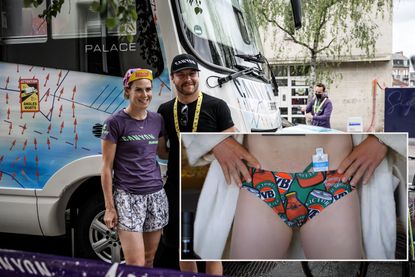 (Image credit: Getty Images/Grvl Events)
It's Tuesday and F1 star Valtteri Bottas is trying to get you to go to race a gravel event in Australia by appearing in a pair of speedos.
That is a sentence you probably didn't expect to read this morning, it's certainly one I wasn't expecting to write, but Bottas and his partner Tiffany Cromwell, pro rider with Canyon-SRAM, have a very tongue in cheek approach to marketing.
The gravel power couple have already run a handful of other events under their Grvl Events company and in January the show is coming to Adelaide, South Australia.
To promote it the pair have made a short ad where Bottas, inclined on the sofa, runs out of Shiraz and after a conversation with Cromwell, who's getting ready to go training, decides the only way to remedy the situation is to start a race in the heart of Australian's wine production country.
Why he then needs to march out the door, bike bag in tow, in a pair of budgie smugglers emblazoned with the logo of Victoria Bitter (VB) one of Australia's most popular beers, is somewhat unclear.
Predictably, the acting from two sportspeople is more wooden than a whole cellar of Shiraz barrels but the ability to laugh at yourself is a commendable trait and one both Bottas and Cromwell clearly possess it in spades.
When one person commented that Bottas's swimwear "made the video" he replied: "Don't leave home without them."
The event itself does at least promise to be a good one. Radl Grvl will last three days from Thursday January 18 to Saturday January 20.
The first day will be a shakedown casual ride, Friday will be a 131km gravel race with a prize purse of $10,000 AUD (£5,200 / $6,300 USD) and Saturday will be another casual ride finishing with watching the Tour Down Under on the legendary Willunga Hill.
The event is limited to just 250 places and registration opens on Wednesday October 25. Entry costs $275 AUD (£143 /$174USD).
It follows in the wheel tracks of events run by the pair in Colorado, USA and more recently Finland, Bottas's home country.
Thank you for reading 20 articles this month* Join now for unlimited access
Enjoy your first month for just £1 / $1 / €1
*Read 5 free articles per month without a subscription
Join now for unlimited access
Try first month for just £1 / $1 / €1