Vincenzo Nibali describes Tirreno as 'great battle' against Chris Froome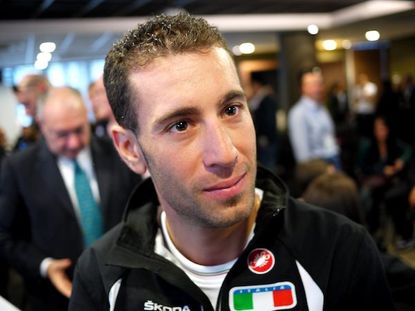 Vincenzo Nibali (Astana) pulled off a coup on the roads of central Italy this week in Tirreno-Adriatico. Today, one day after toppling Chris Froome (Sky) from the top of the general classification, he won the stage race for a second year running - but criticised Sky's 'racing by numbers'.
"This is a great race, it's a big satisfaction. It was a great battle, just like the Tour de France with Froome," Nibali said in a press conference. "I was able to get a good margin yesterday so that in a TT like this, even with a few tricky corners, I was able to hold on."
Nibali placed 12th in the time trial, losing 11 seconds time to Froome, but still maintained his overall lead. He won by 23 seconds over Froome. Alberto Contador (Saxo-Tinkoff) placed third at 52 seconds.
One year ago, he took the race lead out of the hands of Chris Horner (RadioShack-Leopard). He went on to place third at the Tour de France in July behind Bradley Wiggins and Froome.
'It's not over'
Two days ago when the stage zipped into Chieti's city centre in Umbria, it appeared the race was already stitched up for Froome.
"On thing I learnt from racing is that it's really not over until it's over," Froome said, sending out a warning signal. "I have 20 seconds, which is a good buffer, but it's not over."
"I don't think there's a team that can do what Sky's doing," Astana team manager, Giuseppe Martinelli added. "They are the strongest team and we just have to try to take advantage of their work."
A Porto Sant'Elpidio surprise
The steep 27 per cent climbs were always on the menu for the stage around Porto Sant'Elpidio yesterday, but the rain was not. The combination of the two allowed Nibali to break Sky's stranglehold.
It was a bit of payback after Sky got the best of him in the Tour de France.
"Sky has its way, its law, it has a great team. At the Tour there weren't stages like that one yesterday, also a day with rain like that," Nibali said. "A day like yesterday was important for me to create what I did, at the Tour, there was never a day to do that."
Racing by numbers
Nibali accused Sky of racing by numbers, its cyclists using their SRM power meters to control their effort on important key climbs. He indicated that Froome looked at his plastic SRM box on his handlebars more than he looked at his rivals. In a Twitter post, he said that perhaps rules should be written to ban power meters to make for more exciting racing.
"Sky has a way of interpreting the race that's scientific, which may not even be the proper way of describing it, but it's their way. However, in a stage like yesterday, where you couldn't make a fast rhythm, you need strong legs and courage," Nibali explained.
"Some think that SRM and team's cars decide the race, but we are the ones that make the race. I was able to do that yesterday, escape with a rider and get time. I decided that, not a DS in a car behind. You need to have that capacity to read the race."
Nibali showed his capacity of the week to pull off his second consecutive Tirreno-Adriatico win.
Related links
Tirreno-Adriatico 2013: Coverage index
Thank you for reading 20 articles this month* Join now for unlimited access
Enjoy your first month for just £1 / $1 / €1
*Read 5 free articles per month without a subscription
Join now for unlimited access
Try first month for just £1 / $1 / €1