New Wahoo KICKR Smart Trainers and purpose built indoor cycling fan
Expanding the line of KICKR Smart Trainers and introducing the KICKR HEADWIND.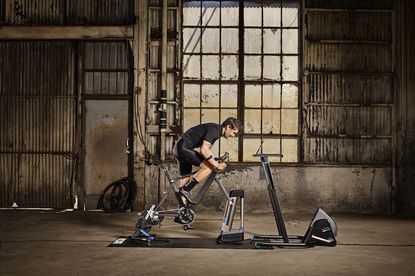 (Image credit: David Emmite)
Unveiling a new version of the KICKR smart trainer, the new wheel-off KICKR Core trainer and the all-new KICKR Headwind Smart Fan, the new Wahoo products add to an existing range of connected devices for indoor riding.
>>> The best turbo trainers: A complete buyers guide
KICKR Smart Trainer
The range topping KICKR Smart trainer gets a complete overhaul, addressing the noise issues with the previous model, with Wahoo claiming to have drastically reduced both the sound amplification and pitch making it a virtually silent trainer, which it says makes it an ideal indoor trainer, especially for those living in shared buildings or training at night.
Compatible with the new Headwind Smart Fan and indoor grade simulator, the KICKR Climb, other updates include a heavier flywheel that Wahoo says combines real-time responsiveness and precise power measurements (up to 2,200 watts) to deliver its most realistic indoor riding experience yet. The new KICKR is available for sale now at wahoofitness.com and retailers for £999.99.
KICKR Core Trainer
The new Wahoo KICKR Core uses KICKR's existing flywheel technology, but this time in a more compact design. Wahoo say the trainer provides accurate power measurement and, like the KICKR Smart, is compatibility with a wide range of bikes and training platforms and will be available for sale later this summer for £699.99.
KICKR Headwind Fan
Wahoo believe the KICKR Headwind Smart Fan is the first purpose-built, fan designed specifically for the needs of indoor cyclists.
With the ability to connect with heart rate and speed sensors, Wahoo say the fan automatically delivers a realistic, powerful headwind (up to 30 mph) and simulates the air flow a cyclist feels when riding on the road.
>>> Eight best smart turbo trainers for 2018
The KICKR Headwind is compatible with all Wahoo smart training devices, and also pairs, via Bluetooth or ANT+, with third-party smart trainers. The KICKR Headwind will be priced at £199.99 and will be available this summer.
Thank you for reading 5 articles this month* Join now for unlimited access
Enjoy your first month for just £1 / $1 / €1
*Read 5 free articles per month without a subscription
Join now for unlimited access
Try first month for just £1 / $1 / €1