Because the world isn't flat, the new Wahoo Kickr Climb simulates the ups and downs
New addition to Wahoo's smart trainer range raises and lowers the front of your bike to mimic climbs and descents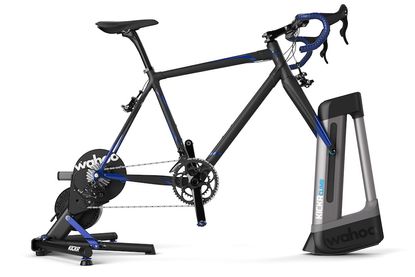 The new Wahoo Kickr Climb launched by the innovative turbo trainer and computer brand, offers users a new way of experiencing real world riding scenarios.
Wahoo's latest indoor kit fits to your bike's forks, replacing the front wheel. A motor in the Kickr Climb raises or lowers the front of the bike, simulating uphill gradients of up to 20 per cent and descents of up to 10 per cent.
>>> Which is faster, climbing in or out of the saddle?
You can get out of the saddle to tackle climbs (although you can't rock the bike from side to side like Alberto Contador) and the Kickr Climb will work with any third party software that transmits gradient data, including Zwift. You can also use its included, bar mountable remote control to raise or lower the Climb manually.
With the variety of axle standards now in play, the Kickr Climb has been designed to work with front quick releases, thru-axles and MTB standards.
The one drawback of the Kickr Climb is that it is not compatible with older Kickr and Kickr Snap trainers, as the rear axle has to be able to rotate when the front end lifts and drops. But Wahoo has taken advantage of the need to redesign the rear linkage to add support for thru-axles and clearance for discs to its trainers.
Wahoo has also increased the power measurement accuracy of the Kickr Snap from +/- 5% to +/- 3% and given it connectivity to third party power meters – a feature that was only available on the Kickr before.
The new Climb-compatible Kickr and Kickr Snap are available from the end of August, and the Kickr Climb in November. It is priced at £449.99.
Elsewhere in Wahoo's range, the Elemnt and Elemnt Bolt computers now support structured workouts. There's a new screen with a visual effort indicator and countdown to the next interval. You can also pause a workout and return to it if you are interrupted. It's a free downloadable update to the Elemnt and Elemnt Bolt.
And of course, coupled to the Kickr Climb your structured workout can automatically include gradient simulation too.
Wahoo's trainers have pushed the boundaries of indoor cycling technology. Its Kickr was one of the first direct drive trainers. It offers tight integration with simulation packages like Zwift and the ability to mimic your outdoor rides by replaying the route using Wahoo's Elemnt and Elemnt Bolt GPS computers.
In 2015 the Kickr was joined by the Kickr Snap, a wheel-on trainer which offered most of the original Kickr's functionality at a lower price point.
Although the Kickr and Kickr Snap adjust the pedalling effort to mimic climbs and descents, the bike stays in its static, horizontal position.
This means that the muscle groups recruited by a real out-of-the-saddle climb are not used in the same way indoors.
Thank you for reading 5 articles this month* Join now for unlimited access
Enjoy your first month for just £1 / $1 / €1
*Read 5 free articles per month without a subscription
Join now for unlimited access
Try first month for just £1 / $1 / €1