Welcome to Yorkshire respond to 2014 Tour funding announcement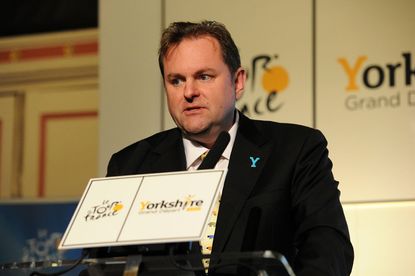 Welcome to Yorkshire, the organisation behind the successful bid to host the Grand Depart of the 2014 Tour de France, has responded to the announcement yesterday afternoon that the Government is set to conditionally back the event with £10 million.
The Department for Culture, Media and Sport (DCMS) agreed to provide the funding on the condition that an "Olympic style delivery agency" was set up.
Gary Verity, chief executive of Welcome to Yorkshire, said in a statement to Cycling Weekly, ''A UK wide strategic delivery group for the Grand Depart was a key component of Welcome to Yorkshire's original business plan to UK Sport.
"As the only agency in the UK with the contract to deliver the Grand Depart of the Tour de France Welcome to Yorkshire will, as it originally stated, form and chair that group and will invite representatives from UK Sport and DCMS to be a part of that.
Verity is today hosting the president of the Tour de France organisers ASO, Jean-Etienne Amaury, at an event in Leeds. Speaking earlier, according to Sky Sports, Amaury said that Britain was now the number one cycling nation in the world.
"Many people and organisations with experience of being involved with the Olympics will be on that group and we will work with ASO, the premiere cycling event organisers in the world, to ensure we host both a world class cycle race and also maximise the benefits that surround it in terms of economic impact, health, education legacy and tourism," Verity added.
"We are confident we have the expertise to do that and deliver on our promise to host the Grandest Grand Depart."
Related links
Government calls for 2014 Yorkshire Tour de France changes
Tour de France 2014: Official launch in Leeds
Thank you for reading 10 articles this month* Join now for unlimited access
Enjoy your first month for just £1 / $1 / €1
*Read 5 free articles per month without a subscription
Join now for unlimited access
Try first month for just £1 / $1 / €1
Richard Abraham is an award-winning writer, based in New Zealand. He has reported from major sporting events including the Tour de France and Olympic Games, and is also a part-time travel guide who has delivered luxury cycle tours and events across Europe. In 2019 he was awarded Writer of the Year at the PPA Awards.