Why are bike riders in Sierra Leone racing in Team GB kit?
The West African Lunsar Cycling Team received a donation from one of Britain's most talented cycling families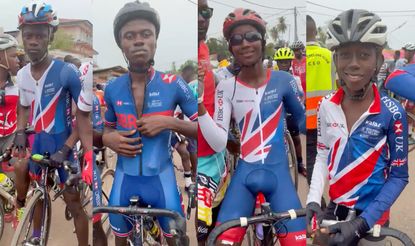 (Image credit: Lunsar Cycling Team)
A local cycling team at this year's Science in Sport Tour de Lunsar, the biggest bike race in Sierra Leone, turned up to the start line on Wednesday wearing an assortment of Team GB kit.
There were skinsuits and jerseys, mismatched in white and blue, some dating back around a decade.
But where did it all come from?
Sources involved with the Lunsar Cycling Team, whose junior team wore the kit, revealed to Cycling Weekly that the GB gear came as part of a donation from the Hayter family, and was previously owned by Ineos Grenadiers duo Ethan and Leo.
The kit was offered to the team by the brothers' father, Tim Hayter, who had gathered a collection of his sons' old GB academy gear over the years, much of it still unworn.
"As with most parents of cyclists, we'd ended up with a loft full of old cycling kit, dozens of skinsuits, base layers, bib shorts and so on," Tim told Cycling Weekly. "We wanted to get the space back, so I tweeted in January asking if anyone knew the best way to get rid of 10 years of accumulated old kit."
One of those who responded was Tom Owen, founder of cycling marketing company Fausto Agency, who helps fundraise for the Tour de Lunsar.
"He offered to take everything," Tim said. "The unused jerseys - quite a lot of the kit was still in cellophane - he sold to pay for the transport, and everything else was then shipped to Sierra Leone.
"That was the last I heard of it until today when I saw that clip of the kids in the kit. [It's] so great to see the skinsuits being put to good use."
Looking good people 😎All the kit worn by @lunsarcycling juniors at the #SISTourDeLunsar has been kidly donated by the Hayter's! @leohayter @ethan_hayter@Willowman66#FuelledByScience pic.twitter.com/qvl55zYJ0CApril 26, 2023
See more
Access to quality cycling equipment is scarce in Sierra Leone, a country considered among the poorest in the world.
This is not the first time local riders at the Tour de Lunsar have worn donated clothing. In previous years, Lunsar Cycling Team members have been photographed wearing EF Pro Cycling jerseys, donated by Lachlan Morton at the end of the 2019 season. The Australian also sent shoes, helmets, mitts, caps and bib shorts to the squad.
"The haul donated by Lachlan Morton has quickly become the best cycling kit in the whole of Sierra Leone, such is the position the country is in," the team wrote on its website at the time. "We are always open to kit donations whatever type of cycling kit it is, old and new."
Other riders who have donated kit include Dan Martin, previously of UAE Team Emirates and Israel-Premier Tech, and FDJ-Suez's Grace Brown, who Cycling Weekly understands made a sizeable donation for those competing in the race.
Founded a decade ago by bike mechanic Abdul Karim Kamara, the five-day Tour de Lunsar comprises a junior race, a women's race and a four-stage men's event, which concludes this Sunday 30 April.
Further information about donating to the Lunsar Cycling Team can be found on the team's website.
Thank you for reading 20 articles this month* Join now for unlimited access
Enjoy your first month for just £1 / $1 / €1
*Read 5 free articles per month without a subscription
Join now for unlimited access
Try first month for just £1 / $1 / €1