Wouter Sybrandy: Crash course in recovery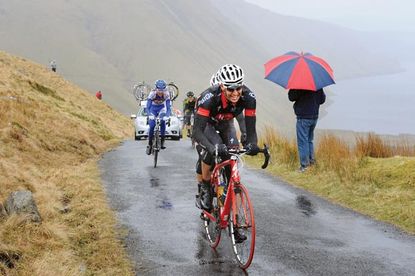 It was during stage eight, the final stage of the 2012 Tour of Britain, from Reigate to Guildford, where IG Sigma Sport rider Wouter Sybrandy had one of those crashes that every cyclist dreads.
In a bid to catch the lead group, the 27-year-old Dutchman was descending at lightning speed. They were roads he knew well, and without having to worry about any riders around him, he upped the ante.
"I don't remember what really happened," says Sybrandy. "I lost about 10 minutes around the time of the crash happening. The last thing I remember is turning into the bend on the descent and then waking up on the floor."
Sybrandy had crashed hard. "I sort of remember my bike making it round the corner but unfortunately I didn't. There was a steep banking on the side, with roots sticking out and I face planted into it. I tried to watch it back on the TV, but the only footage was of the aftermath, with my feet just lying there, unconscious. From what people have told me, the brain switches off when the body is involved in such a traumatic injury, and that's probably why I don't remember anything.
"It nearly paid off though. There was a lead group of 20-25 riders going over the top of the climb, just as I got to the top. So I thought, 'These are my local roads, I know the descent really well. I can take a few more risks than I normally would do and catch them up.' And I did. I pretty much closed the gap by the time I reached the corner. One more corner, and I would have been on the wheels again."
But the only thing Sybrandy was on was the floor, and things didn't look too good for him, although he wasn't as worried as the concerned looking faces around him.
"The first thing I can remember is my dad, who ironically was on the corner I had just passed. So first thing I saw when I woke up was him and Becky [team general manager], who looked very concerned.
"I didn't think I was too bad at that moment. I remember raising my legs and wiggling my toes. I thought as I was able to move them, I couldn't be too bad. But I was confused as to why everyone was looking so worried. That's when I started to panic a little. My face was in a terrible way, but I couldn't even feel it at that point."
Assessing the damage
In fact, Sybrandy was a lot worse than he realised. "I broke three vertebrae and cracked another two, so they had to plate five. My face was pretty messed up. I had plates put in on my cheekbones and on my forehead. The outside of my body wasn't too bad, as everything looked intact, but on the inside, most things were broken.
"The only visible injury you can see now, the only reminder of the crash, is that my eye is a little lower than it should be. It's lazy and I actually have to train it. That's something I never thought I would have to train. I have these weird staring exercises, which probably freaks people out if they see me doing it. But it's something that I need to do. When I'm on the drops, and my head is low, when I look out of the corner of my eye, I actually have double vision."
Broken vertebrae, facial plates and dropped eye sockets are pretty bad going as far as crashes are concerned. But his nonchalant response, when quizzed over any other injuries he endured from his crash, is when you realise just how hard he must have hit the floor, and the extent of how damaging the injuries he mentioned were, to even forget to tell us about his other injuries.
So was there anything else you broke? "Nothing," he replies. "Well, sort of," he then adds. Sort of, so you did break other bones? "Oh, well I broke my ribs," he calmly says.
How many? "Pretty much all of them. But hey, the doctors can't really do anything for broken, cracked and bruised ribs. They didn't even bother looking at them as they were more worried about everything else. Thankfully, it didn't do too much damage to my lungs, but even now, I can feel the lungs sort of stretching as I breathe."
Whoever said cyclists weren't tough nuts?
Record recovery
If Sybrandy's injuries were remarkable, the speed of his recovery was flabbergasting.
"Doctors said I'd be in hospital for six weeks, and a further six months before I was active again. Some thought I would be able to ride my bike again, but couldn't state a set time, while one wasn't sure I would ever ride again.
"I was out of hospital within two weeks and was back on my bike within two months and now, some three months after the crash, I'm back to riding and training hard."
How on earth was this possible? Was there some magical treatment, did he have the best post-operation rehabilitation programme to follow?
"Honestly, I totally put it down to my fitness. It was so bizarre going from being so active, to not being able to move in the blink of an eye, but the fitness I had accrued over the years was the reason why I recovered so quickly. I put it fully down to being healthy."
Going back to those first few days in hospital, how did he feel?
"Well, I was really confused when I was first in the hospital. I had to keep telling myself that I must have crashed really bad to be in there. I was on so many painkillers, I couldn't feel the pain, and I didn't know what was going on, always being taken to this room, that room - for scans and screenings.
"When I fully understood the extent of my injuries, I was pretty calm about it. In fact, I think that really helped me. A lot of people get depressed, upset and even angry. I would even go on to say that I was upbeat and kept telling myself, 'How bad could it be? Yes, it might take a bit longer to heal, but it will heal.'
"It is what it is. I wasn't going to let this upset me. I wasn't going to try to prove them wrong or get angry. How does that help? You just have to accept it and know it's going to take work to heal and get back to what I want to be doing.
"Some people have this idea that professional cyclists lie there screaming, that they must get back on the bike as soon as possible. My first concern was getting healthy again, and if I could ride again, then great.
Structured rehab
"My advice for anyone who is suffering from a heavy injury caused by a bike crash is to have some structure. It's really important to have goals, as it keeps you striving towards something - something to aim for, an outcome.
"You go from goal to goal. It's important that the goals change, and that they are short term, as once you reach one, you need to have something else to go for.
"Mine was firstly being able to just stand up again. The first week, I wasn't even allowed to move.
"The next was to start walking. Every day I was going that little bit further. I tried to get up the stairs. At first, I was only going up a few steps at a time, but as each day passed, I was slowly getting up more.
"After that, my priority was to get out of the hospital. That was a biggie and I really wanted to get out of there. Thankfully, I achieved it pretty quickly.
"My final goal was obviously to get back on the bike, and although it initially seemed quite far away, it was starting to become more realistic. That week after I left the hospital, my thoughts turned massively to cycling. I was allowed to ride a stationary bike, and that was my priority. It felt odd, but my legs didn't seem too bad.
Distant memory
"I don't think the crash has massively affected me. It does feel like nothing ever happened. I'm still not entirely sure how well I will compete when I return, but I don't feel there will be an issue.
"I know it's a cliché, and cyclists say it all the time, but crashing really is a part of cycling. It's annoying that I crashed on my own, as it could have been avoided. But then again, if you don't take risks, you don't win.
"I accept risks. I don't want them, but what can you do? Don't become a cyclist, I guess. Personally, I don't feel like I will slow down when I'm next on a descent. Having said that, I'm only training at the moment, and there isn't a need to take risks.
"But in a race situation, like when it happened, I got carried away in the moment, so you can't really say it won't happen again. I think now though, I recognise the feeling when I am getting carried away, and might be able to start pulling back. But to be honest, I don't think that will stop me. After all, this is bike racing."
How to crash
"Get on with it," says Sybrandy. "It sounds careless, but if you accept it's going to happen, it won't come as much of a shock when it does happen. Yes, it's going to hurt at the time, but nine times out of 10, you'll probably just end up with road rash. Breaks and real serious crashes are rare. I still haven't broken my collarbone!
"And this may sound really weird, but I kind of enjoyed the rehabilitation process. From the moment I woke up, and as every day passed, you can feel yourself getting better and your body strengthening. It's a positive experience as you can feel yourself working with your body, and helping it."
Eyewitness account
IG-Sigma Sport general manager Becky Frewing
"I was in the team car behind the riders with Roger Hammond. I actually didn't get out of the car at first as I thought it would be a 'normal' crash and I'd stay out of the way, let the mechanic do his thing and we'd be up and running again.
"It was only when he came back to the car saying that he looked really bad that I got out and went over. Obviously the first shock was the amount of blood and the cuts on his face. By then he had the race doctor and medic with him. A couple of members of the public who lived on the road were also there and had said what they thought had happened.
"Wouter's dad and partner were over for that stage and I remember we had just passed them on the climb so I sent Roger to go and get them while I just sat with him. He was clearly in a lot of pain and the doctors were concerned about his back and neck.
"We all helped the medics to get him in the ambulance, and I went with him in the ambulance to the hospital. I had a chat with him before he was moved on to St George's Hospital. He said he was sorry and was gutted to be missing out on the party that night and could kill for a beer, so he was always in good spirits.
"It was pretty awful all round really. I've seen guys crash quite a lot and cleaned a lot of road rash, pulled safety pins out of backs etc, but this was the first serious accident I'd seen and obviously it was made even worse by the fact that it was one of our team.
"I visited Wouter quite a bit in hospital afterwards and was amazed to see how quickly he was up after the back surgery. He was also so upbeat, which I think helped massively. He's a strong man mentally as well as physically and maintained a positive attitude throughout."
The original version of this article appeared in the January 24 2013 issue of Cycling Weekly magazine.
Thank you for reading 20 articles this month* Join now for unlimited access
Enjoy your first month for just £1 / $1 / €1
*Read 5 free articles per month without a subscription
Join now for unlimited access
Try first month for just £1 / $1 / €1