Zwift 'Man Ride 2018' to raise awareness of men's mental illness
Zwift is hosting a series of rides and a virtual group event on 'Global Man Ride Day' this October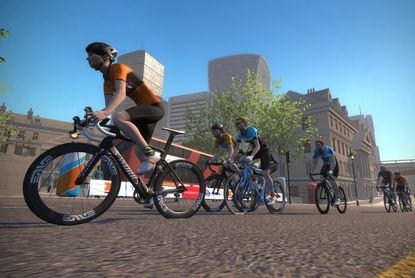 (Image credit: Picasa)
Indoor cycling platform Zwift has partnered with clothing brand Black Sheep Cycling to offer an online version of its 'Man Ride' - which aims to raise awareness of men's mental illness.
Every day in the UK, 13 men take their own lives due to mental illness, one in five men in Australia suffer from a form of mental illness and in the USA men are four times more likely to commit suicide them women.
>>> Indoor cycling platforms explained
The goal of the Black Sheep 'Man Ride' and its 'Global Man Ride Day' on October 7 is to create a conversation around the statistics and encourage discussion of men's mental health.
"The metaphor between the high and lows of cycling and mental illness are marked," says John Polson, Black Sheep Managing Director.
"But more than that, the Man Ride is our way to engage an entire community, break down the stigma associated with men's mental illness and carry the conversation across multiple continents and platforms."
https://vimeo.com/187275702
The official Man Ride 2018 will see 10 self-supported riders covering five continents in five days - they'll ride in Oceania, America, South America, Europe and the UK, starting from October 3.
Their finish line will arrive on October 7 - the second successive 'Global Man Ride Day.' This will be celebrated with 15 rides around the world, as well as a virtual Zwift ride.
To help partakers get some training miles in, there's a series of 'Brunchie' rides being held on Zwift in the run-up to the event, too.
Studies have shown that cycling can be good for mental health, but competitive sport has a tendency to draw in people who can be more susceptible.
Graeme Obree famously suffered with depression, and told Cycling Weekly: "Whatever it is, the nuclear reaction that drives [athletes] on is also the thing that leaves them susceptible to being depressed. It's not that sport makes people depressed.
"A lot of people who suffer from depression have a tendency to have obsessive behaviour – that's why more of them exist in the top end of sport. The sport is actually a self-medicating process of survival."
Thank you for reading 20 articles this month* Join now for unlimited access
Enjoy your first month for just £1 / $1 / €1
*Read 5 free articles per month without a subscription
Join now for unlimited access
Try first month for just £1 / $1 / €1