Bike envy: Andy Kessler's limited edition Chris King x OPEN WI.DE
Only 15 of these purple beauties will be produced to match Chris King's 3D Violet components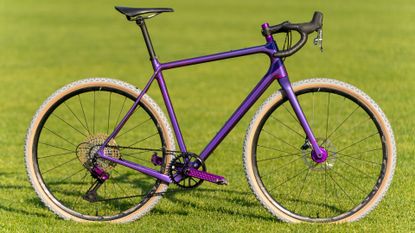 (Image credit: OPEN Cycle)
As part of its Bike of the Month series, OPEN Cycle today unveiled a Chris King x OPEN limited edition WI.DE frameset for those who love all things purple. Just 15 of these custom in-Italy painted framesets will be produced and are sold with Chris King's Dropset headset in the 3D violet color that inspired the project. A matching Chris King GRD 23 wheelset with 3D Violet hubs is also available but sold separately.
"This bike, for me, it's a lot of history," says Andy Kessler, OPEN's co-founder.
Kessler started in the bike business in 1989, around the time when Chris King introduced its first color-anodized components. Following silver and black components, the vibrant shade of purple was its first foray in bright colors and, per Chris King, it "became a runaway success and launched the colored anodization program that has been a cornerstone of our aesthetic ever since."
In the three decades that have passed since, Kessler has spent his entire career in the bike industry and via Scott and Cannondale, ultimately worked his way up to the position of CEO at the Swiss cycling Brand BMC. Here he's credited for growing BMC from a small domestic name into a globally recognized and respected brand. He then went on to Cervélo, where he worked alongside his now-business partner and OPEN co-founder, Gerard Vroomen.
The 80s-inspired purple, Kessler says, is "basically going back to where I started. I think it's a funky, cool, exciting combination."
Kessler's own bike, pictured here, features an impressive amount of purple anodized components, including Chris King's 3D Violet dropset and hubs, and an Ingrid Components drivetrain. Even Ultradynamico's Rosé tires are a light shade of pastel purple.
The build is completed with a Brooks B13 saddle, an Enve seatpost and cockpit, and SRAM shifters.
The bold, custom paint job features many nods to the American components brand with little Chris King bee logos throughout and the slogan "it rolls good with angry bee sounds" printed on the chainstay.
Again, only 15 framesets will be produced, retailing for €3900 EUR (Chris King Dropset included). The matching Chris King GRD23 wheelset is also available for €3100/ $2850.
The complete build:
Image 1 of 15
OPEN WI.DE frameset
Chris King Dropset2
Chris King GRD 23 wheelset with R45D hubs in the 3D Violet color
INGRID Components POP limited edition crankset
INGRID Components limited edition rear derailleur
INGRID Components 10-48T chainring
SRAM 11 speed shifters converted into 12 speed
Ultradynamico Rosé, 700x42 tires
Enve SES AR Handlebars
Enve stem
Enve seatpost
Thank you for reading 20 articles this month* Join now for unlimited access
Enjoy your first month for just £1 / $1 / €1
*Read 5 free articles per month without a subscription
Join now for unlimited access
Try first month for just £1 / $1 / €1