This custom Scott Foil RC Liquid is inspired by supercars and we want one
The 7.1kg build from Dangerholm features a 'liquid gold' custom paint job and is dripping in exotic components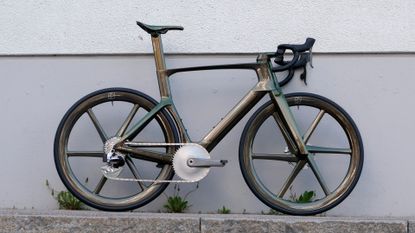 (Image credit: Scott)
Get The Leadout Newsletter
The latest race content, interviews, features, reviews and expert buying guides, direct to your inbox!
Thank you for signing up to The Pick. You will receive a verification email shortly.
There was a problem. Please refresh the page and try again.
Sweden-based bikebuilder Gustav Gullom, who has built a reputation through his Dangerholm Instagram account for creating incredible lightweight custom mountain bikes, has turned his attention to the road for the first time and built a race bike like no other - the Scott Foil Liquid.
Using Scott's Foil RC frameset, which featured as one of our race bikes of the year, as the centrepiece, the man renowned for creating some of the lightest mountain bikes painstakingly selected the bike's specifications before spending hours sanding, painting and polishing the chassis.
The result is, according to the man responsible, "an aero bike with elegance and performance turned up to 11".
"The goal was that it would in some ways resemble and bring the feeling of looking at a beautiful super car," he says. "Things like having matching body panels, small logos, clean tires with no big brand patches and so on - but a bicycle."
Like Dangerholm's mountain bike and BMX creations, the Scott Foil Liquid is lightweight, with the finished product tipping the scales at 7.11kg - and that includes the pedals.
The bike's Liquid moniker is derived from its special effect 'liquid gold' paint.
"It shifts dramatically from being completely transparent, allowing the black carbon fiber to be visible as if just clear coated, to flipping between green, gold and in some angles even blue tones," Dangerholm says. "In low light the bike becomes much more discreet with glossy olive tones."
Before applying the transparent primer, the frame and components were stripped down to bare carbon. After the primer came the liquid gold paint followed by a clear coat. This, Dangerholm stresses, has to be applied carefully and with thought.
"Too little of the paint and it would appear bland," he says. "Too much and you would not achieve the same transparent effect."
Dangerholm chose the Scott Foil RC for several reasons. Aesthetically pleasing - he describes the Foil as "incredibly beautiful" - it features lines and shapes that "flow", providing a complementary canvas for the liquidity of the paint job.
He also appreciated the Foil's blend of aerodynamic properties, responsive handling and low weight. When discussing the bike he notes the angle of the seat stays, chosen to best direct the airflow into the rear wheel for "aero benefits". Given Dangerholm's own obsession with detail, it's unsurprising that a design feature that's easy to overlook draws his praise.
As for the weight, when stripped of paint, the 56cm frame came in at 888g including hardware and seat clamp.
Like many of the best aero bikes, the Foil uses an integrated cockpit that adds to the seamless design.
"The Syncros Creston iC SL Aero handlebar fits perfectly with the frame, and helps with the aerodynamics thanks to its incredibly small frontal area," says Dangerholm. "Visually striking and at the same time a comfortable handlebar."
The Foil works with two different Syncros Duncan SL Aero seatposts - the regular and the CFT. The former is a standard one-piece design, whereas the latter is a two-piece offering built for comfort.
Dangerholm opted not to choose between the two, instead painting both and choosing different seats for each post.
"Since I have both options for this bike, I decided to take the opportunity to run different seats as well," he says. "Some people might question this, while I view it a bit like how for a runner sometimes it can be good to mix it up with different shoes."
The lightest combination sees Dangerholm match the regular post with a Coco Designs Spline saddle, which weighs just 65g. Handmade in France, it has been custom painted to match the rest of the bike. According to Dangerholm it's more comfortable than it looks, in part due to the degree of flex allowed by the thin carbon shell.
"It's easy to imagine full carbon seats to be like sitting on a rock," he says. "And while some are like that, the good ones actually are more similar to old leather style seats providing flex and bump absorption."
This being a Dangerholm creation, the groupset is a mash-up of exotic parts, matched with 'regular' shifting components - in this case SRAM's top-tier Red AXS, with the levers custom painted, of course.
To stop the bike, he's opted for C22 disc brake calipers from Trickstuff. According to Dangerholm, the German brand has achieved "mythical status in the mountain bike world" as creators of the lightest and most powerful brakes. He's paired these with Trickstuff's Dächle Ultra Light rotors.
"I'm running 160mm front and 140mm rear, and they are fastened with Bike Ahead Composites The Fixer centerlock adaptors," he says. "Not only very nice looking, but also the lightest ones out there."
The futuristic looking titanium crankset is made by Sturdy Cycles. The arms are 3D printed and designed to be both stiff and aerodynamic. Dangerholm opted for a 1x set-up using a 50t chainring. Perhaps surprisingly, low weight isn't a deciding factor here.
"It is not lightweight but should offer great stiffness and as a bonus a titanium ring will last about three times as long as an aluminium one," he says.
As for the decision to choose a single chainring over the typical 2x drivechain used on most road bikes, he says it's largely because of the "aero benefits", as well as being familiar.
"Coming from mountain biking I'm quite used to having slightly bigger gearing steps and don't feel it's very problematic," he says. "Depending on where I ride and how much climbing there is to do, I have two SRAM Force cassettes for the bike. One is a 10-36T for flatter rides and the other is a 10-44T to use when necessary."
To make this possible, his Foil Liquid is equipped with a SRAM Red AXS XPLR derailleur, that is designed to work with wide-range cassettes. This is no off-the-peg offering though. Dangerholm dismantled the mech to polish it, matching it to the eye-catching Kogel Kolossos Aero rear derailleur cage, which is designed specifically for the project.
"Used on this bike is the first pre-production unit, which has been custom polished by me, and hopefully the production version will become available this summer," he says.
Perhaps the most striking aspect of the build are the Bike Ahead Composites Aero wheels. Without having to worry about UCI regulations, Dangerholm said it was "an easy choice".
"Made in Germany, they come in at around 1450g and are pretty much as fast as they look," he says. "One-piece wheels like these also offer an extremely responsive feel, making acceleration and climbing a joy. As a bonus, they match the design language of the Foil perfectly."
He's paired the wheels with titanium thru axles made by METI in Italy, Michelin Power Cup Competition Line tires - 25mm on the front and 28mm on the rear rear - and Revoloop Ultra Race tubes, which weigh just 25g each.
The build is finished off with Dangerholm's preferred Wahoo Speedplay Nano pedals, with titanium spindles.
Thank you for reading 20 articles this month* Join now for unlimited access
Enjoy your first month for just £1 / $1 / €1
*Read 5 free articles per month without a subscription
Join now for unlimited access
Try first month for just £1 / $1 / €1
Get The Leadout Newsletter
The latest race content, interviews, features, reviews and expert buying guides, direct to your inbox!
Luke Friend has worked as a writer, editor and copywriter for twenty five years. Across books, magazines and websites, he's covered a broad range of topics for a range of clients including Major League Baseball, the National Trust and the NHS. He has an MA in Professional Writing from Falmouth University and is a qualified bicycle mechanic. He has been a cycling enthusiast from an early age, partly due to watching the Tour de France on TV. He's a keen follower of bike racing to this day as well as a regular road and gravel rider.