Long live the Surly Cross-Check; R.I.P beloved do-it-all steel steed
It's the end of an era for one of the most iconic bike models on the market. Much loved for its versatility, durability and smooth ride, we say farewell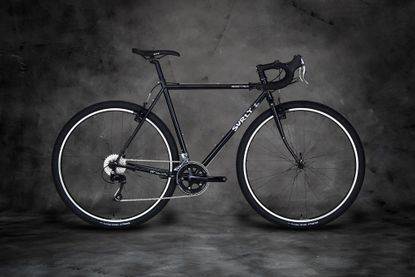 (Image credit: Surly)
As has been lamented by fans on social media and internet forums everywhere, Surly's longtime model, the Cross-Check, will no longer be manufactured and sold by the company.
When Surly was born in the late 1990s in Minnesota, its no-nonsense steel bikes quickly gained a fan base among messengers and bike mechanics around the U.S. These were hardworking frames for hardworking people and it didn't take long for them to gain some cachet—maybe they weren't fancy, but they were cool.
The Cross-Check was the brand's first "road bike." Its versatility was unmatched—the Cross-Check could do it all. Flat bars, drop bars, singlespeed, gears, touring, cyclocross—each bike was a reflection of its owner's unique whims and predilections. They lasted a long time too, and could (and can!) be readily found on the used market. As a result, these bikes served as the entry point into the vast world of cycling for many riders.
As one of the last remaining rim brake bicycles available on the market, the Cross-Check's departure marks the end of an era. Similarly, we can look back upon QBP's (Surly's parent company and one of the major parts distributors in North America) decision to shutter Surly's sister brand All-City a few months back as a kind of foreshadowing: the bike industry has no room for nostalgia, it's do or die.
I spoke with Ben Rainbow, of Back Alley Bikes in Seattle about what the bike meant to him.
"Having been around QBP as an employee during the genesis of the Cross-Check, I can say that its origin was firmly rooted in a mechanic's perspective of versatility, utility and function. And before long, it was those mechanics who would thumb through the QBP catalog and recognize the Cross-Check's jack-of-all-trades nature and take the plunge," he said. "What better sales pitch can there be for a shop than pointing to the bikes in the back that belong to the employees? The Cross-Check was where they felt justified in putting their (meager) earnings. Everything else was just everything else."
I never owned a Cross-Check myself, but I did for a short time own a Surly Disc Trucker that I rode and commuted on for the first year or so after arriving in Seattle. It did its job without complaint, and I will forever remember it as the bike I rode to my first date with my now wife (she complimented my Brooks saddle).
In Surly's own words, "The Cross-Check has reliably carried people from here to there for decades. The Cross-Check frame is constructed of our size specific 4130 CroMoly 'Natch tubing and adorned with a simple and straightforward build kit. One of our goals with this bike was to keep the price tag low and the usefulness high. That way, you'll have some cash leftover just in case you want to stop for a happy hour on the way home from work."
Several of Surly's other models offer similar performance to the Cross-Check, though all but one, the Steamroller fixed/single speed urban bike, are designed for disc brakes.
The Cross-Check is dead; long live the Cross-Check.
Thank you for reading 20 articles this month* Join now for unlimited access
Enjoy your first month for just £1 / $1 / €1
*Read 5 free articles per month without a subscription
Join now for unlimited access
Try first month for just £1 / $1 / €1