Matt Appleman challenges you to reconsider your crank arm length
Appleman Bicycles debuts 2XR crankset with arm lengths as short as 135mm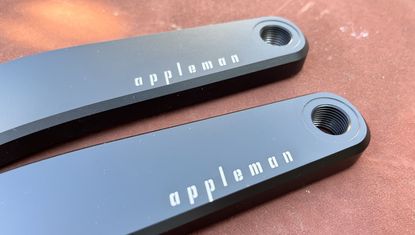 (Image credit: Anne-Marije Rook)
Serviceable, Made in the USA (MUSA) bling to improve your pedal stroke. That's what bespoke carbon frame builder Matt Appleman is offering the masses with his latest offering, the 2XR crankset.
The 2XR crank is the result of the Minnesotan's vision of how componentry affects overall bike fit and rider comfort. While many riders might never experience the tailored fit comfort of a custom bicycle, Appleman believes that an appropriately sized crank can go a long way.
There is an 'industry-wide pitfall' when it comes to crank lengths supplied and recommended by the major manufacturers, Appleman says, and argues that 170, 172.5 and 175mm standards are antiquated.
After experiencing years of knee pain himself, Appleman found that shorter cranks are vital to bike fit and subscribes to Lennard Zinn's rule of thumb, which recommends using 20% of your inseam length to find the appropriate crank length for you.
Also read: Could altering your Q Factor make you more comfortable - or faster - on the bike?
Pointing to the hip and knee flexion throughout the pedal stroke, Appleman states that even an increase or decrease of just 10mm can have a significant effect on a rider's position on the bike and riding comfort.
To that end, the 2XR cranksets are offered in 10mm increments from 135mm all the way up to 175mm, and are meant to provide a solution for those struggling with fit issues on the bike or those simply looking to get more power out of each pedal stroke.
Image 1 of 8