Never mind the London Marathon, Britain's wackiest cycling time trial is go!
Three... two... one... have a good ride and try not to catch your superhero cape in your chain at the Team Bottrill fancy dress TT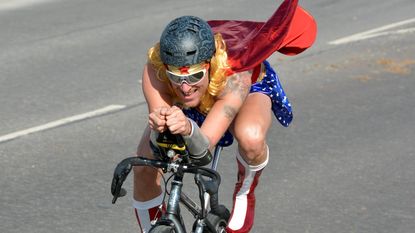 (Image credit: Alan Kitching)
Where can you compete against Wonder Woman on a BMX, draft an Indian rickshaw, get caught by a large man wearing a pink tutu or spot the legendary Geoff Platts on a shopping bike with tri-bars?
The Team Bottrill Charity 4.2-mile TT, which takes place this Sunday October 9 on an otherwise innocuous stretch of road near Ashby-de-la-Zouch, Leicestershire, is in its sixth year and is starting to challenge the London Marathon for costume craziness.
Image 1 of 6
It is organised by Mark Bottrill, brother of multiple national champion Matt, and Coalville Wheelers, to raise money for Macmillan Cancer Support, a charity that helped the brothers' mother in the final stages of her battle.
"It was only meant to be for one year, " said Mark Bottrill. "We thought we'd raise a little bit of money and give something back, but it was dead popular. It was a winter bike time trial to start off with, where people would just come on old bikes, but then people got a bit silly. So far we've raised over £14K and are on over £1,500 for this year's event."
Matt and Mark Bottrill will both be riding, former National 100-mile champion Charles Taylor will be pushing off and, according to Mark, "riders are coming from all over."