New Specialized Allez goes disc-only and gets lighter for 2023
The brand's longest running production road bike has finally waved goodbye to rim brakes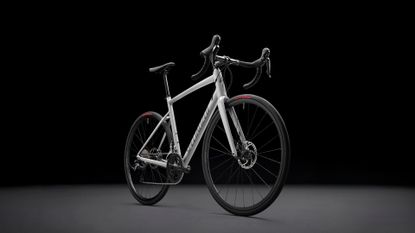 (Image credit: Specialized)
The new Specialized Allez, which is launched today, marks the first time in over 40-years that the brand's budget bestseller will not include a rim brake option. The 2023 re-design now offers just two models, both equipped with disc brakes although this does mean that tires of up 35mm in width can be fitted.
Another significant change is the bike's price. Specialized's entry level road bike now starts at just above that magical $1000/£1000 'cheap bike' threshold.
It's been more than four decades since the release of the firs steel-framed Specialized Allez in 1981 and the bike has been in continuous production since it first hit the shops all those years ago. Alongside the Stumpjumper mountain bike, this means that it's one of only two models still present from the American giant's original line up.
In that time, it's safe to say the Allez has developed a reputation for being fast, excellent value and at the forefront of aluminium road bike development.
Specialized Allez 2023 : What's new?
Aside from the aforementioned rim brake bust, Specialized has refreshed its design ethos for the Allez.
The frame itself is formed out of double-butted E5 alloy. This means the tubing can have a variable wall thickness to provide stiffness and strength where needed, while maintaining a low weight by stripping out unnecessary material.
The result is a claimed frame weight of 1,375 grams (56cm) which, says the brand. makes it the lightest in its class. Worth noting here, it is hard to make a direct comparison with the outgoing Allez as it is rim brake only, but the Allez Sprint frame comes in at 1500 grams, so a saving over its premium, more aero counterpart here.
As mentioned, the move to disc brakes also makes room for bigger rubber on the Allez. Now sporting clearance of 35mm, Specialized is quick to note that this is not a gravel bike, but can handle a mixed complement of terrain.
Commuters and winter riders alike will be glad to hear that the frameset is also capable of taking a full compliment of rack and fenders/mudguards, despite the funky seat bridge, which we'll come on to. Although if you do go down the mudguard route, you'll have to stick to 32mm tyres
As for the handling, Specialized says the new Allez has inherited a geometric blend of both the previous model, as well as the Roubaix - its popular endurance bike.
The headline changes can be boiled down to stability and comfort and a look at the geometry chart shows this.
Across all frame sizes, the new Allez has a slightly decreased reach of around 10mm, as well as longer chainstays too - a gain of 5mm here. The bike also has a slightly slacker stance, with a one degree relaxation of the head angle.
Theoretically, this will equate to a more grounded and less harsh riding experience, which should make this a bike appeal with for a wider market - although it does seem like a step away from the budget race bike credentials for which the Allez has been known for so many years. You can read our thoughts on how that all translates onto the roads in our Specialized Allez first ride review.
Specialized clearly has goals of pushing the new Allez upmarket too, with six new colourways across the two different models, as well as some interesting new style points.
To add a little bit of 'modern aesthetic' to the design, Specialized has also added an asymmetric seat bridge to the rear triangle - all form, no function but an interesting detail none the less. The two alloy triangles are mated to a Specialized FACT full carbon fork, which features both 12mm thru-axle and a tapered steerer - both of which should improve stiffness and handling. It's also an upgrade on some of the Allez budget competitors like the Triban 520, which still use quick release technology.
Specialized Allez 2023 : Models
As previously mentioned, Specialized have slimmed down the lineup for 2023, now offering just the Allez (£1100/$1,200/ AU$1,800), and Allez Sport (£1600/$1,800, /AU$2,500). With both machines coming in north of the £1000 ceiling, it's pretty tricky to still call these machines 'budget', but what do you get for the money?
The entry level Allez E5 Disc spec is an almost unchanged setup to last year. The same Shimano Claris eight-speed groupset can be found here, with the only change being the mounting of Tektro MD-550 mechanical disc brakes.
The groupset is solid, being the benefactor of years of trickle down tech, and the flat mounts too should help make the bike pretty easy to maintain - but those internal brake cables will need to be changed regularly in order to keep the cable disc brakes in check.
The frame rolls on a set of Axis Sport Disc Tubeless Ready in-house hoops , and are set up with the brand's Roadsport 30mm tyres out of the box - another nod to versatility here. These ought to help anyone looking to push the 'light gravel' limits of the Allez
Finishing kit is all in-house too with a standard 27.2mm alloy seatpost, as well as 6061 shallow drop alloy handlebars. All fairly safe choices, but that makes sense for the brand's entry level road bike.
The Allez Sport offers a few vital upgrades over the entry level model. Shimano Tiagra 10 speed can be found pretty much throughout which will be noticeably smoother than the slightly gappy eight-speed Claris, and includes a set of hydraulic disc brakes which will provide far better braking performance. The Sport also benefits from a lightweight Praxis Alba chainset.
All in all it's a pretty well executed update to a bike that holds a large amount of brand history. But it remains to be seen whether the Allez's brand prowess can compete with other bikes in this price range.
Specialized Allez 2023 : Specs
Pricing: Allez (base) $1,200/(£1,100), Allez Sport $1,750/(£1,600)
Sizes available : 44,49,52,54,56,58,61
Frame : Specialized E5 Premium Aluminum, flat mount disc, fully manipulatedtubing w/ SmoothWelds, internal cable routing, threaded BB,12x142mm thru-axle
Fork : Specialized FACT full carbon, flat mount disc, 1-1/8" to 1-3/8" taper,fender eyelets, 12x100mm thru-axle
Handlebars : Specalized Shallow Drop, 6061, 70x125mm, 31.8mm clamp
Stem : 3D-forged alloy, 31.8mm, 7-degree rise
Saddle : Body Geometry Bridge Saddle, steel rails
Wheelset : Axis Sport Disc (tubeless ready on Sport model only)
Tires : Specialized Roadsport 700x30c
Thank you for reading 10 articles this month* Join now for unlimited access
Enjoy your first month for just £1 / $1 / €1
*Read 5 free articles per month without a subscription
Join now for unlimited access
Try first month for just £1 / $1 / €1
Joe is Cycling Weekly's tech writer. He's always had a love for bikes, since first riding a two wheeled steed before the age of four. Years down the line, Joe began racing at t 16, and enjoyed great experiences internationally, racing in Italy, Spain and Belgium to name a few locations. Always interested in tech, Joe even piloted his Frankenstein hill climb bike to a Junior National Title in 2018. After taking a step back from elite level racing in April 2022, Joe joined our team as a freelancer, before becoming Tech Writer in May 2023.
More about Specialized Allez