Nude carbon is back and even sexier with 3T's new Exploro Racemax Italia XXX
Made-in-Italy frames 'pull back the curtain' on in-house filament winding process with stunning results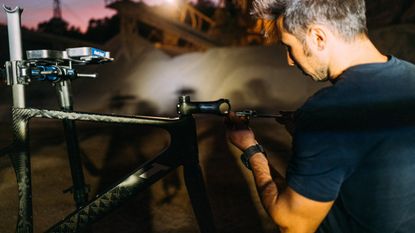 (Image credit: 3T)
Remember those days when we used to drool over 'nude' carbon weave under a glossy coat of lacquer? Well, it's back - but literally with a twist.
Italian brand 3T started making its top gravel frame, the Exploro Racemax Italia, in its own factory in Presezzo, near Milan, in August 2021. It uses a filament-winding manufacturing method developed in-house, with the pattern formed by the crossing carbon fibres in the process creating a series of repeating Xs.
Originally the Exploro Racemax Italia was available in three semi-painted/semi-raw finishes with a cosmetic top layer of UD carbon over the top of the filament-wound fibres. There was an additional 'RTP' (ready to paint) version offered.
Now, says 3T, the RaceMax Italia XXX pulls back the curtain to show exactly what it looks like inside.
3T says the Xs over the entire frame will only be covered with transparent paint to protect the fibres, without hiding anything.
The brand says this enhances the visibility of the production process while maintaining the exact same qualities as its other Racemax Italia frames and bikes which, it says, offer an excellent weight to stiffness ratio combined with flexibility in the areas where comfort is needed.
With paint usually contributing 100g or more, presumably the frame will be even lighter as long as a thin lacquer is used.
'XXX' suggests bike porn - is that deliberate? 3T agrees: "XXX usually indicates very special contents, and clearly our Racemax Italia XXX frames are not recommended for the faint-hearted, but only for the real die hard cyclists that want to build up and ride their unique dream bike."
3T first brought carbon manufacturing back to Italy in 2018 with the Torno carbon aero crankset created with German carbon specialist THM, which it acquired in 2016 and sold to Schmolke in 2020. The Torno was super thin, just 12mm at the pedal end, with a narrow 142mm Q factor, which was designed for a "biomechanical" aerodynamic advantage. The Torno crankset was developed for 3T's revolutionary 1x specific road bike, the Strada. And it all started from there, says the brand.
As for the filament-winding process, 3T explains that 99% of carbon frames are made in Asia using what is now a traditional method of construction - laying up pre-preg carbon-fibre by hand with a lot of manual labour required for the finishing.
3T says that so much manual labour can not only lead to inconsistencies in production but is also totally impractical for Italy (due to paying workers long hours at European rates).
Filament winding solved both of these problems, according to 3T.
Using dry fibre and resin injection instead of pre-preg carbon reduces the labour necessary for the finishing, and 3T says it designed and built its own filament-winding machine.
RTM injects resin into the mould after the dry fibre frame is loaded in and a vacuum is applied to remove all the air. This prevents voids and creates a better surface than the bladder-assisted process.
Not only are there cost-saving and quality control advantages, says 3T, but filament winding/RTM is more sustainable. Traditional pre-preg carbon - fibres pre-impregnated with resin in sheets - is cut into shapes and applied to a core. This leads to waste and limits use because it starts curing once it comes out of the freezer.
3T also highlights that producing in Italy means following EU environmental laws and regulations. No toxic fumes are produced throughout the whole process and avoiding the sanding process for finishing reduces the release of particles into the environment. And finally by producing closer to market there are lower CO2 emissions from transportation.
Although the frames are made in Italy, ironically the process is much automated than that used in the Asian factories. But, says 3T, the production process created in its HQ in Presezzo "adds a human touch to machine engineering."
However, being made in Italy using a more automated process still doesn't make them any cheaper. The Racemax Italia XXX frames are available to order on the Racemax Italia page and will be made on demand for €4,999.
The non-Italian-made 3T Exploro Racemax costs €3,399 for the frameset.
And don't forget to check out our buyer's guide to the best gravel bikes.
Thank you for reading 20 articles this month* Join now for unlimited access
Enjoy your first month for just £1 / $1 / €1
*Read 5 free articles per month without a subscription
Join now for unlimited access
Try first month for just £1 / $1 / €1