Oquo's first range of road wheels keeps rider's tire options open
Orbea's wheel brand offers eight new wheels to allow riders to tune their ride for either aero, lightweight, comfort or performance.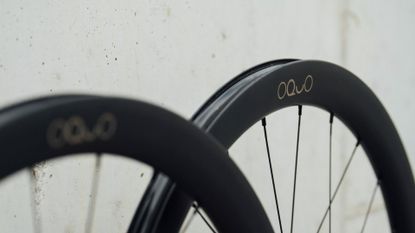 (Image credit: OQUO)
A year on from launching its first ever mountain bike range of wheels, the Basque Country based brand Oquo has finally revealed its road wheels to the world.
The Orbea-owned brand says that the dual launch of its Road Performance (RP) and Road Control (RC) wheels will be one of the most inclusive range of road bike wheels on the market, offering riders huge versatility in terms of tire options, ride feel and price points.
Both the new wheel ranges feature a mini-hooked internal rim, for what the brand says is the perfect balance of consumer choice, wheel weight and speed.
"We wanted to be unrestrictive in who rides the wheels" said Joseba Arizaga, Oquo and Orbea Road Production Manager. "With a hookless rim you are limited to tire choice or running [low] tyre pressures .
"With a mini-hooked rim you can create more air volume internally and it allows almost any type of tire at any price point to be used," he said.
The Oquo Road Performance wheel range focuses on weight and aerodynamics for high end performance bikes, while its Road Control sibling allows gravel and endurance riders to take advantage of comfort and stability on rougher surfaces.
Both ranges use 12mm thru axles (100mm front and 142 rear) for use with disc brake enabled bikes.
The Road Performance wheels offer carbon rims, in all bar one of the range, with a depth of either 35, 45 or 57mm, with five of the six in the line-up featuring a 21mm internal mini-hookless build profile.
The Road Control wheels come with a carbon 30mm or alloy 25mm rim and a 25mm mini-hooked internal. This larger rim width is compatible with wider tires, up to a maximum width of 50mm.
Oquo says its decision on using mini-hooked rims all came down to wanting to produce wheelsets with as much accessibility and versatility as possible.
"If you are wishing to set up the RP wheels with a lightweight 25mm tire for climbing then you have that choice," says Arizaga. "Or if you want a little more comfort one day, you can choose a 32mm tire for a more broken surface.
"The mini-hooked profiles are capable of running pressures of up to 95 or 116 PSI, depending on whether you've opted for tubeless ready or inner tube type varieties, which is better for road riding than the lower pressures of tires that work with hookless rims".
Choosing a mini-hooked over a regular hooked rim has also been a serious consideration.
After 18 months of research and development the engineering team at Oquo, says it's confident that pairing the 21mm internal rim and mini-hooked profile of the Road Performance wheels allows for a smoother rim to tire transition when compared directly with a traditional hooked rims.
This straight side wall shape is the ultimate performance profile that all wheel manufacturers seek to create, as it's generally accepted that the straighter the line between rim and tire, the lower the drag once the wheel is turning in the frame.
While some wheel brands consider hookless rims with 25mm internals shod in a 28mm tires the best combination for optimal aero performance, the downside is that it commits the rider to limited tire compatibility.
It also commits the end user to navigate safety standards, a conversation that continuously evolves between the European Tyre and Rim Type Organisation, the ETRTO, and wheel manufacturers.
Oquo's ETRTO conforming 0.9mm mini-hooked rim therefore nicely side-stepped the current debate on is the bike industry divided over new tire and wheel rim-size regulations?
"We know that there is a lot of speculation for the future of hooked or non-hooked rims, but we are a small co-operative company, where everyone from lab engineers to the assembly team are shareholders," Arizaga tells Cycling Weekly.
"We decided we didn't want to do everything at once. It's the reason we launched mountain bike wheels first and now road," he says. "We could have gone hookless, but we don't think road riders really understand what it is, and it limits tire choices.
"Choosing mini-hooked rims may not be 'trendy' but it is open and accessible to more riders.
"Our mini-hooked rims on the RP and RC wheels not only creates a really nice drag reducing profile, but they also have the added benefit of being able to remove the tire from the rim with relative ease".
The Oquo brand has been some three years in the making, and was born from the desire of Orbea to bring as much of its manufacturing and build operations to Europe or in-house after suffering frustrations with the Covid pandemic and post pandemic supply chain delays.
One of the areas Oquo is keen to discuss is its hybrid wheel building process, and how the brand is embracing technology, but not at the total expense of a hand finished ride feel.
"I think there is a big romantic attachment to everything being hand-made," Arizaga says "but in realty that can lead to a lot of variabilities in the wheel build. You might start the day hand-building fresh and get every wheel perfect, but by the afternoon you are tired and the build can start to deteriorate.
"We have patented wheel manufacturing machines and processes that combines the accuracy of robots with the finesse and attention to detail that our highly trained hand builders can finish each wheel with. In this way, we ensure that each wheel always exceeds the expectations of the most demanding riders".
This hand finish set up also allows the brand to offer consumers the ability to tune the spoke tension in order to change ride feel. Opting for more tension in the spokes will give you maximum power transmission, choosing less will provide a more compliant wheel for more comfort and control.
Oquo road wheels - the options
When it comes to the wheel details, Oquo offers up to three different profiles across both wheel ranges, all using centre lock disc mounts.
Swipe to scroll horizontally
OQUO Road Performance wheels quick look table

| | | | | | |
| --- | --- | --- | --- | --- | --- |
| Wheelset | Rim material, depth and inner width | Hub | Spokes and count | Wheelset Weight | Price |
| RP57LTD | Carbon, 57mm, 21mm | Zipp Cognition VS2 | Sapim CX-Ray, 24/24 | 1520g | € 1.999,00 / $ 2,299.00 / £ 1,999.00 |
| RP45LTD | Carbon ,45mm, 21mm | Zipp Cognition VS2 | Sapim CX-Ray, 24/24 | 1380g | € 1.999,00 / $ 2,299.00 / £ 1,999.00 |
| RP45Team | Carbon, 45mm, 21mm | Zipp ZR1 | Sapim CX-Sprint, 24/24 | 1495g | € 1.399,00 / $ 1,699.00 / £ 1,399.00 |
| RP35LTD | Carbon, 35mm, 21mm | Zipp Cognition VS2 | Sapim CX-Ray TCS, 24/24 | 1360g | € 1.999,00 / $ 2,299.00 /£ 1,999.00 |
| RP35TEAM | Carbon, 35mm, 21mm | Zipp ZR1 | Sapim Sprint Oxi, 24/24 | 1465g | € 1.299,00 / $ 1,599.00 / £ 1,299.00 |
| RP35PRO | Alloy, 35mm, 19mm | Zipp ZR1 | Sapim CX-Sprint, 24/24 | TBC | € 599,00 / $ 799.00 / £ 599.00 |
The Road Performance range features six of the eight wheels in total, and in the main, the range has been designed for paved road surfaces.
The RP57 LTD is Oquo's aero offering. It sports a 57mm carbon rim, and is designed to maximise aerodynamics, adding efficiency at high speeds.
The hub is in the form of a Zipp Cognition VS2, as found in Zipp wheels NWS range of wheels. It's finished off with Sapim CX-Ray spokes, with a claimed total weight of 1520g for the wheelset. The added perk of the RP57 LTD is the array of 14 colours to choose from too. It retails at € 1.999,00/ $ 2,299.00/ £ 1,999.00 for the pair.
The RP45 has two build options, both of which share the same 45mm carbon rim and according to Oquo are the best option for weight Vs aerodynamics Vs control. The PR45LTD is the lighter of the two at 1380g for the pair, and keeps the same Zipp Cognition VS2 hub and Sapim CX-Ray spokes that the RP57 LTD comes with. The colour options do reduce a little to 11, but the price doesn't, retailing the same as the RP57 LTD.
The RP45 Team wheels weigh 100g more than the LTD version, 1495g for the wheelset, which is due to a hub swap to a Zipp ZR1, and the selection of Sapim CX-Sprint spokes. While you lose all colour choices, you do save a pretty penny as they retail at € 1.399,00/ $ 1,699.00/ £ 1,399.00.
The 35mm wheel profile gets three options, RP35 LTD, RP35 Team and RP35 Pro. Both the LTD and Team share the same carbon rim, while the Pro moves to an alloy one.
As with all the LTD edition wheels in the Oquo Road Performance range, the RP35 LTD comes with the top end Zipp Cognition VS2 hub and Sapim CX-Ray spokes. This combination of components naturally keeps the claimed weight down to just 1360g for the wheelset. This also makes these the go-to choice for riders looking to build a lightweight climbing set of wheels. Again, there are 14 colour options, all priced at € 1.999,00/ $ 2,299.00/ £ 1,999.00
The RP35 Team follows the same pattern as the RP45 Team wheelset. It too has the Zipp ZR1 hub, but this time the spokes are Sapim Sprint Oxi, which helps push the claimed weight back up to 1465g. Oquo say that RP35Team are best suited to riders looking for a light, stiff and reliable carbon wheelset.
The last Road Performance wheel option is the RP35 Pro. This wheelset is the only alloy rim in the RP range and comes with a narrower 19mm inner width.
Oquo saysthat this wheelset is designed to be an accessible option that doesn't compromise on performance. To that end, the RP35 Pro keeps the same Zipp ZR1 hub as the Team version, and regains the Sapim CX-Sprint spokes that the RP45 Team uses, although it does loose the alloy nipples that all the other wheels use in favour of a more cost effective Sapim Brass black choice.
At the time of the launch we were still waiting for a definitive, claimed, weight, but the brand has confirmed the competitive €599,00 / $ 799.00/ £ 599.00 price point.
Swipe to scroll horizontally
OQUO Road Control wheels quick look table

| | | | | | |
| --- | --- | --- | --- | --- | --- |
| Wheelset | Rim material, depth and inner width | Hub | Spokes and count | Wheelset Weight | Price |
| RC25Team | Carbon, 30mm, 25mm | Zipp ZR1 | Sapim CX-Sprint, 24/28 | 1390g | € 1.299,00/ $ 1,599.00 / £ 1,299.00 |
| RC25PRO | Alloy, 25mm, 25mm | Zipp ZR1 | Sapim Sprint Oxi | TBC | € 599,00/ $ 799.00/ £ 599.00 |
The Road Control range of wheels make up the final two wheels of the eight in the Oquo road wheel launch, and, due to their 25mm internal mini-hooked rim, have the capacity for tire widths between 30mm and 50mm, making them ideal for gravel or long endurance rides.
The RC25 Team could initially confuse the consumer as it does in fact come with a 30mm carbon rim. Oquo says this option is the perfect blend of comfort, reliability and performance.
As with the rest of the Oquo Team wheelset options, the RC25Team is also furnished with a Zipp ZR1 hub and Sapim CX-Sprint spokes. The claimed weight for the pair is 1390g and has a price tag of € 1.299,00/ $ 1,599.00 / £ 1,299.00.
The final offering in the Oquo launch is the RC25 Pro, which reverts back to the obvious naming convention, in that it does come with the expected 25mm rim depth, although this time it's an alloy one.
Again like the RP35 Pro, the RC25 Pro is equipped with a Zipp ZR1 hub, but shares the same Sapim Sprint Oxi spokes as the RP35Team. As with the RP35 Pro, the weight for this alloy wheelset is still yet to be confirmed, but the price tag of € 599,00/ $ 799.00/ £ 599.00 has.
All wheels and further details can be found on the OQUOWheels.com website, and will be available for immediate delivery via click and collect to your nearest dealer, details of which can be found on the website.
The wheels themselves will debut in July as Oquo ́s race teams start riding them officially - sponsored pro team WNT Ceratizit will compete in the Tour de France Femme from July 23rd with Euskaltel-Euskadi then going on to ride the wheels in the Classica of San Sebastian on July 29th.
Thank you for reading 20 articles this month* Join now for unlimited access
Enjoy your first month for just £1 / $1 / €1
*Read 5 free articles per month without a subscription
Join now for unlimited access
Try first month for just £1 / $1 / €1