LEJOG-ing without leaving your home
A University of East Anglia Professor made the most of his time at home and his indoor training set up to help raise money for Alzheimers Research UK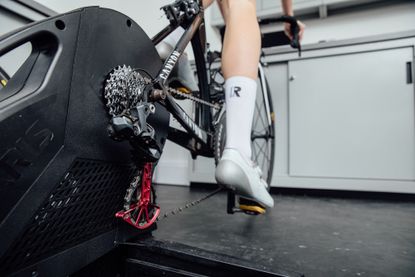 Promotional feature with Alzheimers Research UK (opens in new tab)
Riding from Land's End to John O'Groats or vice versa is one of the most epic cycling challenges anyone can take on within the United Kingdom. Completing a bike ride the length of the British Isles from its Southern-most tip to its northern-most tip is something every person can applaud for the physical and psychological willpower to reach this incredible goal.
It may have been an unusual year for everyone but 2020 didn't phase Professor Michael Hornberger, who swiftly adapted an epic cycling challenge so he could clock up the miles indoors instead. He was due to ride from Land's End to John O'Groats but he ended up taking on the 1,407km distance within the confines of his own home.
Prof Hornberger completed the distance on his indoor bike in May last year as part of Alzheimer's Research UK's summer Cycling Down Dementia challenge.
"I have loved cycling since I was a child and I am missing my regular cycle to work at the moment," he said. "Taking part in Cycling Down Dementia was a perfect way for me to spend a lot of time on my indoor bike while raising money to help Alzheimer's Research UK continue to fund research in the region and make breakthroughs possible."
Cycling Down Dementia challenged riders to ride 500km, 1,000km or a distance of their choice and raise £150 for life-changing dementia research.
Working at the University of East Anglia, Hornberger is part of a large collaboration that uses a mobile phone game, known as Sea Hero Quest, to understand how we can better identify people who may be more at risk of developing Alzheimer's disease.
He said: "Alzheimer's Research UK has supported my research here in Norwich for many years and so I wanted to set myself a fundraising challenge to give something back to them during these difficult times."
Tom Wall was another cyclist who completed a challenge raising money for Alzheimer's Research UK, with the aim to ride every day in 2020. He rode a minimum of 10 miles each day, with his longest ride coming in at a lengthy 200 miles, all of which culminated in Wall clocking up 10,000 miles in total.
"I've always loved riding my bike but this challenge was extremely brutal at times. I cycled in all conditions, blustery, gale-force winds, snow, and torrential rain. The cumulative fatigue was extremely hard on my body – my legs were constantly tired all year!"
Wall documented his journey on his YouTube channel Cycling 366; "Cycling has been a fantastic, reliable constant for me during the pandemic. I've always been able to ride my bike and have used it as a form of daily meditation and escapism. I've also managed to cycle far and wide after lockdown ended, and have been lucky enough to ride across – and film – some stunning scenery.
Raising over £3,500 for Alzheimer's Research UK in honour of his grandfather who has Alzheimer's disease, he is planning a new fundraiser this year to ride from Land's End to John O'Groats.
"My grandad's Alzheimer's was officially diagnosed around five years ago and since then, has got progressively worse. His memory faded, he became more and more confused and became increasingly frustrated with his inability to be self-sufficient and hands-on like he used to be. My granny also found it very challenging to look after him initially, being in her 80s herself and struggling with arthritis. This consequently led to Grandad being admitted into a care home."
"I chose to support Alzheimer's Research UK to fund vital research to help develop treatments that could slow and prevent the progression of diseases like Alzheimer's, so we can enjoy being around our loved ones for as long as possible and prevent the widespread negative impact dementia has on families up and down the country.
If you are looking to take on your own epic ride and raise money for Alzheimer's Research UK, sign up for the Treble Challenge this year. The Treble Challenge is all about taking on your own running, cycling or swimming challenge, reaching a pre set pioneer (ride 300km), epic (ride 500km) or maverick (distance of your choice) challenge out on the road or on the comfort of your indoor trainer to raise money for Alzheimer's Research UK. Register and find out more at www.thetreblechallenge.org/ (opens in new tab).
How to train for an epic cycling challenge
Work out a structured training plan which means you can reach an achievable but challenging goal. It's important to take on board your current fitness levels, work and family commitments when plotting out a realistic challenge to achieve.
Devising a nutrition strategy alongside a training and event strategy can be just as crucial, especially when taking on an endurance event.
Plot psychological landmarks to reach during your challenge as well as your training, as this can make it less overwhelming and can give you ideal psychological boosts along the way.
Ensure you have rest days incorporated into your training plan. Even though you may want to hit the ground running and train as much as you can, rest days are just as crucial as your body can recover from the training load you place on it.
Be adaptable with your training plan, because injury, illness or increases and decreases in form are normal parts of any cyclist's training journey. Forcing through on a fixed training plan can be less beneficial in the long run.
Julia Sobik, Head of Sporting Events at Alzheimer's Research UK
It's great that Tom and Michael both used their love of cycling as a way to support a cause that is so important to them. As well as the vital funds they raised, taking on these challenges also had the added benefit of motivating them to stay active and gave them something positive to focus on during the pandemic.
The money they raised will help us in our mission to make breakthroughs possible for people with dementia to keep them connected to their families, their worlds and themselves for longer. Tom has witnessed the devastating effect of dementia on his grandad, while as a dementia researcher Michael understands that it is only through research that we can create a world free from the fear, harm and heartbreak of dementia. One in three people born today will develop dementia in their lifetime unless we bring about life-changing preventions and treatments. Today, there are no effective treatments that slow, stop or prevent the diseases that cause dementia, but scientists like Michael are working hard to change that.
Thank you for reading 5 articles this month* Join now for unlimited access
Enjoy your first month for just £1 / $1 / €1
*Read 5 free articles per month without a subscription
Join now for unlimited access
Try first month for just £1 / $1 / €1
Paul Knott is a fitness and features writer, who has also presented Cycling Weekly videos as well as contributing to the print magazine as well as online articles. In 2020 he published his first book, The Official Tour de France Road Cycling Training Guide (Welbeck), a guide designed to help readers improve their cycling performance via cherrypicking from the strategies adopted by the pros.