17-year-old CX rider 'catapulted' into layby by tractor scores top ten finish at national champs
Raph Tabiner from Warrington nearly gave up racing all together after shocking incident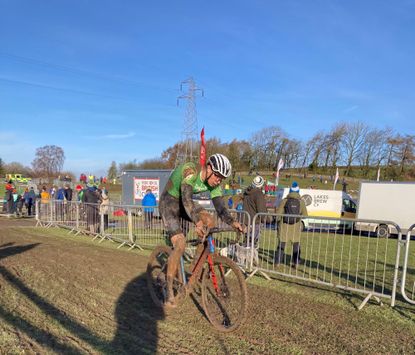 (Image credit: Raph Tabiner)
Raph Tabiner, a 17-year-old cyclo-cross rider from Warrington, nearly gave up cycling all together after a shocking collision with a tractor landed him in hospital last year.
Tabiner recently made a return to cyclo-cross and finished tenth in the junior men's category of the British national championships last weekend in Milnthorpe, the Lake District.
However, Tabiner told Cycling Weekly that he very nearly didn't make the start line at all after the horrific incident in Wales.
"I remember I'd had a cracking week of riding around Snowdonia. I set off one Sunday morning and met up with my uncle for a ride. We were about 80 miles into it near a town called Denbigh, then a tractor suddenly pulled up next to us at a junction," Tabiner recalls.
"We needed to get across the junction, and the tractor couldn't. I didn't think anything more about it at the time but then two minutes later down the road I was just riding along when suddenly I was just catapulted into this layby."
"I lay there for a moment stunned thinking 'what on earth has just hit me?' I was pretty much knocked out. I can't remember much after," Tabiner says. "It came back to me in the weeks after and I just remember looking up and seeing this huge tractor and realising it was that."
Tabiner explained that the horrific incident, which left him requiring hospital treatment meant his confidence in riding his bike disappeared into thin air.
"It was the main reason I stopped. I just couldn't get on my bike for weeks after," he explains. "Even if there was nothing behind me, if I even sensed a large vehicle, a van, tractor, whatever I'd just quickly get off my bike and get on the pavement."
"It's still like it to this day. If I get something like that behind me, it's always in the back of my mind. Is this going to happen again?"
Tabiner added that the most shocking thing about the whole incident was that the driver claimed he could not see the 17-year-old and his uncle.
"There was just no good excuse for what happened to me. A guy who looked about 20 got out and just said to us 'sorry, I just couldn't see you' . It's so scary that he said he just couldn't see us," he says.
After the collision, the 17-year-old was checked over by an off-duty paramedic and then taken to hospital for treatment for a series of wounds that he'd obtained.
"My bike got me in the stomach and I've still got marks on my arms and legs too," Tabiner adds.
Once he had got back into riding, Tabiner achieved several high placings in cyclo-cross national trophy rounds which convinced him to enter the national championships. Once the junior men's race was underway in Milnthorpe, Tabiner soon realised that racing without any expectation meant he was on his way to a top ten finish.
"I got there and saw the course and knew it would be tough. It was literally only once I got to tenth that I believed I could do something," he says. "I was in ninth and chasing eighth but then I got overtaken. Luckily I held on for that tenth."
The 17-year-old explains that in his time around junior cycling he's also noticed a "big problem" involving too much pressure and it being taken "stupidly seriously" soemthing which he says began to effect him.
"There is a big problem in youth cycling and junior cycling with people taking it stupidly seriously, particularly in the last couple of years," Tabiner says. "I just got caught up in it all and people don't see it going on."
"It just takes over and if you get one bad result it's like a week ruined," he adds.
After a difficult period, Tabiner says that support from his parents and coaches enabled him to re-capture what, to him, was the most important element of cycling.
"Nowadays I'm just there racing for a laugh. You're just riding around and having a laugh, obviously still going hard though," he says.
If Tabiner can maintain his new found freedom "having a laugh" in cyclo-cross, the likeable 17-year-old may just find that he laughs himself onto a national championship podium next year.
Thank you for reading 10 articles this month* Join now for unlimited access
Enjoy your first month for just £1 / $1 / €1
*Read 5 free articles per month without a subscription
Join now for unlimited access
Try first month for just £1 / $1 / €1
Tom is a News and Features Writer at Cycling Weekly, and previously worked in communications at Oxford Brookes University. Alongside his day job, prior to starting with the team, he wrote a variety of different pieces as a contributor to a cycling website, Casquettes and Bidons, which included interviews with up and coming British riders.